Happy Birthday Bruce Campbell!
Published on June 22nd, 2017 | Updated on June 22nd, 2017 | By FanFest
Happy Birthday to Bruce Campbell who turns 59 today!
Bruce Lorne Campbell was born in Royal Oak, Michigan and is an actor, writer, comedian, producer, and director.
Bruce began his career making super 8 movies with high school buddy Sam Raimi. They produced a super 8 version of the first Evil Dead movie which they used to gain investors.
Campbell has a countless number of film and television appearances. Some of which include the Spider-Man film franchise, Darkman, The Quick and the Dead, Maniac Cop and its sequel, Escape from L.A., The Majestic, Hercules, Xena: Warrior Princess, Fargo, and The Librarians just to name a few.
He is, of course, best known for his role as Ashley "Ash" Williams in the Evil Dead film series as well as the Starz network series Ash vs Evil Dead.
Bruce is also a very accomplished writer and voice actor.
Since 2014, Campbell has organized the Bruce Campbell Horror Film Festival which is held in Rosemont, Illinois. It is presented by the Wizard World umbrella as part of their Chicago ComicCon.
Campbell is an ordained minister and currently lives in Jacksonville, Oregon with his wife Ida Gearon. Bruce has 2 children, Rebecca and Andy from a previous marriage.
Join us in wishing Bruce Campbell the very happiest of birthdays!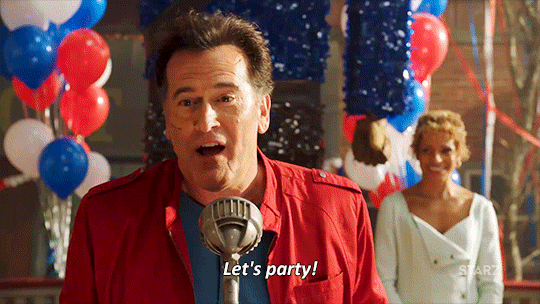 Shannon Toohey is Editor-In-Chief of FanFest.com. She graduated from Hofstra University in 2015 with a B.A. in Journalism from the Lawrence Herbert School of Communications. Shannon has been a proud member of the Fan Fest team since 2013. Tweet her in your prettiest bird voice: @shannontoo