Fan Fest '31 Days of Slashers': 5 Facts You Probably Didn't know about Ghostface
Published on October 27th, 2017 | Updated on October 27th, 2017 | By FanFest
Happy October, my fellow geeklings! Now that October has finally stumbled upon us, we can officially begin our haunting season. For the month of October, we will be doing '31 Days of Slashers', which will feature facts, spotlights and even some interviews from some of our favorite iconic horror villains.
Are you ready for Halloween?! We sure are!
Today we will be covering 5 Facts You Probably Didn't know about Ghostface!
5. His Mask is Based on a Painting
Ever wonder where Ghostface got his iconic mask? Well… it was actually based off of a painting. You probably recognize this painting, as a matter of fact. It is titled 'The Scream' by artist Edvard Munch.
4. He's a Great Salesman
Isn't it a bit ironic that sales for Caller ID went up after the movie debut. I mean, if a creepy guy called me saying 'What is your favorite scary movie?' multiple times, I sure as heck would invest in some caller ID. Hey Ghostface, you ever consider going into retail?
4. He's based off of a Real Serial Killer
Image: Dimension Films
Writer Kevin Williamson drew inspiration from the Gainesville Ripper, who murdered five college students in Florida in 1990.
2. The Voice Actor Never Met the Cast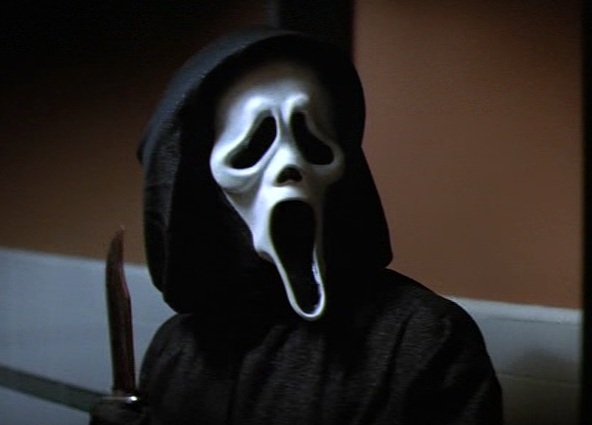 In order to prevent the actors from associating a face with the menacing voice, Wes Craven never allowed Roger L. Jackson, who provided the haunting vocals for the Woodsboro killer, to meet them. He was, however, present on set to deliver his chilling 'What's your favorite scary movie?' line down the phone.
1. His name wasn't actually 'Ghostface'
He was never actually intended to be called 'Ghostface'. In the movie, Tatum (Rose McGowan) calls the villain "Mr. Ghostface" in a sarcastic manner and the name just wound up sticking after that. In fact, an alias for him is 'Father Death'.
Related Articles:
Fan Fest '31 Days of Slashers': 5 Facts You Probably Didn't Know About The Creeper
Fan Fest '31 Days of Slashers': 5 Facts you Probably Didn't Know about Leatherface
Fan Fest '31 Days of Slashers': 5 Facts You Probably Didn't know about Jigsaw
Fan Fest '31 Days of Slashers': 5 Facts you Probably Didn't know about Chucky
Sources: HorrorFreakNews, Metro.UK
Julia recently published her first novel, titled; Anomic. She is currently co-authoring a novel called 'Snow Falls'. She has a B.A in Communications with concentrations in Professional Writing and Public Relations. She is also in the United States Army Reserves as a Military Police Officer, and is currently in the process of going back to school for her Masters Degree in Business. When she isn't writing, she is co-owner of a film production studio called 'Valentine Productions LLC' and she frequently spends her weekends acting in films, or being a stuntwoman.