Never Grow Up (An Open Letter to All Toys R' Us Kids)
Published on June 28th, 2018 | Updated on June 28th, 2018 | By FanFest
Hi there.
I know that for the past few months, ever since we first heard the news, our hearts were broken. When we first saw the news stating that the doors would be closing, that adorable little jingle and the instant memories flooded our brains:
"I don't wanna grow up I'm a Toys R Us Kid…"
Our beloved childhood toy store going away forever? Please say it isn't so.
Toys R' Us was there for us from the moment we first discovered what a toy really was. My very first toy from Toys R' Us was a Barney stuffed animal. I carried that Barney with me everywhere – including back to Toys R' Us, which I would call 'Barney's House' growing up.
Growing up, Toys R' Us was THE place to have your birthday party as a kid. A special appearance by Geoffrey was the best thing that we could ask for. If you didn't have your birthday party there, it was the place to take your gift certificates to (certificates, not cards! this just goes to show my age) and buy even more toys. Even though I would always go there knowing what I wanted, I would still find myself in awe at all the toys that surrounded me. Everything from Easy Bake Ovens to Puzzles to Pokemon to G.I Joe's. The possibilities were endless.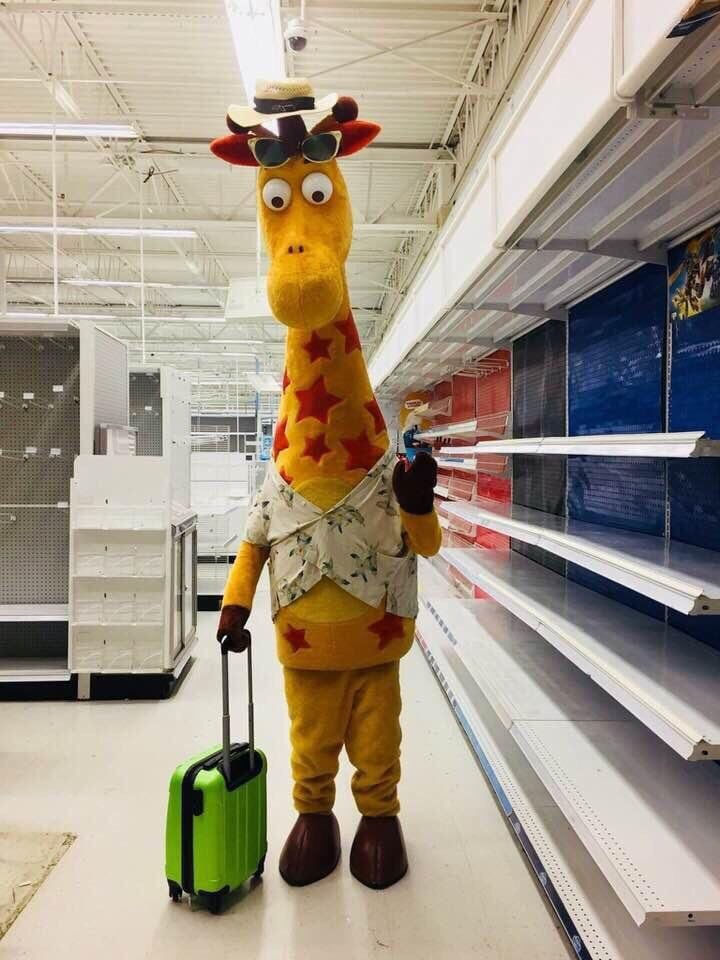 Don't even get me started on the fall season. Every time thanksgiving rolled around, I would be asking my parents if the Toys R' Us category came in the mail that day, for every single day that week. When it did, I would grab the brightest red crayola crayon and I would start circling all the toys I would hope that Santa would be bringing me that year.
There were countless reasons for all of us to rush into Toys R' Us growing up. There was just something about those bright, lit-up letters that would just be so magical to us. School yard bullies and distant family relatives may have said 'it's just a toy store' but to all of us Toys R' Us kids, it was so much more than that.
After a long day at school, or an exhausting afternoon with the babysitter – it was almost like a vacation. A sweet, wonderful location full of childhood dreams. Thinking about Toys R' Us, I remember the times my brother and I would race through the aisles on those silly horse-head stick things pretending we were cowboys. When I walked through those doors, I didn't just see prices and various toys – I saw my imagination run wild. All toys had voices, all puzzles had mysteries waiting to be solved, and all Toys R' Us workers were my best friend. I think that was essentially what really tied it in together, the workers actually loved making our dreams come true. It was just like Disney, only much closer to home and much cheaper (I'm sure my parents loved that part!)
As I grew up, and went away to high school and then college – I started to pay attention to other things. What was this online shopping? What are eBay and Amazon? Online shopping became so convenient, especially with online retailers having the capability to send stuff right to my door step the next day or so – I wouldn't even have to leave my college campus which I thought was great, considering I wasn't allowed to take my car to school.
I wouldn't say I ever forgot Toys R' Us, but it didn't hold the meaning for me that it used to. Sure, I would go back there and buy gifts for my friends kids and all of my nieces, nephews and baby cousins. Every single time I went back there, I would remember all the times I spent in that store as a kid. The memories would bring such a smile to my face. As more and more of my friends started having kids, I found myself going back there more and more frequently – I even started buying Pokemon plushes and all of my video games there. How could I not? Everything was so adorable.
However, when I heard the news that the company was going to be closing their doors earlier this year – my heart stopped. It felt so silly that I, a near 30-year old, found my heart literally breaking over a store. This wasn't a family relative. This wasn't a pet. This wasn't my house.
However, I then realized that it may not have been my house…. but Toys R' Us had become my home. It was a place to escape from the bullies and live my dreams of being a princess. It was a place where I could meet up with my friends and have Pokemon card battles (do people still do that?). It was a place where I be whatever I wanted to be.
There is a part of me that can't help but feel an overwhelming guilt about the store closing. I feel like I, essentially, abandoned my childhood store. Why did I not spend more time there? Why did it take my friends having kids to want to go back there? Why didn't I write a letter to Donald Trump, Jeff Bezos or Bill Gates asking them to save my beloved store? Maybe my one letter, combined with the others could have made a difference.
Alas, here we are. So I stand here with you, fellow Toys R' Us kids, saying that even though our childhood store may be going away – there are still so many things that we can cherish. All of those memories, all of those toys, all of those photos. The next few generations may not know what Toys R' Us ever was, but we always will. It is the same thing that we say about losing a family member, a friend, or even a pet. You honor their memory by remembering how life was when they were around. The same can be said for Toys R' Us. While we may be in a period of mourning, just remember, Geoffrey wouldn't want the world to be sad – he would want us to carry on all of those happy memories that we once had.
We may not know what the next Toys R' Us thing may be, but one thing that we do know is that even though we may age with every passing year – there will always be that kid spirit inside of us. I urge you, fellow Toys R' Us Kids, to never ever lose your sense of wonder and adventure. We may age, but that doesn't mean we need to let go of our dreams, imaginations, and memories.
If there is one thing that we've learned from this, it is that you really are never too old to enjoy the little things in life – you are never too old to miss something that others may deem as something so silly.
In closing, I think I stand with all millenials, adults and kids alike when I say: Thank you, Toys R' Us.
Thank you for making our birthdays, holidays, and Saturday mornings the best that they could possibly be.
Thank you for the memories, the smiles and the catchy jingles.
Thank you for teaching us that while our bodies may age, our spirits never grow old.
Thank you for letting our imaginations run wild and our dreams come true.
Thank you, Toys R' Us, for all of the memories. <3
Julia recently published her first novel, titled; Anomic. She is currently co-authoring a novel called 'Snow Falls'. She has a B.A in Communications with concentrations in Professional Writing and Public Relations. She is also in the United States Army Reserves as a Military Police Officer, and is currently in the process of going back to school for her Masters Degree in Business. When she isn't writing, she is co-owner of a film production studio called 'Valentine Productions LLC' and she frequently spends her weekends acting in films, or being a stuntwoman.