'That 70's Show' Fans Will Love Topher Grace's Latest Instagram
Published on August 8th, 2018 | Updated on August 8th, 2018 | By FanFest
It's been twelve years since That 70's Show made its groovy goodbye, and while we miss Eric Foreman and the gang on our screens, the cast is thankfully still close in real life and often pop up on each other's social media accounts. Not to mention Mila Kunis and Ashton Kutcher, who played Jackie and Kelso got married in real life, and all was right in the '70s and today.
Well, earlier this week Topher Grace who played Eric on the show shared a sweet throwback photo of him and Mila Kunis from the early days of That 70's Show to congratulate her on her latest blockbuster The Spy Who Dumped Me. "Psyched to see Ms. Kutcher in The Spy Who Dumped Me this weekend," he captioned the photo. Just look at these adorable lil' babies!
Naturally, the photo had people in the comments demanding a reunion, which we have all been wishing for since the era of revivals and reboots began. Earlier this year, Grace actually commented on whether or not he would be interested in getting the gang back together and his answer said so much about how close the cast was during the show's eight-season run.
[row]"I would do it for sure because that was a very wonderful time for us…We were all very close, having that experience every single day with each other. It was great to broadcast it out once a week, but, like, I'm still great friends with those guys. If someone said to you, 'What if I got your whole high school class back together and you hung out for a year?' Yeah, I don't think it will happen. It would be so hard to bring that crew together. For me, I'd do it if no one ever saw it. Just 'cause it would be great to hang out with them for a week or something."[/row]
Fans were recently treated to a mini-70's Show reunion when Ashton Kutcher and Danny Masterson teamed up for the Netflix sitcom The Ranch, but Masterson was accused of sexual misconduct, which resulted in him being fired from the series. So, if the cast were to ever get together for some sort of a reunion, Masterson would most likely not be involved.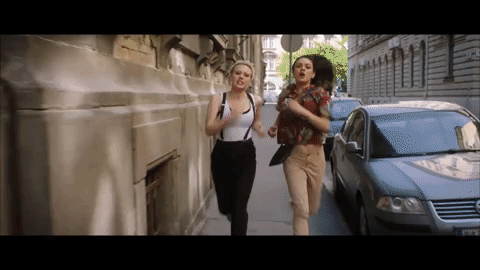 Starring Kunis, Kate McKinnon, Justin Theroux, and Sam Heughan, The Spy Who Dumped Me follows two best friends named Audrey and Morgan who unwittingly become entangled in an international conspiracy when one of them discovers the boyfriend who dumped her was actually a spy. It hit theaters last weekend to a $12.3 million opening weekend, which hopefully continues to grow in the coming weeks.
Fans of Grace's can look forward to him returning to the small screen in a new series titled Treasure Squad, an hourlong dramedy that he co-wrote. It follows a group of childhood friends who used to go on treasure hunts as kids and reunite after years apart for one last big adventure.
That 70's Show is currently streaming on Netflix!
Having studied Media & Writing at James Madison University, I always knew that I wanted to do some type of creative writing, but being able to write about zombies, Starks, and superheroes on a daily basis for Fan Fest is my actual dream. While I probably shouldn't be as proud as I am to be so similar to Nick Miller, I do hope to one day write my own "Pepperwood Chronicles'.