'That 70's Show' Celebrates 20 Years With the Grooviest Throwbacks
Published on August 24th, 2018 | Updated on August 24th, 2018 | By FanFest
Okay, can we take a moment to think about how crazy it is that Eric Forman and the gang started "hanging out, down the street" 20 years ago?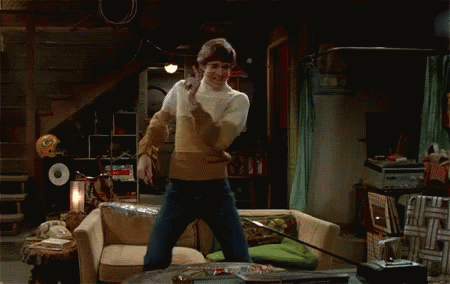 That 70's Show premiered it's "That 70's Pilot" episode on August 23, 1998, and kicked us off an eight-season and 200 episode journey with Eric, Donna, Hyde, Kelso, Jackie, and Fez and all of their ridiculous shenanigans.
The series featured an all-star young cast who are not only still making moves in Hollywood but have remained extremely close over the years. I mean, Ashton Kutcher and Mila Kunis GOT MARRIED. What more could we ask for?
To celebrate the huge milestone some of the show's stars took to social media to post some heartfelt messages and fantastic throwback photos and now all we want…no, need…is some sort of reunion.
Topher Grace – Eric Forman
"Ultimate #tbt – Hard to believe That 70s Show premiered 20 years ago today. It's rare someone can say they owe everything to one small group of people, but in my case it's true. Too hard to watch now because I get so nostalgic, but I don't need reruns to remember all of the amazing experiences and friendships. To quote the '78 Point Place High yearbook "What a long strange trip it's been… in Forman's basement"
Wimer Valderrama – Fez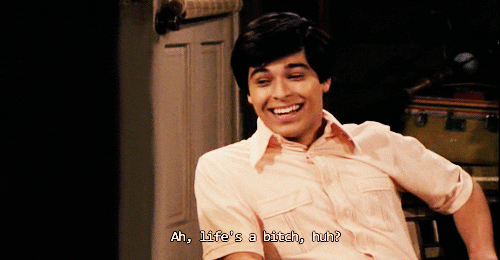 "August 23, 1998.. this was the first picture we ever took together, 20 years ago today… We had just met and had no idea what was ahead of us, or if it would even last.. but we knew it was gonna be fun. We spent 8 years and 200 episodes together, we traveled the world… we grew up together. We were a family, and will always be…"
Danny Masterson – Hyde
"20 years ago today we premiered to mediocre ratings and extremely mediocre reviews. @entertainmentweekly doesn't even have us ranked in the top 100 shows of all time. We didn't care. We were punk rock. Kisses."
Laura Prepon – Donna
"#ThrowbackThursday to the first press tour for #That70sShow – we were all blown away when we saw this bus! Can't believe the show came out 20 years ago today…such a special group of people. So lucky to have been a part of it."
Ashton Kutcher – Kelso
"Yes, this Is my son's outfit today. #that70sshow #kelsoandjackieforever"
(He posted this photo last year, but it still counts!)
It's always great to see the cast of such a beloved show remain so close and nostalgic for the series that changed their lives. While the complete series is currently streaming on Netflix, Topher Grace recently commented that he would be more than happy to get back together with his buddies for a reunion if the opportunity arose.
[row]"I would do it for sure because that was a very wonderful time for us…We were all very close, having that experience every single day with each other. It was great to broadcast it out once a week, but, like, I'm still great friends with those guys. If someone said to you, 'What if I got your whole high school class back together and you hung out for a year?' Yeah, I don't think it will happen. It would be so hard to bring that crew together. For me, I'd do it if no one ever saw it. Just 'cause it would be great to hang out with them for a week or something."[/row]
What was your favorite That 70's Show moment? Can you believe that it's been 20 years?
Having studied Media & Writing at James Madison University, I always knew that I wanted to do some type of creative writing, but being able to write about zombies, Starks, and superheroes on a daily basis for Fan Fest is my actual dream. While I probably shouldn't be as proud as I am to be so similar to Nick Miller, I do hope to one day write my own "Pepperwood Chronicles'.