Norman Reedus Wants to Play Daryl Dixon Until the Very End of 'The Walking Dead'
Published on January 15th, 2018 | Updated on January 16th, 2018 | By FanFest
*This post contains spoilers for The Walking Dead*
Up until recent events, the remaining four characters from the Atlanta group felt seemingly safe for the long haul. Then Carl Grimes revealed that he had been bitten by a walker and everything about the world of The Walking Dead changed in an instant. Even though there are still eight episodes left in Season 8 and the show was just renewed for a ninth season, this huge deviation from the comics left a lot of fans wondering 'what comes next?' and just where exactly the show could go after following the same group for nearly 8 seasons.
When Carl was alive, it was a safe assumption that Rick could someday die, leaving Carl to be the link from the group we have grown to love and the next generation of the apocalypse. Now things don't seem quite as clear and Lincoln has spoken in the past about his future with the show and how he believes it can go on without him.
"There's only so many ways you can bend and stretch this and that. I'm not saying that the show would ever finish, but I certainly think that there's an opportunity for the show to change at some point, and I think it should," Lincoln told EW last summer.
Then there's Carol and Morgan, whose character trajectories have been a total surprise compared to their comic counterparts. While we like to think there are still a lot of stories left to tell about Carol and Ezekiel, we already know that Morgan, who we first met in the pilot, will be leaving the show to star on Fear the Walking Dead.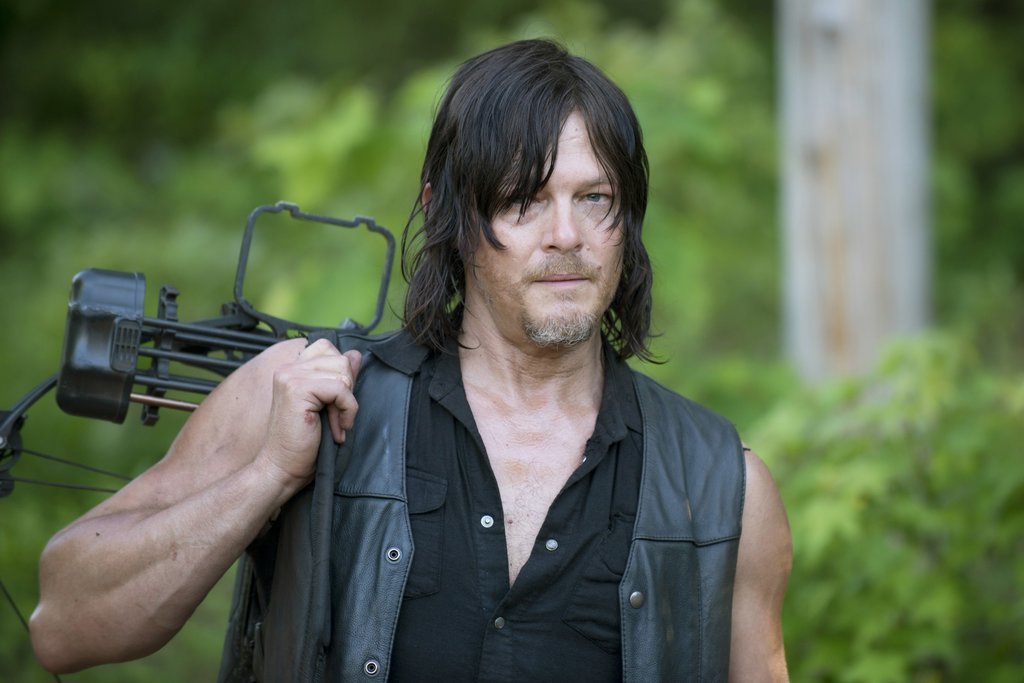 That leaves one O.G. who has become an essential staple to the series despite not being featured in the comic books at all – Daryl Dixon.With so much at stake for the remaining original characters, EW asked Reedus about his plans to stay on the series and all of the fans living by the 'If Daryl Dies, We Riot' mantra will surely be pleased with his answer.
"I could do this until it ended. There's part of me that really wants to bookend the show. I started the show and I want to end the show."
In a zombie apocalypse series, character growth is a must, and while that has certainly been the case for Daryl, it's the physical aspect that stands out to Reedus as well.
"It's not like a movie where it wraps up in an hour and a half. People have seen me and Andy and Melissa grow over what will be a nine-year period when the show picks back up. You've seen my hair on my chin turning gray! I've never done a job like this where the fans are watching this character grow in real time. You very rarely get an opportunity to do that. It's a real blessing to be able to be part of something that big and has that sort of longevity. I'm still loving it."
Watching Reedus unequivocally embrace the role of Daryl Dixon both on and off the show has been a huge highlight for fans of The Walking Dead over the years and his words just further solidify how passionate and dedicated he is to the series. There is certainly enough mystery and untapped potential in Daryl's character to carry on his story for many more seasons – perhaps even someday we could find him as the sole leader of the group?
What are your thoughts on Reedus possibly being the last Atlanta O.G.? Would you want to see a world where Daryl is alive and Rick isn't? Let us know!
The Walking Dead returns on Feb. 25 on AMC.
Related:
Norman Reedus Posts a Photo of his 'Cat Twin'
Norman Reedus hit a Daryl Dixon Jackpot in Vegas
'The Walking Dead' Officially Renewed for Season 9 With a New Showrunner
Norman Reedus on Playing Daryl and the Future of 'The Walking Dead'
'Fear the Walking Dead' First Look at Morgan's Crossover
Having studied Media & Writing at James Madison University, I always knew that I wanted to do some type of creative writing, but being able to write about zombies, Starks, and superheroes on a daily basis for Fan Fest is my actual dream. While I probably shouldn't be as proud as I am to be so similar to Nick Miller, I do hope to one day write my own "Pepperwood Chronicles'.