Netflix Shut Down a 'Stranger Things' Pop-Up Bar With the Best Cease-and-Desist Letter
Published on September 20th, 2017 | Updated on September 20th, 2017 | By FanFest
Netflix has been on top of their marketing game for the upcoming sophomore season of Stranger Things and things are only getting better. Recently, a Stranger Things pop-up bar appeared in Chicago and it. is. amazing.
First of all, look at the spooky entrance to the bar featuring the Hawkins energy department sign.
It's got the signature flashing Christmas lights in a sitting area.
And "Upside Down" tables on the ceiling featuring Eggos, of course.
It's also got this old-school "AV Club" set up playing the show.
Plus, it's a bar so they're serving up some delicious drinks on top of all the awesome decor.
Including this Eleven slushie drink that comes garnished with a waffle. Sign me up.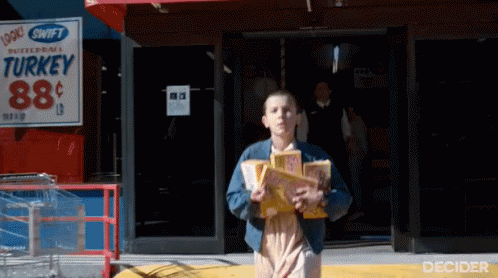 It is seriously legit and therefore became quite popular with the locals pretty quickly. Well, Netflix caught wind of the unauthorized bar and were definitely not okay with it (naturally). However, instead of sending them a strongly worded cease-and-desist letter they decided to approach the situation in a creative and respectful manner that also benefitted both their show and brand.
The letter reads:
Danny and Doug,

My walkie talkie is busted so I had to write this note instead. I heard you launched a Stranger Things pop-up bar at your Logan Square location. Look, I don't want you to think I'm a total wastoid, and I love how much you guys love the show. (Just wait until you see Season 2!) But unless I'm living in the Upside Down, I don't think we did a deal with you for this pop-up. You're obviously creative types, so I'm sure you can appreciate that it's important to us to have a say in how our fans encounter the worlds we build.

We're not going to go full Dr. Brenner on you, but we ask that you please (1) not extend the pop-up beyond its 6 week run ending in September, and (2) reach out to us for permission if you plan to do something like this again. Let me know as soon as possible that you agree to these requests.

We love our fans more than anything, but you should know the Demogorgon is not always as forgiving. So please don't make us call your mom.
This letter just further goes to show just how much creativity is valued at Netflix as well as the respect they have for both their fans and their content. October can't get here soon enough! Stranger Things season 2 will be released on Netflix on October 27th.
Related Articles:
'Stranger Things' Has Already Won an Impressive Five Emmy Awards
This Arcade Inspired 'Stranger Things' Video Will Brilliantly Recap Season 1 For You
'Stranger Things' Will Have Third Season, Will Likely End After the Fourth
Having studied Media & Writing at James Madison University, I always knew that I wanted to do some type of creative writing, but being able to write about zombies, Starks, and superheroes on a daily basis for Fan Fest is my actual dream. While I probably shouldn't be as proud as I am to be so similar to Nick Miller, I do hope to one day write my own "Pepperwood Chronicles'.