6 TV Small Towns You Probably Wanted To Live In
Published on May 23rd, 2017 | Updated on May 23rd, 2017 | By FanFest
Stars Hollow, CT – Gilmore Girls
The quirky and charming town of Stars Hollow, CT was the home base for our favorite Gilmore girls and was the perfect portrayal of small town living. Stars Hollow quickly became a character throughout its series run and it's easy to understand why. From timeless traditions such as the dance marathon or the picnic basket auction, to the eclectic townspeople that always had something to say, Stars Hollow always felt like home. If you've ever wanted to read a book in the town gazebo or attend one of Taylor's crazy town meetings – you're not alone!
Want to visit a real life Stars Hollow? Check out Washington Depot, CT
Pawnee, IN – Parks and Recreation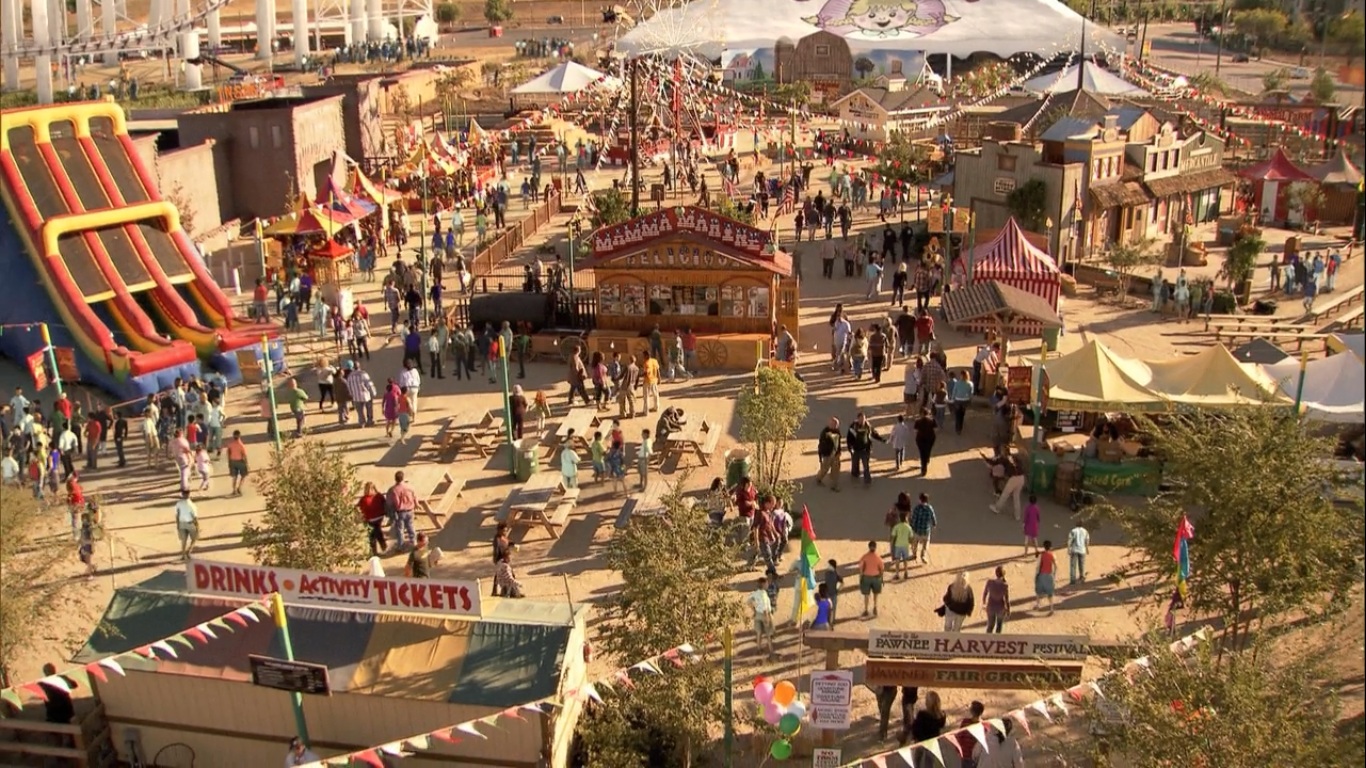 Oh Pawnee, home of the world famous Julia Roberts lawsuit and the most eccentric group of people you'll ever meet. Who wouldn't want to go to Pawnee and visit the Smallest Park in Indiana or attend the Harvest Festival? They also have great pits there. If you live in Pawnee, your town is in the fabulous hands of Leslie Knope and she is going to take great care of you. You're surrounded by delicious (yet super unhealthy) food and you may even get a glimpse of the infamous Lil' Sebastian. When it comes to a town that will always keep you on your feet, Pawnee is the place.
Want to visit a real life Pawnee? Check out Lafayette, IN.
Mystic Falls, VA – The Vampire Diaries
Sure, Mystic Falls isn't the highest on the safety scale, but rest assured that there is a very dedicated group of townspeople and supernatural beings fiercely trying to protect it and the people in it. What makes Mystic Falls special though is it's rich history. The town revels in its founding in the 19th century and all politics and social stature revolve completely around those that were members of founding families. The town is full of fun and sometimes quirky events that have been taking place for centuries including things like Founder's Party, Founder's Day, and the Miss Mystic Falls Pageant. It may not be the most relaxing town to live in, but you can always hit up The Mystic Grill for a drink to help you forget about the vampires and werewolves roaming about.
Want to visit a real life Mystic Falls? Check out Covington, GA. You may even seem some familiar exterior shots.
Dillon, TX – Friday Night Lights

In Dillon, TX football is life and the boys who play it are superstars. It's this sport that brings the entire town together on Friday nights. Everything shuts down and it's just you and your family and friends watching the panthers take home the state championships. You'll meet your best friends in Dillon and even find the love of your life. While Dillon is never short of drama, it really is just a small Texas town where everyone has each other's back.
Want a real life Dillon, TX experience? Check out Odessa, TX.
Bluebell, AL – Hart of Dixie
With a name as adorable as Bluebell, you know you're in for a treat in this small southern town. When Doctor Zoey Hart arrives in Bluebell from New York City she definitely had to do some adjusting to the charming town's way of life. The locals are a very eccentric bunch, often getting into other people's business, and the mayor has a pet alligator. The architecture and history is unmatched and you'll always have something to do with all of the town events and festivals! Luckily, you can always count on the Rammer Jammer for some good food, drinks, and conversation if you need a break. Even if you aren't exactly like the residents of Bluebell, they will have no problem welcoming you in and making you feel at home.
Want to visit a real life Bluebell? Check our Fairhope, AL.
Tree Hill, NC – One Tree Hill
Tree Hill was the idyllic hometown of the dramatic Scott family. While the town doesn't exactly have the cleanest record for motor vehicle accidents, it had such a cute small town feel and at some point or another you definitely wished you lived there. I mean how cool would it have been to just walk on over to your best friends house before school? Or hit up the River Court at any time of the day or night for a quick game of hoops. And if rivers weren't your thing, they had the beach right there too. Also, Tree Hill notoriously had the best music game of all time. Where else could you just casually go see Fall Out Boy or Kid Cudi for free? That's right. Nowhere.
Want to visit a real life Tree Hill? Check out Wilmington, NC. It's where the show actually filmed and you can even go on location tours.
Having studied Media & Writing at James Madison University, I always knew that I wanted to do some type of creative writing, but being able to write about zombies, Starks, and superheroes on a daily basis for Fan Fest is my actual dream. While I probably shouldn't be as proud as I am to be so similar to Nick Miller, I do hope to one day write my own "Pepperwood Chronicles'.