From High School to College: How 8 Shows Tried to Pull it Off
Published on May 24th, 2017 | Updated on May 21st, 2018 | By FanFest
Teen dramas make for great and entertaining television. High school provides the perfect setting to watch a group of characters grow and face various challenges and conflicts together. A lot of times these shows can go on for a few seasons until it becomes glaringly obvious that they should probably be graduating soon. This is one of the dark clouds that the writers often have to deal with and more often then not it's a bumpy ride transitioning those characters to college.
Typically the shows will have great graduation episodes in order to fully complete this period of the character's lives, but when it's time to move them along and that foundation that they'd had for so long is gone, it's hard to find that same footing and rapport. Oftentimes characters are isolated or the plot lines that generally would have been used in a college story have been used already (i.e. the sleeping with your teacher trope) in the high school years, which tends to end up resulting in a loss of viewers and a canceled series.
Since graduation season is upon us, let's take a look at how 8 shows handled their kids graduating and how they well they transitioned them all to college.
** This post does contain spoilers **
Boy Meets World
The graduation: The graduation episode of Boy Meets World was flawed but it was a good ending to the high school years overall. There were some highs such as Eric hilariously serenading Mr. Feeney right in the middle of the ceremony and Shawn finally realizing just how much school should have meant to him. However, it often hit a low note when dealing with Topanga. First, she had been working tirelessly to be Valedictorian, but at the last minute, she decided to not speak and give her time to Shawn instead. The big question throughout the episode though, was what decision Topanga would make about her future. Would she go to Yale or to Pennbrooke with Cory? Well, after discussing her struggle with Mr. Feeney she ultimately decides to be with Cory. She proposes to him right in the middle of the ceremony, which was a good stepping stone plot-wise for the show moving forward, but also a bit troubling. Overall, Boy Meets World was able to stand the test of time and follow our characters through essentially their entire academic lives, and the graduation proposal was definitely one of the series' standout moments.
ABC
The transition: If there was one thing that Boy Meets World really had down it was moving the story along naturally. You watched Cory Matthews go from middle school all the way through college. You maybe even watched him venture into parenthood on Disney's Girl Meets World. So, when it came time for the gang to graduate from John Adams the high expectations were there, but they weren't unattainable. Boy Meets World chose to go with the whole 'have everyone attend the same college' and it definitely worked. Sure, the show lost a small bit of the humor and charm that it became so comfortable with for five seasons, but it found it's footing. The college years allowed for all of the characters to face challenges that were more adult. Having Topanga and Cory juggle both entering college and being engaged added a different dynamic to their relationship and gave them ample stories to work with. We also got to watch Shawn and Angela struggle with moving their high school romance into college. Much like the show itself, they were all struggling to find their new identities in college and I think that is partly what made BMW a good contender.
Success Scale: 6/10
Gilmore Girls
The Graduation: Rory's graduation from Chilton Academy was such a great moment for all of the Gilmore clan, and for viewers as well. We watched Lorelai struggle with the decision to ask her parents for help with Chilton tuition way back in season one, but the pride that is on all of their faces throughout the whole scene made all of that drama worth it. In addition to that, Rory used her valedictorian speech as a way to thank her mom, which was the perfect way to incorporate the relationship that made the show beloved by all.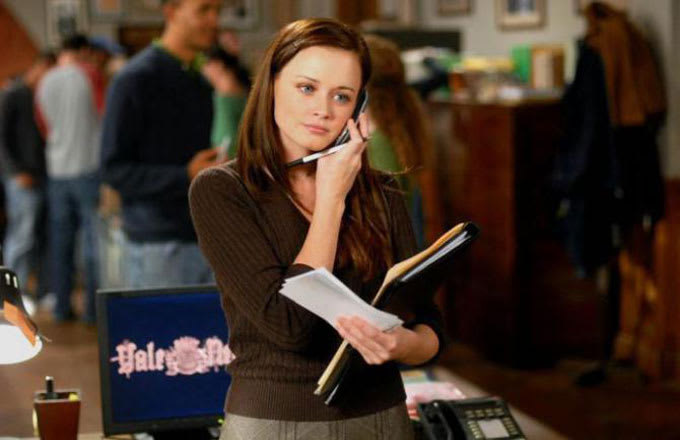 The Transition: We actually got to go through all four years of college with Rory, which I would say is pretty successful. By having her room with Paris and being close enough to home to visit often, the show still managed to hold on to a small piece of those early season feels. Rory's gigantic and fully furnished dorm room, however, was one of the most unbelievable aspects of Gilmore's college experience. The college years allowed the series to really focus more on the individual struggles of the two Gilmore girls and gave viewers their third boyfriend to argue over in Matt Cruzchy as Logan Huntzberger. It certainly wasn't the same as having the Rory and Lorelai living together in town all of the time, but the show still managed to feel pretty warm and homey while Rory was away at Yale.
Success Scale: 8/10.
Glee
The Graduation: Glee's graduation was always going to be a fun one. Not only because of the whimsical nature of the show but because you knew they were going to be singing some epic songs during it. "Glory Days" was by far the perfect song choice and the whole scene only focused on your favorite New Directioners. You'd followed Finn, Rachel, Santana, Kurt, Puck, Mercedes, and Quinn for a few seasons and getting to watch them all graduate on time (it was a close call for Puck!) was really great. It was a beautiful tribute to the characters we loved.
The Transition: When it was time for the first batch of New Directioners to graduate there was a huge question mark about what that meant for the glee club. Well, Ryan Murphy and Co. chose to keep some of the favorites around for another year including Blaine, Sam, and Brittany and go back and forth to Rachel and Kurt in New York. This decision would ultimately be loved and hated by viewers. The change to have Rachel and Kurt in NY was a lot to take in, so it was always nice to see the familiar halls and faces of McKinley. On the other end, not many people loved the new crop of kids and oftentimes the plot would feel a little stilted having to go back and forth all of the time. Eventually, more characters started to fall into the New York storyline and it was able to hold it's own until the show's final season when they all went back to Ohio. Overall, I felt that Glee handled college pretty well and the fact that a few of the characters were so lost after college was relatable, but the show definitely needed to go one way or the other.
Success Scale: 5/10.
One Tree Hill
The Graduation: One Tree Hill's graduation episode had it all. It gave everyone their moment to shine but also came with a huge surprise as Haley went into labor during her valedictorian speech. The moment when Nathan stands up in a sea of blue with that look of pure happiness on his face is definitely a top moment for any One Tree Hill fan. A live version of the Foo Fighters "Times Like These" played in the background and was the most perfect song choice for the whole scene. It was a rare moment in One Tree Hill where a moment that should be happy stayed just that…happy. No psychos or car accidents could ruin this graduation. Technically, Lucas's mom Karen was in the hospital after having some pregnancy complications, but that storyline didn't conclude until the next episode.
The Transition: One Tree Hill did something that was pretty unprecedented back then – it skipped college all together. This decision is probably what allowed the show to go on for four more seasons. Not only did it give the characters the chance to play closer to their own age, but it also gave the show the ability to flashback to those four years of college and really dive into how those years affected the characters today. As their future careers showed, the Tree Hill gang were all going in many different directions that there was no way they could all end up at a "Tree Hill University." So, this decision was probably one of the best transitions any high school drama series could make. It also gave us the adorable Jackson Brundage as Nathan and Haley's son, Jamie.
Success Scale: 9/10. This probably could have gotten a higher rating had most of the main characters not been pretty rich and successful at the ages of 22 after the time jump.
The O.C.
The Graduation: Well. Where do you begin with the graduation episode of The O.C.? As you can see in the clip above, it was actually a perfect montage. Watching Ryan, Seth, Summer and Marissa all accept their diplomas as their parents cried with pride from the audience is just about as happy and uplifting as you could imagine. Not to mention that Autumn Reeser who played Taylor Townsend gave a wonderful speech while an O.C. music staple, Imogen, played in the background. The stage was set perfectly for a beautiful send off for the gang until they came back for college in their fourth season. However, The O.C. decided that it would be a good idea to have Marissa die in a car accident and the show was literally changed forever.
The Transition: Whether or not they thought that it would give them a good storytelling device for the fourth season, the decision to kill Marissa hurt the show more than it helped, sending the characters and stories into a tailspin. Ryan ended up dealing with his pain and anger by getting into the cage-fighting game. Seth Cohen was piddling around waiting for the second semester so that he could go to the Rhode Island School of Design, and Summer was at Brown University becoming an environmentalist and hanging out with Chris Pratt. Eventually, Ryan finds his way to school and Seth and Summer are reunited, but by this point, The O.C. had turned into such a hot mess that you wished the whole third season finale and the fourth season had never happened. What started out as one of the most popular shows on television quickly self-destructed when it was time to move their characters onto the next chapter.
Success Score: 2/10
Veronica Mars
The Graduation: Veronica Mars's graduation took place in season 2, which is an early season compared to most other shows. A lot of times high school is really working for a show so they try to hang onto it as long as possible, but it worked out perfectly for our Neptune graduates. Well, most of them…Weevil is arrested for murder right during the ceremony. It was heart wrenching to watch him plead with the sheriff to not do it right there in front of his friends and his family, especially after he had worked so hard to graduate. The actual graduation of Veronica Mars was nothing to write home about, but…
The Transition: …The show's transition to college was pretty flawless. The same tone and wit were there and the continuation of the season two mystery into season three really tied it all together. Veronica didn't have the largest group of friends, so it wasn't completely out of the ordinary that most of them would go to the same school, and once you added in the new additions of Piz and Parker as love interests, Mars's final season actually ended up being one of it's strongest.
Success Scale: 7.5/10
Dawson's Creek
https://www.youtube.com/watch?v=s32Awu65neo&t=123s
The Graduation: The kids of Capeside had a very run of the mill graduation episode with some good closure for the characters thus far. You had Dawson who was about to embark on his dream of movie making. Joey received some last minute perspective in a letter from her mother that helped her write her graduation speech. Jack finally opens up regarding his relationship with Toby. Pacey, who almost didn't graduate, was able to pass his last final but opted to skip out of the ceremony to leave on a yacht trip. The scene of them actually graduating had all of the things you loved about Dawson's Creek – a beautifully written speech, a little bit of laughter, a brief Dawson and Joey scene, and a cute shot of a smirking Joshua Jackson, all while Eva Cassidy's "Fields of Gold" plays.
The Transition: Dawson's Creek was going to be one of those shows that struggled with the college transition. This was easy to see throughout it's fourth season and actual graduation episode. Almost all of the characters were going to go different directions and it was going to be difficult to keep that that small town group of friends rapport they had going in tact. While it is so much more realistic for a group of friends to go to different schools, it's hard to actually pull off on TV as was evident with Dawson's. Viewers watched as Dawson dropped out of USC film school in order to return to Capeside, even though that had been his dream since first meeting him in the pilot. Jack and Jen both attended Boston Bay where they were roommates with Grams?? And Pacey tried his hand at being a chef?? The only somewhat promising story was Joey at Worthington, where we got to meet the adorable Busy Phillips as her roommate Audrey. Overall, Dawson's Creek was the perfect example of just how hard it is to remain realistic about college in a TV show.
Success Score: 2/10
The Vampire Diaries
The Graduation: There was A LOT going on during the graduation episode of The Vampire Diaries. A lot of plots, a lot of supernatural threats, and a lot hanging in the balance. The path to TVD graduation seemed like a very natural progression. It was the season finale for the fourth season and after watching all that those characters had been through, it was nice and comforting to see them finally having something normal happen to them. Granted, witches, vampires, ghosts, and werewolves were all trying to destroy the town, but at least these kids got to graduate high school! Their reactions in the clip above in a way proved that same point -that they all made it, and even though it's brief it's sweet. Elena mentions that she forgot to meet the deadline for college, but Caroline reminds her that they are vampires and can go to school wherever and whenever they want.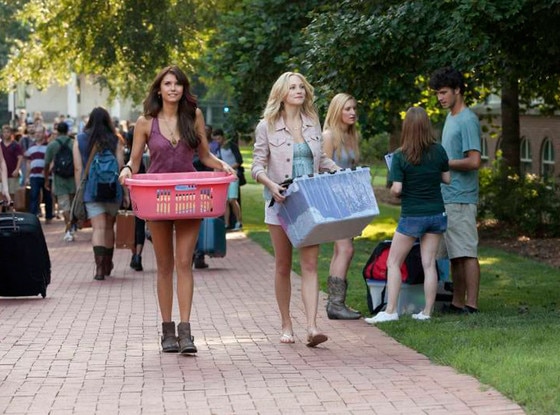 The Transition: Caroline, Elena and Bonnie head to the somewhat local Whitmore College where they live in the world's nicest and most unbelievable college dorm. The show initially handled the transition well, having Whitmore full of supernatural tradition much like their hometown of Mystic Falls. However, as the plot and stories continued to develop there was less and less attention given to the actual going to college part. The show's supernatural essence is what saved the show plot-wise during the college years. So, once you got over the fact that Whitmore college merely served as a background player, The Vampire Diaries was still somewhat a success. Once Nina Dobrev left the show at the end of the sixth season, the series opted out of college altogether.
Success Score: 4/10
Having studied Media & Writing at James Madison University, I always knew that I wanted to do some type of creative writing, but being able to write about zombies, Starks, and superheroes on a daily basis for Fan Fest is my actual dream. While I probably shouldn't be as proud as I am to be so similar to Nick Miller, I do hope to one day write my own "Pepperwood Chronicles'.