15 Times Negan Gifted Us With a Perfect One-Liner on 'The Walking Dead'
Published on April 22nd, 2019 | Updated on April 22nd, 2019 | By FanFest
Love him or hate him, Negan has certainly made his mark on The Walking Dead universe. While he's currently in the midst of a redemption arc heading into season 10, the character has created quite the visceral reaction amongst fans of the show. I mean, you can't kill Glenn and expect to just to be forgiven. It was going to take a special kind of man to bring the notorious wise-cracking a-hole to life, and it was a role that Jeffrey Dean Morgan stepped into seamlessly. So, in honor of JDM's 53rd birthday, we've rounded up 15 Negan one-liners that were actually birthday gifts to us.
*All gifs are courtesy of AMC and some quotes do include Negan-esque language*
1. "Yep, it's gonna be pee pee pants city here real soon."
2. "I've got my fingers crossed for a little freaky-deaky."
3. "Your moth is all puffed up like a baboons ass."
4. "I could never do this with Rick. He would just be standing there, scowling, giving me that annoying side eye he gives me."
5. "Holy crap, you are creepy as shit sneaking up on me wearing that collar with that freaky ass smile."
6. "You've got some beach ball sized lady nuts on you, coming in all kamikaze-like that."
7. "I gotta ask…if you wanna take over, why not just kill Rick yourself and just take over? You know what I'm thinking? Because I have a guess. It's because you got no guts."
8. "You ever hear the one about the stupid little prick named Rick who thought he knew shit but didn't know shit and got everyone he cared about killed? It's about you."
9. "Little Pig! Little pig, let me in!"
10. "Lucille is thirsty. She's a vampire bat!"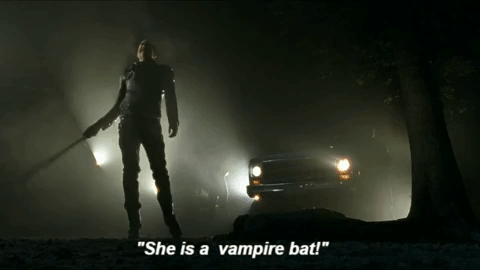 11. "I just slipped my d–k down your throat, and you thanked me for it."
12. "Well pardon me, young man. Excuse the shit out of my god damned French, but did you just threaten me?"
13. "I hope you got your shitting pants on. 'Cause you're about to shit your pants."
14. "Easy peasy lemon squeezy!"
15. "Lucille, give me strength!"
We are definitely missing some, so please hit us up with your favorite Negan one-liners in the comments!
Happy Birthday, Jeffrey Dean Morgan!
Having studied Media & Writing at James Madison University, I always knew that I wanted to do some type of creative writing, but being able to write about zombies, Starks, and superheroes on a daily basis for Fan Fest is my actual dream. While I probably shouldn't be as proud as I am to be so similar to Nick Miller, I do hope to one day write my own "Pepperwood Chronicles'.