12 Moments from the 'Avengers: Infinity War' Trailer That Deserve a Shout Out
Published on November 29th, 2017 | Updated on November 30th, 2017 | By FanFest
Unless you've been living under a Ragnarock, you know that this happened Wednesday:
The trailer is two and a half minutes full of your favorite Avengers up to their typical badassery, but it certainly has its darker undertones, making it clear that Avengers: Infinity War is going to be unlike any Avengers film we've seen before. So, while it was extremely difficult to choose, we managed to pick out 12 of our favorite moments from the trailer for your viewing pleasure. Enjoy!
1. The Marvel Intro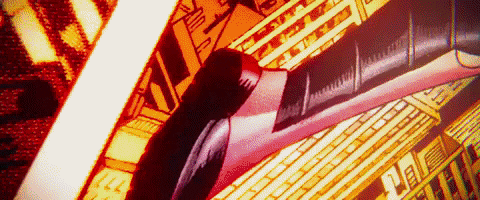 If this doesn't give you chills and that familiar feeling that you are about to watch something entirely epic, go home. LET'S GOOOO!
2. The Quote
"There was an idea, to bring together a remarkable group of people. To see if we could become something more. So when they needed us we could fight the battles that they never could."
The trailer kicks off with this quote split between Nick Fury, Iron Man, Vision, Black Widow, and Thor. It's actually a wonderfully welcomed callback to the Fury quote from first Avengers film, which read "There was an idea, Stark knows this, called the Avengers Initiative. The idea was to bring together a group of remarkable people, see if they could become something more. See if they could work together when we needed them to fight the battles we never could."
To think about how far the Avengers and Marvel have come some since MCU's first phase is incredible and this quote definitely stirred up all the emotions right off the bat.
3.🕷 Spidey Senses 🕷
YES. Peter Parker's intro is by way of his spidey-senses and we are totally here for it. They were an element of Spider-Man that was somewhat sidelined and missed in Homecoming so it was awesome to see those hairs raising up, alerting Peter that danger is near. Also, the fact that he's on a school bus just further adds to the fact that Marvel is doing Spider-Man right and reminding you that he's still just a kid.
4. Loki with the Tesseract
Of course, everyone's favorite MCU troublemaker is back and will probably continue to put us through the whiplash ringer as he flops back and forth between being the villain you hate that you love and the antihero you definitely love. Now, Thanos' goal is to collect all six of the Infinity Stones and casually use them to inflict evil on all of reality, so naturally, Loki is in possession of the Tesseract, aka the Space Stone, looking manic with power and will most likely do something to infuriate everyone, but hey, it's always nice to see Loki.
5. Iron Spider Suit
We got our first look at Spider-Man rocking the sick Iron Spider Suit that Tony presented Peter with at the end of Homecoming and it looks totally badass!
6. Capn' Beard
Captain America is rocking a new 'do and it kind of steals the show, to be honest. So, what does this new aesthetic mean for Cap? Is it just because he is still on the run from the authorities after the events of Civil War or is he just fully embracing the "new hair, new me" attitude after walking away from the Captain America title? Who knows, but T'Challa's Black Panther is not having it. He knows a thing or two about Vibranium and he's about to hook Capn' Beard up.
Side note: I'm sure this scene is not how it actually plays out in the movie, but it's really great to think that Steve was just chilling back there, waiting for some cool line to make his entrance.
7. The Black Order
Thanos isn't taking on the Avengers alone, he's got his merry group of henchmen called the Black Order with him and in this really quick shot, you can see a female member of the Order firing her spear at a shadowy figure who is clearly Captain America.
8. Natasha & Bruce
Is there anyone out there who doesn't ship these two? We can't be entirely sure if this exchange is actually between these two but it damn well better be! Also, Natasha is rocking a new blonde hairdo as well and the two are definitely meeting up in Wakanda. Bruce is standing next part of the Hulkbuster suit and later in the trailer we get this scene: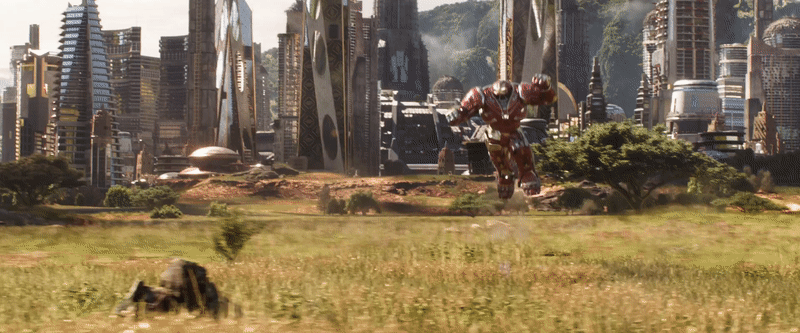 Could that be Bruce in the suit and not Tony?
9. Bucky Chilled Out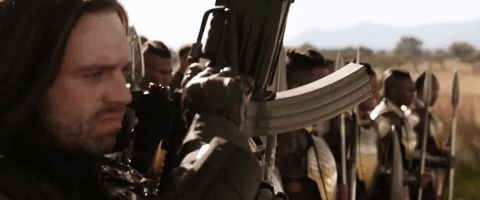 Looks like someone dethawed and is ready for action. Bucky get this quick little badass scene as he stands alongside the Wakanda army so of course, we had to include it on this list!
10.The Wakanda Army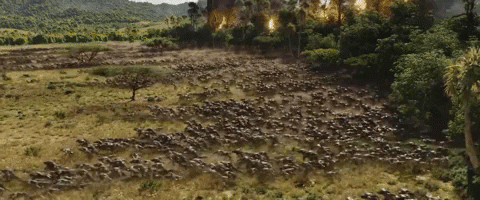 How awesome does this battle scene look? You've got waves of aliens invading on one side and Black Panther leading the Wakandan Army on the other. Not shown in the gif is Falcon flying overhead and the Hulkbuster taking out some aliens.
These Wakanda scenes are only getting us more excited for Black Panther in February.
11. Slo-Mo Running Shot
Marvel never goes wrong when they throw in one of these shots. Why is this one so special? Aside from being #squadgoals, Danai Guiria aka Michonne on The Walking Dead is looking fierce AF and definitely deserves a shout out. Also, notice that War Machine is with them and that Bruce is there in Hulk form, so maybe it's not him the Hulkbuster suit?
12. The Guardians Have Arrived
It's safe to say that the Infinity War trailer as a whole was pretty dark, but fear not because the Guardians of the Galaxy arrive just in the nick of time in the trailer's closing moments to bring a smile to your face. Thor and his new eye patch come face to face Star-Lord and the gang (teenage Groot!!) and all feels right. We can't wait to see them interacting with the Avengers and they are sure to play a huge part due to the fact that Thanos' planet Xandar is actually on their turf.
What were your favorite moments from the trailer?
Related:
Examining the 'Avengers: Infinity War' Trailer!
BREAKING: Avengers: Infinity War Trailer is here!
Having studied Media & Writing at James Madison University, I always knew that I wanted to do some type of creative writing, but being able to write about zombies, Starks, and superheroes on a daily basis for Fan Fest is my actual dream. While I probably shouldn't be as proud as I am to be so similar to Nick Miller, I do hope to one day write my own "Pepperwood Chronicles'.