'The O.C.' Creator Looks Back on the Pilot 15 Years Later
Published on August 6th, 2018 | Updated on August 6th, 2018 | By FanFest
Are you ready to head back to The O.C.? It's somehow been 15 years since that game-changing pilot episode first premiered and a trip down memory lane feels long overdue. When The O.C. hit the small screen on August 5, 2003, it was a roaring success both in the ratings and with audiences. It was a teen staple that completely changed the landscape of the teen drama genre, following Ryan Atwood as he's introduced into the lavish and dramatic world of the Orange County elite. While the show struggled in later seasons, the pilot episode and season 1, in general, gave fans some brilliant characters, soundtracks, and iconic moments.
To celebrate the show's 15-year anniversary, creator Josh Schwartz sat down with EW and revealed some insight and secrets from that game-changing pilot episode.
Ryan Atwood
Ryan Atwood was a primetime bad-boy. We first meet him trying to steal a car with his brother (albeit begrudgingly) and throughout his time in The OC, he always struggled to find where he fits in. What was so endearing about Ryan's character was that he had such a good heart that had just hardened over time due to circumstance. Watching Ryan come out of his shell and receive the love, support, and opportunity he needed to unlock his full potential was a beautiful journey, and many thanks go to Ben McKenzie's (Gotham) earnest performance.
[row]"The trick with Ryan was that he was not passive but that he's an observer. He was kind of like a stray puppy in a way. Hopefully, the audience would understand that he was a good kid who just needed somebody to believe in him. But the trickiest part with Ryan was really how, for a while, he was just going to be taking things in and being the audience surrogate for us."[/row]
Seth Cohen
While the show really touched on how Ryan's life changed when he was taken in by the Cohen's, it also focused on how Ryan impacted the Cohen's, specifically Seth. Seth Cohen (Adam Brody) was a leading man that audiences weren't really used to seeing, but he owned his geeky-chic persona and became one of the show's breakout stars.
[row]"At first, if you can believe it, [Seth] was even nerdier. He had a little bit more Freaks and Geeks energy. But the biggest change was when we found Adam Brody. He added a confidence in his insecurity and obviously, he was also very appealing to women so he really helped sell that character. The model had always been: You get your Luke Perry and you get your Jason Priestley. It wasn't: You get your Luke Perry and then a nerdy Jewish kid who has a plastic horse that he talks to."[/row]
Sandy Cohen
Let's be honest, Sandy Cohen (Peter Gallagher) was the coolest dad. He opened up his heart and home to Ryan pretty shortly after meeting him and gave him a chance to really become something. He loved Kirsten (Kelly Rowan) with all of his heart, but he wasn't afraid to stand up for himself to her or her father (Alan Dale). He was a great father and friend to Seth, accepting all of his weird quirks, and the two had such a cool and close relationship. Plus, the man loved a good bagel. Sandy Cohen was just the best.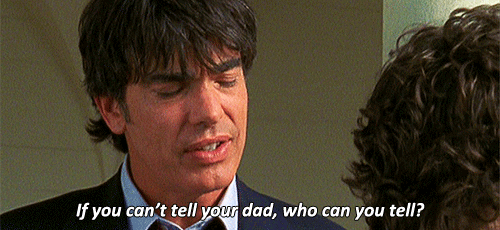 [row]"Steve Schwartz would say that there's a lot of inspiration for Sandy Cohen in his sardonic matter. He's from the Bronx and so is Sandy, so there's that. But also we loved the idea of this Jewish liberal from New York who had kind of settled into the California dream with the shiksa goddess whose family could not be richer or waspier, but that he was still trying to hold onto his values and be a voice of good and a conscious in a place that wasn't known for that. That was just a really fun character and something that Peter [Gallagher] really ran with. He was the first person we cast for the show."[/row]
California, Here We Come
The O.C. was notorious for having a great musical catalog, but nothing was more important than the theme song, "California" by Phantom Planet. You can't listen to this song today without someone mentioning The O.C. and Schwartz revealed that they almost didn't go with it.
[row]"We were worried that that song had been overplayed but we thought it would be effective for the trailer. What we came to realize was a lot of people hadn't heard the song when it first came out. So it became the obvious choice for the main title song."[/row]
Standout Scenes
There were quite a lot of moments that made The O.C. stand out. For a teen drama on primetime, it was edgier and sexier and just all around different than what fans were used to. Although, it was the more subtle and charming scenes that stood out to Schwartz and informed him that they were really onto something special that had a heart to it, not just drama.
[row]"The first time Ryan and Seth met, we were laughing and enjoying ourselves. Then there's a scene at Marissa's [Mischa Barton] fashion show and Ryan and Seth sit with the little kids and Chester, who's the one kid who goes to sailing lessons for Seth. Seeing those two guys sitting at a table of kids and there's Luke [Chris Carmack] and his water polo posse, and Marissa's coming out on the catwalk. That was a moment I remember feeling like, 'This feels exciting and fun.'"[/row]
The Driveway Scene
"Who are you?"
"Whoever you want me to be."
Ryan and Marissa's (Mischa Barton) meet-cute in the driveway where they share a cigarette still remains one of the most memorable scenes of the entire series. The two had chemistry and there was already so much there that viewers wanted to unpack, but on the production side, there was so much more behind that cigarette scene than too cool for school dialogue.
[row]"The other scene that we felt really good about was when Ryan and Marissa first meet in the driveway. A wind picked up when we were shooting it, but only on Mischa's coverage. You know how some actors can always find the light? Mischa found the wind. It was also the first and only time we had a teenager smoking a cigarette on network television. The deal with the network was: It's a moment of Marissa showing a little bit of rebellion and after this, Ryan will never smoke again. We were able to get it through that way. They had us actually go back and try to reshoot his side of the scene for commercials because they couldn't use the cigarette in the commercials but it was never the same."[/row]
Summer
It's actually impossible to imagine The O.C. without Summer Roberts, who was played by Rachel Bilson. Surprisingly, Summer was only meant to be a small guest star, but her performance in the first couple of episodes impressed the writers so much that they made her a series regular almost immediately. Thank goodness they did because Summer went on to have an amazing redemption storyline from a snobby popular girl to the girl with the biggest heart and ambition.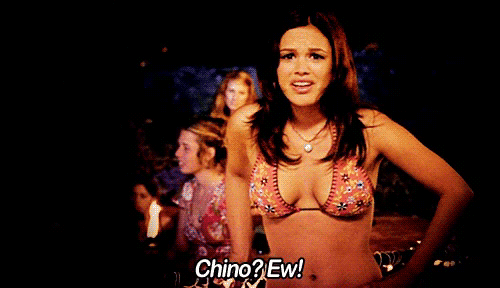 "[The ew] was a scripted line and we talked early on like, 'Let's make this your catchphrase' in a fun way. Summer wasn't a series regular in the pilot and she had three lines and one of them was, 'I have to pee, do you have to pee?' But she really sold that line and got it in all of its complexity. [Laughs] And then over the course of the first six episodes, the more we gave her to do, the more she was really knocking it out of the park, so after the Tijuana episode, she was made a series regular."
"Welcome to the OC, bitch!"
The most iconic line of dialogue from the entire show. End of story.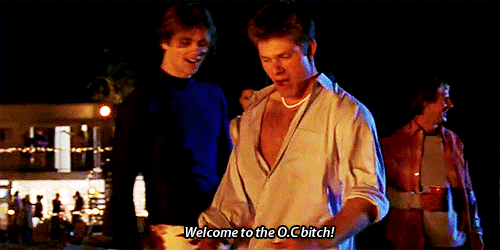 "People from Orange County were like, 'No one calls it The O.C.' But I had gone to USC with kids from Orange County who would refer to it as The O.C. as if it were like The LBC. It gave some people from Orange County pause, but I think they've surrendered now."
The Sunset
The last thing Schwartz talked about was the scene where Sandy is taking Ryan back to Chino and he looks back at Marissa and the life he is potentially leaving behind. It's a beautiful scene and the story behind how it was captured was even better! Not to mention, Schwartz said that before they even filmed anything they knew that Joseph Arthur's "Honey and the Moon" would always be the song playing.
[row]"That Joseph Arthur song was always in there. Doug Liman shot the pilot and there was a scene where Ryan's backing out of the driveway and leaving Marissa behind. The sun was setting and we weren't going to get the shot and all of the sudden, Doug jumped into the car with the camera and got this shot from Ryan's point of view of Marissa just as the sun's flaring out and going down and it was this really incredible moment that he found and really helped sell the scene. But that song was always scripted to play there; it was always how we wanted the end of the show to feel before even knowing what exactly the end of the show was going to be."[/row]
If all of that has you feeling extremely nostalgic, The O.C. is currently streaming on Hulu!
Having studied Media & Writing at James Madison University, I always knew that I wanted to do some type of creative writing, but being able to write about zombies, Starks, and superheroes on a daily basis for Fan Fest is my actual dream. While I probably shouldn't be as proud as I am to be so similar to Nick Miller, I do hope to one day write my own "Pepperwood Chronicles'.