Stop What You're Doing & Watch All The 2018 Tony Performances
Published on June 11th, 2018 | Updated on June 11th, 2018 | By FanFest
Gather 'round musical theater fans! In case you didn't get the chance to watch the Tony Awards last night, which was hosted by the charming Josh Groban and Sarah Bareilles, we've rounded up all the performances for your viewing pleasure.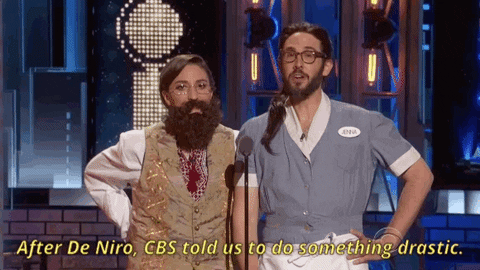 The night was a huge win for The Band's Visit, which walked away with 10 awards and a beautiful performance. The evening also gave audiences a sneak peek into some of the year's most buzzed-about musicals including Mean Girls and SpongeBob SquarePants. There was even a performance by Bruce Springsteen! Check them out below.
Mean Girls
https://youtu.be/ldgh9wETQ6Y
Mean Girls was a huge Tony nominee surprise with 12 nominations and the evening kicked off with performances of "Where Do You Belong" and "Meet the Plastics." While the show didn't walk away with any trophies it gave viewers a great look at the movie come to life.
My Fair Lady
https://youtu.be/sJyBmMSjwv0
My Fair Lady's leading lady Lauren Ambrose gave a show-stopping performance as Eliza Doolittle, singing a medley of "The Rain in Spain," "I Could Have Danced All Night" and "Get Me to the Church on Time."
SpongeBob SquarePants
https://youtu.be/J27lkejpYJ8
If you were wondering just how SpongeBob was adapted to the stage look no further than Gavin Lee's performance of "(I'm not A) Loser. We aren't exactly sure how to feel about Squidward's tentacles but the number definitely dazzled, making Bikini Bottom's 12 nominations well-deserved.
Carousel
https://youtu.be/iLSXI8x7MrI
Carousel, which originally hit the Broadway stage in 1945, was revived this year scoring 10 nominations and walked home with 3. The show chose to go with the fun and dance-filled "Blow High, Blow Low."
Frozen
https://youtu.be/rUSIMSj8NEA
Frozen was practically made for the stage so it was magical to watch Anna, Elsa, Olaf and the gang belting out hits like "For the First Time in Forever" and "Let it Go".
Summer: The Donna Summer Musical
https://youtu.be/5L0aiu6zrjc
The back half of the show kicked off with these lovely ladies in blue performing "The Last Dance". Summer was nominated for two Tony Awards including Best Leading and Featured Actress for LaChanze and Ariana DeBose.
Once On This Island
https://youtu.be/crRlBGjkNeU
Glee's Alex Newell took the stage with the cast of Once on This Island with an amazing medley. Also spotted… Nathan Lane and a goat! The show was nominated for 8 awards.
The Band's Visit
https://youtu.be/G71Zwn9s9vw
The big winner of the night was The Band's Visit, which walked off with Best Musical and 9 other awards out of their 11 nominations. After it's huge night the show is sure to become a huge contender on Broadway, so be sure to watch Katrina Lenk's beautiful performance now!
Springsteen on Broadway
https://youtu.be/8x6i4xeNvG0
If you didn't already know "The Boss" is currently having a concert residency on Broadway, performing five shows a week. The show has already been extended twice due to huge ticket demands. He treated the audience to a performance of "My Hometown".
Parkland Students/Rent
https://youtu.be/srkj63VBSHM
In what was by far the most touching performance of the evening, a group of students from Marjory Stoneman Douglas High School, which endured a tragic school shooting earlier this year, took the stage to perform "Seasons of Love" from Rent. There was not a dry eye in the house.
What was your favorite performance of the evening? Let us know!
Having studied Media & Writing at James Madison University, I always knew that I wanted to do some type of creative writing, but being able to write about zombies, Starks, and superheroes on a daily basis for Fan Fest is my actual dream. While I probably shouldn't be as proud as I am to be so similar to Nick Miller, I do hope to one day write my own "Pepperwood Chronicles'.