'Mayans MC' Introduces Clayton Cardenas as Angel Reyes
Published on August 14th, 2018 | Updated on August 14th, 2018 | By FanFest
Sons of Anarchy may have centered on Jax Teller's (Charlie Hunnam) view of the motorcycle club, but it was his relationships with the other members that truly made the series shine, especially with his stepfather and club president Clay (Ron Pearlman). The two had a relationship long before he became a part of the club and the show really balanced between the themes of fatherhood and the brotherhood of the club.
Similarly, for Mayans MC, we will be seeing things through the eyes of EZ Reyes, a prospect for the club who is fresh out of Stockton State Prison. Although, this time around, the lines of brotherhood are far more involved as EZ's older brother Angel Reyes, played by Clayton Cardenas, is already a fully patched member. The series' official Twitter account gave Angel Reyes his own teaser, much like they did for Club President Obispo "Bishop" Losa (Michael Irby) with the tagline "Anything for the club." In the short clip, he shows off an extremely well-manicured beard and his Mayans tattoo, which takes up a majority of his forearm. Check it out below!
Anything for the club. @cardenasclayton is Angel. #MayansFX pic.twitter.com/SLeCwJAl1o

— Mayans MC (@MayansFX) August 13, 2018
In a recent teaser for the show, we got to see a glimpse of just where these two brothers lie when it comes to EZ's prospecting. In it, Angel is seen saying to him "I can't ask you to do this unless I know you really want it. The club, the life, all of it. All in," which in a way reflects the tagline for his character. It appears that he will be willing to do anything for the club, which might cause some friction between him and EZ, but also their father Felipe (Edward James Olmos). Similar to Sons, which found Jax's father John killed before the series even started, the stakes of family are even higher for the Reyes'.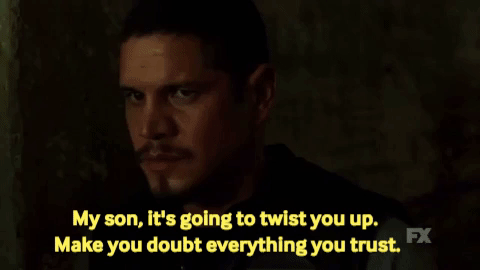 Created by Kurt Sutter, Mayans MC will still feature the familiar feel and drama that Sons of Anarchy fans fell in love with. Sutter has promised to plant some Sons Easter eggs throughout the series and it's been confirmed that some Sons alums will appear on the new series in flashbacks. Sutter has also revealed that he would like to see where Jax Teller's sons Abel and Thomas are at some point down the line.
In addition to Pardo, Irby, and Cardenas, the series also stars Law & Order: SVU alum Danny Pinto, Richard Cabral, Edward James Olmos, Sarah Bolger, and Antonio Jaramillo.
Mayans is set to premiere on Sept. 4 at 10 p.m. ET on FX.
Having studied Media & Writing at James Madison University, I always knew that I wanted to do some type of creative writing, but being able to write about zombies, Starks, and superheroes on a daily basis for Fan Fest is my actual dream. While I probably shouldn't be as proud as I am to be so similar to Nick Miller, I do hope to one day write my own "Pepperwood Chronicles'.