Looking Back at Stan Lee's Iconic Marvel Cameos
Published on November 12th, 2018 | Updated on November 12th, 2018 | By FanFest
In addition to creating some of the most legendary and beloved superheroes of all time, Marvel's Stan Lee, who passed away this morning, loved making cameos in the big (and sometimes small) screen adaptions of his work. To honor and pay tribute to his creativity both on the page and in front of the camera, we've gathered up as many of his cameos as we could. We will forever miss Lee and his brilliant mind but are eternally grateful for his passion and dedication to the craft that led to all of these amazing cameos.
The Trial of the Incredible Hulk (1989)
NBC
He appears at a trial in the NBC TV movie.
X-Men (2000)
He played a hot dog vendor who was on the beach when Senator Kelly surfaces from the water.
Spider-Man (2002)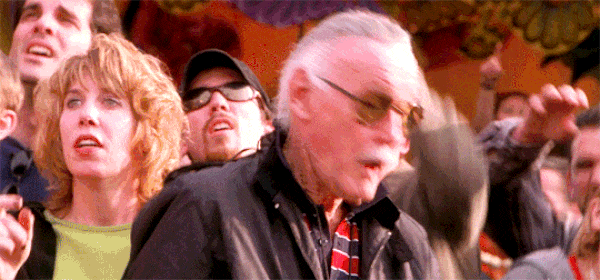 He saves a young girl during one of the Green Goblin's attacks.
Daredevil (2003)
He's saved by a young Matt Murdock while walking down the street reading the newspaper.
Hulk (2003)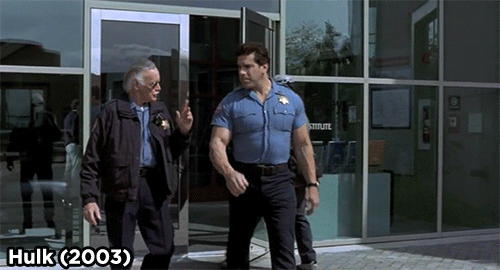 In his first speaking cameo, Lee appears alongside Lou Ferrigno as a security guard.
Spider-Man 2 (2004)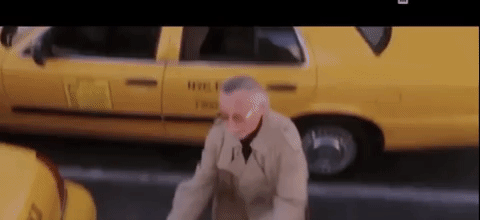 He saved a woman from a falling piece of rubble.
Fantastic Four (2005)
He plays a mailman named Willie Lumpkin who greets the Fantastic Four.
X-Men: The Last Stand (2006)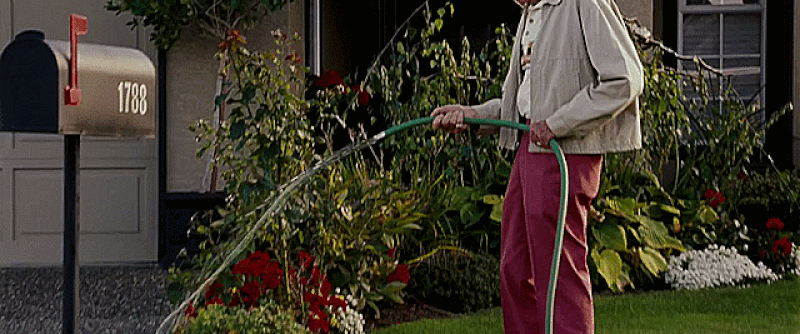 Lee is seen watering his lawn before becoming mesmerized by Jean Grey's telekinesis.
Fantastic Four: Rise of the Silver Surfer (2007)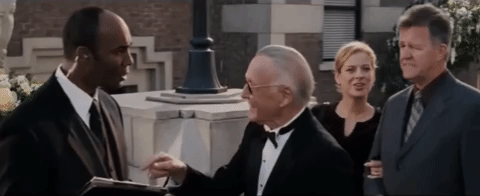 Lee plays a wedding crasher who gets turned away at the door.
Spider-Man 3 (2007)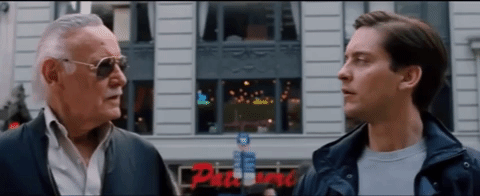 He's seen chatting on the street with Peter Parker.
Iron Man (2008)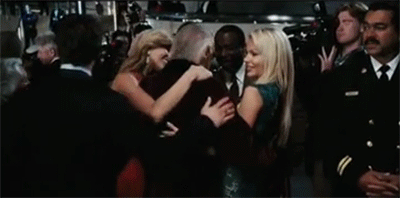 He plays a Hugh Hefner-inspired character.
The Incredible Hulk (2008)
He gets gamma radiation poisoning after enjoying a nice lime green soft drink.
Iron Man 2 (2010)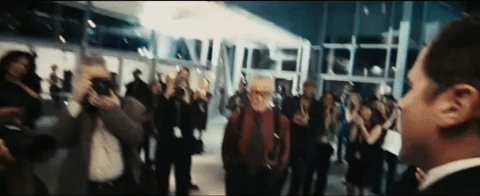 He plays a man who Tony Stark mistakes for Larry King.
Thor (2011)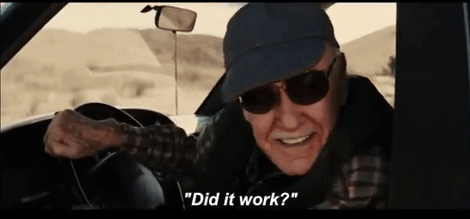 He plays a truck driver who attempts to move Thor's hammer.
Captain America: The First Avenger (2011)
He plays a WWII general at a press conference.
The Avengers (2012)
He's playing chess while being interviewed by the news.
The Amazing Spider-Man (2012)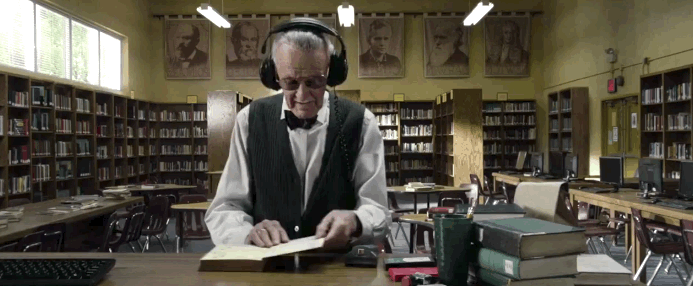 He plays an oblivious high school librarian.
Iron Man 3 (2013)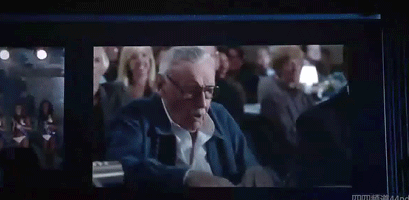 Lee played a super enthusiastic beauty pageant judge.
Thor: The Dark World (2013)
He plays a patient in a mental institution.
Captain America: The Winter Soldier (2014)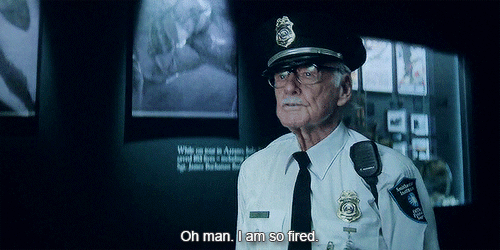 He plays a Smithsonian security guard who fears for his job after Cap's suit is stolen (by Cap).
The Amazing Spider-Man 2 (2014)
He is in the crowd at Peter's graduation.
Guardians of the Galaxy (2014)
He's seen flirting with a woman by Rocket Raccoon.
Big Hero 6 (2014)
He played Fred's father.
ABC's Marvel's Agents of S.H.I.E.L.D. (2014)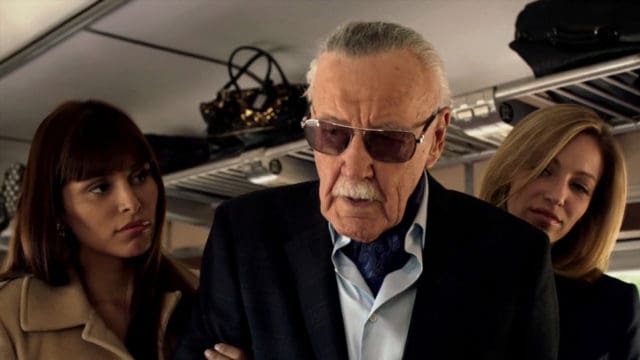 He played a man on the train who talks to Jemma Simmons and Agent Coulson.
ABC's Agent Carter (2015)
He popped up in season 1 while sitting next to Dominic Cooper's Howard Stark.
Avengers: Age of Ultron (2015)

He played a drunk veteran who is escorted out after a little too much Asgardian liquor.
Ant-Man (2015)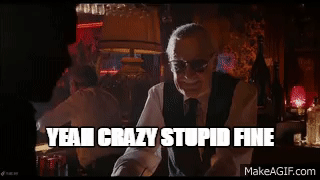 Lee appears during Luis' storytelling scene as a bartender.
Deadpool (2016)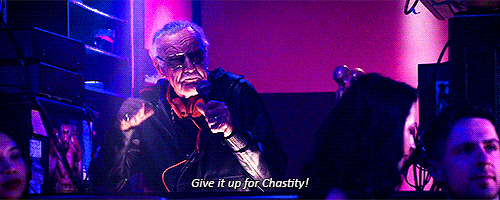 He plays an emcee at a strip club.
Captain America: Civil War (2016)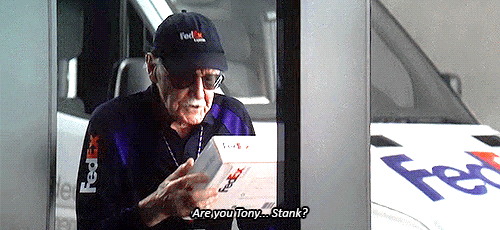 He played a Fed-Ex delivery guy.
X-Men: Apocalypse (2016)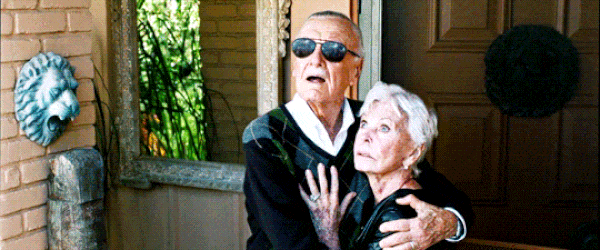 Lee was joined by his wife Joan for the scene where Apocalypse launches all the world's nuclear weapons into space.
Doctor Strange (2016)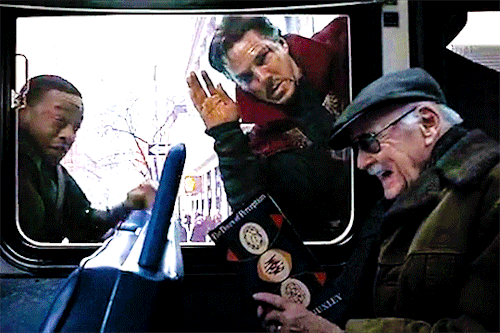 He's on the bus reading a copy of The Doors of Perception during the battle between Doctor Strange, Mordo, and Kaecilius.
Guardians of the Galaxy Vol. 2 (2017)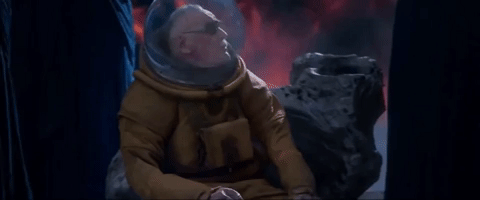 He played an astronaut informant for the Watchers. The cameo was meant to confirm the fan theory that all of Lee's appearances were connected.
Thor: Ragnarok (2017)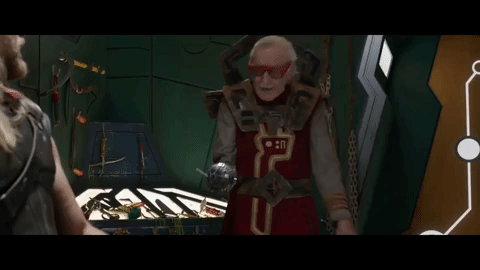 He's the barber who cuts Thor's hair.
Spider-Man: Homecoming (2017)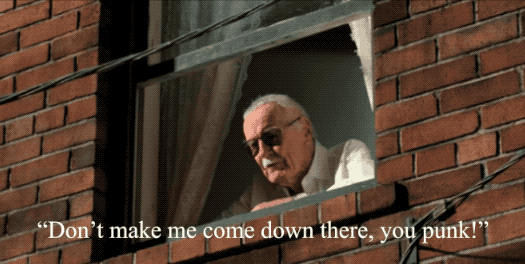 Lee played Gary, a gentleman who yells at Spider-Man for causing a commotion.
The Gifted (Season 1)
Lee popped up on the Fox series as a patron leaving Tex's Lounge.
Runaways (Season 1)
He also appeared as a limo driver in the first episode of the Hulu series.
Black Panther (2018)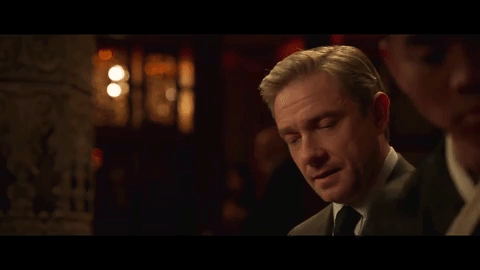 He played a "thirsty gambler" collecting his winnings.
Avengers: Infinity War (2018)
He played Peter's bus driver.
Deadpool 2 (2018)
Lee appeared in a marketing video/teaser for the film and also was featured on a mural in the film as Domino skydives.
Ant-Man and the Wasp (2018)
Lee's car is shrunk right in front of him, leading him to say "Well, the '60s were fun, but now I'm paying for it."
Netflix's Marvel Universe
Photos of Stan Lee pop up throughout various seasons of Netflix's Marvel series including Daredevil, Jessica Jones, Iron Fist, Luke Cage, and The Punisher.
Venom
Lee makes a brief appearance walking his dog, telling Eddie "Don't give up on her … either of you."
What's your favorite Stan Lee cameo?
Having studied Media & Writing at James Madison University, I always knew that I wanted to do some type of creative writing, but being able to write about zombies, Starks, and superheroes on a daily basis for Fan Fest is my actual dream. While I probably shouldn't be as proud as I am to be so similar to Nick Miller, I do hope to one day write my own "Pepperwood Chronicles'.