Happy Birthday Robert Downey Jr.
Published on April 4th, 2018 | Updated on April 4th, 2018 | By FanFest
When you think of the Marvel Cinematic Universe, it's hard to imagine the realm without a few big names. We aren't just talking about the heroes portrayed on screen, but the actors and actresses who play them.
One name you absolutely can't imagine the MCU without, because quite frankly it wouldn't exist in the capacity in which it does, is Robert Downey Jr. Tony Stark is the backbone of the Avengers, a voice of reason (or sometimes a voice of opposition), and an ultimately relatable hero.
That relatability comes from Downey himself. Yes, the character himself is someone you can find qualities of yourself in but it's what he brings to Iron Man that makes him a fan favorite. Even if you sometimes want to pull a Steve Rogers and knock him out. Tough love, ya know?
It's not just Tony Stark, either. From Sherlock Holmes to Kirk Lazarus, he brings charm, humor, and snark to every role he portrays.
In addition to his talent, his heart is exceptionally giving. Downey started a charity organization with his wife, Random Act Funding, in which they organize drives to benefit a number of charities. Most recently with a drive to benefit the ROHHAD Foundation, Downey offered fans a chance to be his guest to the Infinity War premiere.
So coming full circle, to celebrate his birthday, we're celebrating his contribution to the MCU. Here are a few of our favorite quotes and gifs from Iron Man so far.
Is it better to be feared or respected? I say, is it too much to ask for both?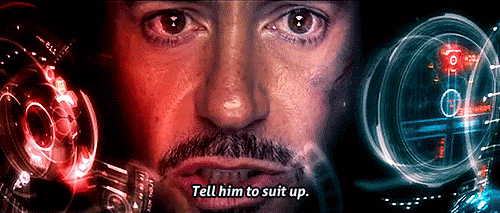 It's not enough to be against something. You have to be for something better.
Give me a scotch, I'm starving.
If we can't protect the world, you can be damn sure we'll avenge it.
I told you, I don't want to join your super secret boyband.
Last but not least, one of our favorite gifs comes from a moment we've not seen in its full context yet. However, we know how important it is. During Infinity War, the biggest battle the Avengers have ever faced, Tony takes a moment to make Peter Parker 'official'. He's looked at him as a son, and it seems as if he still wants him to feel how important the role is, not just in this fight against Thanos, but in his life. We're going to be crying, we can't even try to deny that.
Here's looking at you, Robert. We're sending you all of our love and well wishes. Happy Birthday!