Emilia Clarke Just Got a Perfect 'Game of Thrones' Tribute Tattoo
Published on September 21st, 2018 | Updated on September 21st, 2018 | By FanFest
I think by now we all know who Daenerys Targaryen is, but just because it still sounds completely badass, allow me to introduce you once again to Daenerys of the House Targaryen, the First of Her Name, The Unburnt, Queen of the Andals, the Rhoynar and the First Men, Queen of Meereen, Khaleesi of the Great Grass Sea, Protector of the Realm, Lady Regnant of the Seven Kingdoms, Breaker of Chains and Mother of Dragons.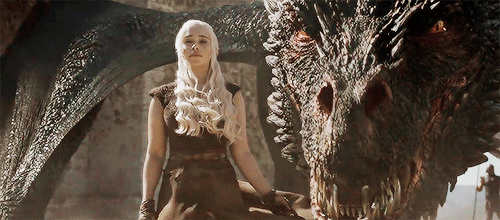 She is played by the stunning, witty, and extremely talented Emilia Clarke.
https://www.instagram.com/p/BZRffNplS5n/?taken-by=emilia_clarke
Unfortunately, her reign on Game of Thrones is quickly coming to an end when its final season wraps on HBO next year, but that's not stopping this Mother of Dragons from saying goodbye. Clarke shared a photo on Instagram this past week unveiling the tattoo she got to commemorate her time on the series and it is the most beautiful and perfect thing I have ever seen. It features three tiny flying dragons on her wrist, which representDaenerys' dragons Drogon, Viserion, and Rhaegal.
https://www.instagram.com/p/Bn7gJg0l1Jn/?taken-by=emilia_clarke
She captioned the photo: MOD 4 LYFE!!!!🔥@_dr_woo_ made sure this mamma ain't NEVER forgetting her babies…. 😍 #dontworryionlybrieflypassedout #withfyreandinkbaby #modgothookedupp #couldntbehappierifitried #🙌 #🔥 #❤️
Tribute tattoos seem to be contagious in the Game of Thrones family. Maisie Williams revealed her Arya Stark-inspired tattoo earlier this year, which has the words "no one" written on the back of her neck. It references her time studying to become a Faceless Man where "a girl is no one." Scroll through the Instagram post below to see!
https://www.instagram.com/p/Bln-LtaAbqE/?utm_source=ig_embed&utm_campaign=embed_loading_state_control
Sophie Turner who plays Sansa Stark on the series also got a tattoo to honor her Game of Thrones family – the Starks. Hers is an image of a dire wolf, which is the sigil of House Stark, and features one of Sansa's most iconic lines (inspired by Ned) underneath it which reads, "the pack survives."
What do you think of Clarke's new tattoo? Be sure to stay tuned to Fanfest.com for all of your final season of Game of Thrones updates! Now, please excuse us while we try to recreate her tattoo on our own wrist with a permanent marker. Nothing but respect for our Mother of Dragons.
Having studied Media & Writing at James Madison University, I always knew that I wanted to do some type of creative writing, but being able to write about zombies, Starks, and superheroes on a daily basis for Fan Fest is my actual dream. While I probably shouldn't be as proud as I am to be so similar to Nick Miller, I do hope to one day write my own "Pepperwood Chronicles'.