Kit Harington Gave a Touching Reflection About 'Game of Thrones'
Published on July 11th, 2018 | Updated on July 11th, 2018 | By FanFest
Even though it's not hitting HBO until sometime next year, Game of Thrones is officially nearing the final days of filming and the cast are starting to say their farewells to the show that truly changed their lives and the course of television.
First, Sophie Turner got a tattoo to commemorate Sansa's big season 7 line and it caused quite the stir!
Then there was Emilia Clarke who shared this heartfelt message:
https://www.instagram.com/p/BkIyu5XFCUx/?utm_source=ig_embed
Followed by Maisie Williams had a bit more of an ominous goodbye:
Now, Kit Harington, who plays the very important Jon Snow, is speaking about his final days on set and just how much the series meant to him and his life.
[row]I've actually just wrapped on Thursday last week, and it's just been this amazing journey. I kinda said to them on my wrap speech that it's always been more than a job. They were a family and it was my life. I've loved every minute of it. I've been quite emotional last week thinking about having ended, having finished it," he reflected to BBC Radio 2[/row]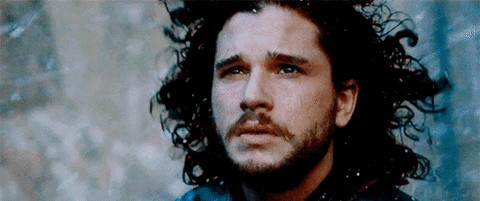 To say that it was more than a job to Harington is especially true seeing as the show is what brought his now-wife Rose Leslie into his life. The two met while filming season 2 and even though their characters didn't get their happily-ever-after it was so exciting to see the two tie the knot last month!
[row]"It was amazing. It was everything that I could have ever wanted and more."[/row]
Harington also took a trip far down memory lane to his first audition where he somehow won the coveted role despite having a black eye!
[row]"I had a black eye on my first audition going in for Jon Snow…In a fight in McDonald's, as you do. Which I lost, really badly, so I wasn't tough at all. But I feel like somewhere that guy who gave me that black guy might have helped me play a hard man on TV, so it sort of backfired for him."[/row]
We, for one, can't imagine anyone but Kit playing the sullen Jon Snow! To hear Kit's entire interview with BBC Radio 2, head here!
Having studied Media & Writing at James Madison University, I always knew that I wanted to do some type of creative writing, but being able to write about zombies, Starks, and superheroes on a daily basis for Fan Fest is my actual dream. While I probably shouldn't be as proud as I am to be so similar to Nick Miller, I do hope to one day write my own "Pepperwood Chronicles'.