Critics are Applauding Darren Criss' "Emmy-Worthy Performance" in 'The Assassination of Gianni Versace'
Published on January 16th, 2018 | Updated on January 16th, 2018 | By FanFest
Darren Criss is on the cusp of a career-defining role. As Ryan Murphy's most recent American Crime Story installment The Assassination of Gianni Versace is nearing its premiere, all eyes are on Criss as he brings the chilling and disturbing killer Andrew Cunanan to life. On-screen, Criss' most notable role was that of playing Blaine on Glee, his first partnership with Murphy, a character that was meant to be a guest star but ended up becoming one of the series' most vital (and talented) characters. From there he went on to stun critics on Broadway's Hedwig and the Angry Inch before returning to TV to once again team up with Murphy for a couple episodes of American Horror Story: Hotel.
While he had most recently been focusing on music, Criss is making a splashing return to TV with the weight of an entire miniseries on his shoulders. While the series won't premiere on FX until Wednesday, January 17th, critics have already been receiving screeners and the consensus is that Criss' take on Cunanan is fantastic and dark, paving the way for not only a slew of award nominations but a whole new chapter to his acting career.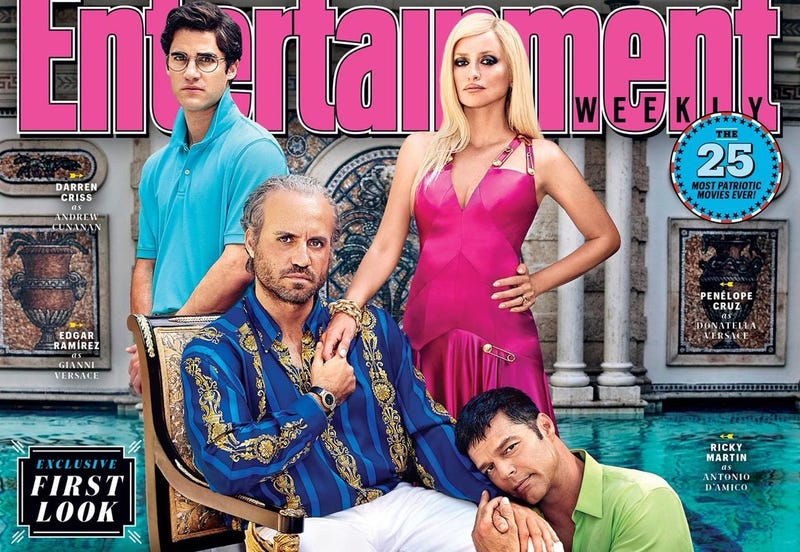 Here are just a few of the things critics are saying about Criss' performance!
"The series spins backward in time, peeling back the layers of one of America's most enigmatic killers, brought to life with disturbing energy and commitment by Darren Criss, who has decidedly left his wholesome Glee character in the dust…. The series is grounded by sublime performances from its cast, led by Criss (and we're guessing the Emmys will notice)."
"But it's Darren Criss as Cunanan who leaves the biggest impression. Criss is best known as a dreamy song-and-dance man from Glee, and his take on Cunanan is the very best kind of take on a dark character. He doesn't want to create empathy for Cunanan so much as a kind of understanding. You are invited to think about him less as a person and more as an aberration, like some dark part of America's worst self-made flesh. This is going to redefine Criss's career, and it deserves to."
"As a result, the bulk of the season falls on Criss' shoulders — and the Glee alum responds with a riveting, chilling performance. Cunanan is a fascinating character: a hustler, seducing older men and stealing their money, and a compulsive liar, constantly spinning impressive lies about his past. ("I tell people what they need to hear," he explains early on.) Criss uses his natural charms as a finely honed weapon here, showing us how Cunanan was able to fake his way through life for so long, while also giving us fleeting glimpses of the crushing loneliness lying underneath. Plus, he doesn't shy away from Cunanan's ugly brand of sadism. A scene of Cunanan wrapping an elderly client's face in duct tape to the strains of Phil Collins — part American Horror Story, part American Psycho — left me literally gasping for air."
"The quality of Smith's script is honored effectively through the direction of the series, by Matt Bomer, Gwyneth Horder-Payton and series creator Ryan Murphy, and through exquisite performances, beginning with that of Darren Criss. His national tour of Hedwig and the Angry Inch showed there was more to him than the singing, dancing charmer of Glee, but nothing he's done compares to his work here. In fact, he uses that charm as the base for Cunanan's twisted personality. We may have read the papers and watched new accounts of the killing spree and wondered how anyone could have been taken in by such a malevolent poseur. The answer is in Criss' Emmy-worthy performance."
"The performances of the leads are outstanding, but special mention must be made of Criss, who beautifully captures Cunanan's ability to tell the biggest lies anyone has ever heard and literally charm the pants off anyone he sets his sights on. He's a lot like Patricia Highsmith's Mr. Ripley, but Ripley was a fictional creation. Cunanan, who committed suicide after murdering Versace, was sadly all too real."
"So let's talk about the actual star of the show, Darren Criss. I know Criss is a big TV star thanks to Murphy's earlier hit Glee, and he has two million Twitter followers and he's a very famous guy. But I'm a professional entertainment consumer and I'd never seen him in anything before (though I almost rented Girl Most Likely once), so as far as I was concerned, he felt completely new to me, as I imagine he will to a lot of people who didn't watch Glee. I suspect that those who did watch it won't recognize 'Blaine' once they see Criss covered in blood, a crazed look in his empty eyes. He's simply excellent here as Cunanan, a gay serial killer in the vein of Matt Damon's talented Mr. Ripley, but of course, this manipulative sociopath with a 147 IQ is hardly a work of fiction. Criss is absolutely chilling here, and there's a haunting sadness to his carefully calibrated breakout performance. I can't say enough about Criss' work, which will force you to look at the actor in a completely different light."
Check out the red band trailer for the series below:
https://youtu.be/zMr3CtRQx6Q
The Assassination of Gianni Versace: American Crime Story also stars Édgar Ramírez as Gianni Versace, Ricky Martin as Antonio D'Amico, and Penélope Cruz as Donatella Versace. Be sure to tune in tomorrow night on FX to watch the performances come to life!
More on Darren:
Darren Criss Is Releasing a New Solo Album and All Is Right in the Music World
5 Songs Darren Criss Sang on 'Glee' That Were Better Than the Original
There Was Just a Fabulous Glee-Union at Darren Criss' Elsie Fest
'Stranger Things' Star Gaten Matarazzo is Living His Best Life in Darren Criss' New Music Video
Darren Criss Just Covered a 'Les Misérables' Classic and Of Course, It's Amazing
Darren Criss Has New Music Out That Needs To Be Added To Your Summer Playlist Immediately
Having studied Media & Writing at James Madison University, I always knew that I wanted to do some type of creative writing, but being able to write about zombies, Starks, and superheroes on a daily basis for Fan Fest is my actual dream. While I probably shouldn't be as proud as I am to be so similar to Nick Miller, I do hope to one day write my own "Pepperwood Chronicles'.