Andrew Lincoln Has Wanted to do 'The Walking Dead' Movies For Years
Published on December 4th, 2018 | Updated on December 6th, 2018 | By FanFest
When news of Andrew Lincoln's departure from The Walking Dead broke, it was easy to assume the worst. Many believed that it meant the end of Rick Grimes was imminent, but come his final episode of season nine something epic happened. Rick was saved by Jadis and taken away in a helicopter to some mystery location.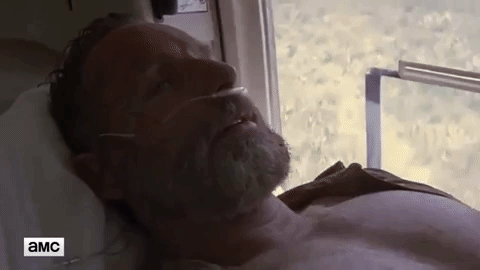 While his open-ended story was a relief to fans, the news soon got even better. Scott Gimple confirmed later that night that AMC was working on three Walking Dead movies that would follow Rick's journey after the helicopter.
[row]"They're centered around Rick Grimes. We're going to tell the story of what happens after that helicopter flight, and these are going to be big, epic entertainments. Each are quality films," Gimple revealed on Talking Dead.[/row]
While the news of the feature-length films certainly caught some fans by surprise, they should find comfort in the fact that Lincoln has wanted to do movies for quite some time. While attending Fan Fest San Jose, Chandler Riggs, who played Rick's son Carl Grimes on the series, took a moment during his panel to comment on Lincoln's desire to get The Walking Dead to the big screen.
[row]"He's been wanting to do movies for years. He always said, 'it would be so cool do to a full-on movie in theaters.' So, for it to finally be announced and be confirmed is super, super sick."[/row]
Pollyanna McIntosh also confirmed during her Fan Fest panel that she would be playing a part in the movies as well.
[row]"Yeah, it's being spoken about by Gimple now so I can be very clear in assuming. We're going to see where Rick is, so she would be there. That's a long winded way to say yeah, I hope so. Things are in process right now. It's exciting. I'm not ready to leave her behind yet."[/row]
Fans had some sort of idea that something was up when Lincoln revealed at this past San Diego Comic-Con that "my relationship with Rick Grimes is far from over," but many assumed it meant that he would simply return to the series in some sort of capacity down the line. Shortly after his final episode aired, Lincoln spoke with the New York Times and revealed just why the concept of movies fascinated him so much.
[row]"I thought the idea of a character that the audience knows and has lived with — and who has oscillated between psycho and father for nine years — to start in a completely different place, was a really interesting, crazy place to begin. I want to know why we keep seeing helicopters flying around. What's going on? What have the grown-ups been doing while we've been scrambling around in the dirt?" [/row]
Are you excited about The Walking Dead movies? It seems that Lincoln will be playing a huge part in the vision and direction of the films, which should be good news to skeptical fans! Let us know your thoughts in the comments below.
Having studied Media & Writing at James Madison University, I always knew that I wanted to do some type of creative writing, but being able to write about zombies, Starks, and superheroes on a daily basis for Fan Fest is my actual dream. While I probably shouldn't be as proud as I am to be so similar to Nick Miller, I do hope to one day write my own "Pepperwood Chronicles'.