Why 'Spider-Man: Far From Home' Is the Perfect Title
Published on June 26th, 2018 | Updated on June 26th, 2018 | By FanFest
The Spider-Man Homecoming sequel is officially called Spider-Man: Far From Home! Thanks to a little tongue in cheek help from Tom Holland, Marvel has officially given us a small tease for what to expect from the upcoming follow-up film. When Homecoming's title was first announced people absolutely loved the name and its multiple meanings, and that's something that Marvel Studios President Kevin Feige said they took into account when coming up with Far From Home.
So, while the name doesn't have quite the ring to it that Homecoming did, I have to admit that I'm loving the title and the potential meanings that it could possess. As an avid fan of the MCU, I decided to dive into a few of my favorite things about the name with a couple of theories thrown in as well. Having not been a comic reader I didn't include any theories of that nature, but would absolutely love to hear yours!
Check out the list below to see why we love the name Spider-Man: Far From Home so much!
It ties into Homecoming
Far From Home certainly ties in with Spider-Man's original title Homecoming, which itself featured multiple meanings. The name represented both the character finally making his way back to Marvel Studios from Sony as well as the Homecoming dance that's taking place the night of Peter's fight against Vulture. So, just by incorporating the word "home" in the title, Marvel is already making the franchise more unified.
Peter's Transformation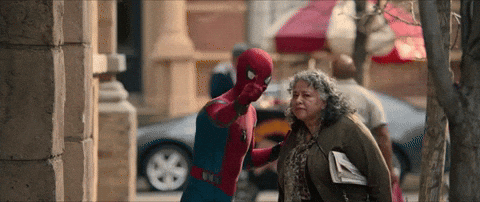 Another way that I think Far From Home ties into Homecoming is that it will touch on just how far Peter will have come since is early web-slinging days of the first movie. Since Homecoming, Peter has gone on to become an Avenger, working alongside the Guardians, Doctor Strange, and Iron Man to defeat Thanos in Infinity War. His capabilities and intuition have only grown since the first movie so the title signifies that growth and just how different things are for him since the days of being a friendly neighborhood Spider-Man.
In that same vein, while he certainly has come a long way as Spider-Man, Peter Parker is still a teenager. He was excited, careless, brave, and light-hearted in Homecoming, but since Marvel execs have confirmed that Far From Home will take place minutes after Avengers 4, it's a pretty safe bet that Peter just won't be that same kid anymore. Not only will he have actually died, but he will most likely lose friends and other characters who he looked up to and saw as mentors. I would expect things to be weighing much heavier on Peter in Far From Home. The kid has seen some things and that childlike wonder may not be' there anymore.
It could play into Infinity War + Avengers 4
The last we saw of Peter he was on Titan before falling victim to Thanos's finger snap. It's still unclear just how big of a presence those "dead" characters will play in the Avengers 4 plot, but if it ends with certain characters coming back to life there's a chance Peter could still be on Titan with the Guardians & Co. by the film's close, which is pretty far from his home of New York.
Spider-Man gets to travel!
Of course, the title could simply just mean that Peter will be globetrotting around in his follow-up film, which Marvel President Kevin Feige has confirmed, albeit vaguely.
"We film in London. We shot first film in Atlanta. And we shoot a lot of films in London but there's another reason we're shooting in London which is, yes, Spidey, of course, will spend some time in New York, but he'll spend some time in other parts of the globe."
Since Marvel is adamant about Peter Parker still keeping the youthful spirit the previous live-action movies missed the mark on, it would make sense for them to send him and his decathlon team to London for a competition. With the reveal that Zendaya's character Michelle actually goes by MJ, sending her and Ned to another country with Peter would give them ample opportunity to develop her character and any ties she may have to the popular Mary Jane character.
Of course, none of these theories could be correct, but we still think that whatever the true meaning ends up being we will totally be on board with! What are your theories about the movie's title? Let us know your comic opinions and general thoughts in the comments! Spider-Man swings into theaters July 2019.
Having studied Media & Writing at James Madison University, I always knew that I wanted to do some type of creative writing, but being able to write about zombies, Starks, and superheroes on a daily basis for Fan Fest is my actual dream. While I probably shouldn't be as proud as I am to be so similar to Nick Miller, I do hope to one day write my own "Pepperwood Chronicles'.