'This Is Us' Recap: Top 5 Moments from "Clooney"
Published on January 19th, 2018 | Updated on January 19th, 2018 | By FanFest
We're back with another installment of Pearson Family drama and it's a doozie. As stars begin to align and clues start to fall into place, it's clear that we are only mere episodes away from Jack's death – especially due to the giant reveal at the end of this weeks episode "Clooney." However, with every gut punch, there is typically a bright light and this week we got to see William and all was right in the world.
Check out the recap below to see our top 5 moments from the episode and where they ranked on the Crying Randall Tear meter!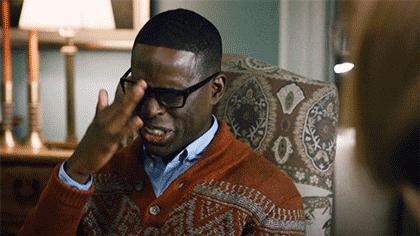 5. No One Wants a Pep Talk Today
Jack Pearson's love language is pep talks. So what happens when you take that away from him? Well, he's not a happy camper. The Pearson's all decide to hit the mall, including Kevin who has been wallowing about his recent knee injury and could use some fresh air. While there they run into Miguel who is also wallowing in his own drama due to the fact that Shelly just got engaged. When Jack tries to give him the ol' "You're still their dad no matter what" speech he's called out by Kevin and Miguel for never letting them just be sad.
The trio makes it to the food court to commence the pity party and are soon joined by Randall whose also pouting about his lack of courage to ask a girl to the winter formal. Obviously, being down in the dumps is not Jack's cup of tea and Kevin thinks its just because he's never lost the one thing that he loves, but Miguel clues him in that that's not entirely true. He tells the boys about Jack's dream of quitting his job starting Big Three Homes and how he ultimately had to put it aside so that he could support his family and ensure that his kids would have their own dreams.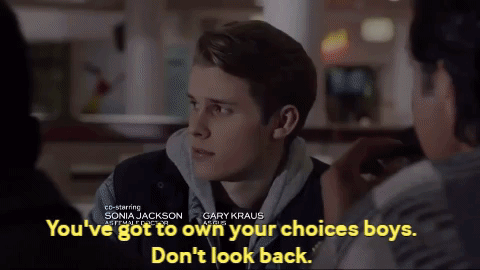 Whatever Miguel says seems to resonate with Kevin who asks Jack some more questions about Big Three Homes while they are trying on suits. When Jack tells him that his dream isn't on the horizon at the moment (he does have three kids to send to college) he hopes for it someday. Kevin sincerely tells him thank you, but it's for so much more than just a suit.
Tear Meter
Four Crying Randalls because Jack deserved more than a job that forced him to wear suits – he deserved Big Three Homes.
4. Kate vs. the Dress
Kate is back in the support group after falling off the wagon, but she's looking straight ahead to her wedding and not in the past. Madison is touched by Kate's story and convinces her to go wedding dress shopping with her. The two have a nice time at the consultation but Kate notices that Madison was binging on the deserts that were out then disappeared to purge. Even though Madison leaves in a rage after Kate confronts her, she still calls Kate in the middle of the night after purging again and passing out. Madison sharing her battle with bulimia to Kate opens up the door for Kate to think back to when she and Rebecca went dress shopping for the winter formal.
Kate tells Madison about how she had been eating basically just baby carrots and eventually lost enough weight to fit into her size 7 goal dress in the fitting room, but when she couldn't get into the size five she felt worthless. The voice in her head telling her she wasn't good enough didn't go away with the perfect zip on a size 7. It was easier for her to always see herself as fat and have something to be angry at herself about. At the mall, Kate takes off out of the store and when Rebecca finds her later Kate lashes out about how nothing fit. Rebecca knows then and there that something is up with her daughter, but she's not going to be the parent who can talk to her about it.
Tear Meter:

Three Crying Randalls because Kate and Rebecca's relationship is already so hard to watch, but seeing just how excited Rebecca was when Kate asked her to go shopping to how hurt she was by the end of the day just broke my heart.
3. William's Lady
I still have not gotten over William's death on this show so anytime I see the perfect Ron Cephas Jones in the 'previously on' I get PUMPED. This week, a tenant in William's old apartment found a box of William's things in storage and it's the ideal distraction for Randall who is still without a job and still without a foster child. He needs a new project and a mysterious lady that William wrote about in a book of poems in the box is just the ticket.
As he's searching the complex high and low searching for the tenant, the condition of the apartment complex comes up a couple of times. The complex's super tells Randall that William was always the one banging on her door trying to get her to fix things that were broken for other people, but they just don't have the money. Eventually, Randall learns that the "lady" William refers to in his poem is a beautiful mural of Billie Holiday that he could see from his window. This finally inspires Randall. He knows what he wants to do – he wants to buy the complex and work with Beth to make it a livable space for all of the tenants.
Tear Meter:
Two Crying Randalls because while it's always so heartwarming to see Randall learning new things about William, Ron Cephas Jones reading a poem always makes me cry.
2. I 💗 Miguel
Here we are…another week…another home run for Miguel. As the episodes go on, I find myself wanting to dig so much deeper into Miguel's character and the story of how he ended up with Rebecca. Not only is Jon Huertas extremely charming as the character, but he plays him so earnestly and layered that you can't help but root for him. This week in the present day story, he's having to deal with the one Pearson who still has a chip on his shoulder – Kevin. After leaving his rehab facility, Kevin chooses to go stay with Rebecca and Miguel to work on his relationship with his mother, but if he had his way Miguel wouldn't be there at all.
Even when Kevin confronts him at the grocery store about why he decided to crash their outing, Miguel handles Kevin with grace and honesty, reminding Kevin that he's been throwing bombs at Rebecca left and right, leaving Miguel to be her protector and always on alert to potentially pick up the pieces. He's being a good husband, but Kevin doesn't waste a second to remind him "my dad was her husband." It hurt and we felt that sting all the way through the screen.  What's honorable about Kevin though, is while he does often drop these bombs while swept up in heat of the moments, he also has a good heart and does apologize. After apologizing he asks Miguel a huge question that has probably been weighing on his heart since the two got together.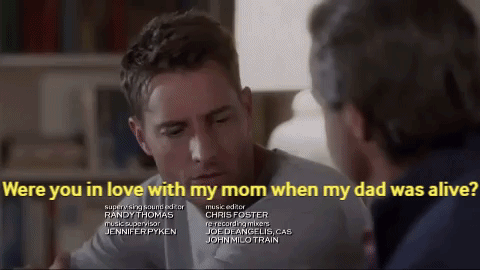 Miguel knocks this one out of the park too, telling Kevin that no, he wasn't in love with Rebecca then – it was impossible to be. You see, the pair weren't ever Just Jack and Just Rebecca, they were always Jack and Rebecca, their love was so powerful that it never even crossed his mind. However, he does love Rebecca now and he's not going anywhere.
After finding out that Jack died, Miguel was the character that we could hate. We saw him as Jack's best friend who seemed to fancy Rebecca in the flashbacks. He was someone going through a divorce, he was an easy target to push our anger over Jack's death on, but I see him slowly becoming one of the most important characters on this show – the bridge between a Jack that none of the Pearson's ever really knew and a present-day Rebecca who tries so hard to keep  herself together. He's played a vital role in both of The Big Three's parents lives and that is certainly going to be unearthed as the show continues and relationships grow.
Tear Meter:
Two Crying Randalls because even though Kevin and Miguel's relationship is turning a new leaf, Miguel still has an uphill battle ahead of him, especially now that the whole family is starting to dig more into the past.
1. The Missing Battery
The show's final moments gave another huge clue to Jack's death. Before the family went to the mall, Rebecca told Jack to remind her to get batteries. It was a passing moment and was probably ignored by all of us, except this is This Is Us and nothing is a passing moment. After the family returns from the mall, Jack and Rebecca unwind on the couch where he tells her that he wants to give Big Three Homes another go. It's a huge announcement, but one that Rebecca ultimately supports. It's a second chance for Jack. Something for him to look forward to. Rebecca also tells Jack that he needs to talk to Kate.
Then the camera pulls back as Rebecca asks if she forgot anything at the mall,  and what we see is the smoke alarm…without a battery. We know that something terrible happens to Jack on the night that the Pearson's home burns down, which is just around the corner, and this is just another bit of insight into what goes down. It's even more heartbreaking to think about the fact that the Pearson's will not be warned about the fire since their smoke alarm won't be working. UGH.
Tear Meter:
Five crying Randalls because my heart cannot handle Jack dying because of such a simple mistake, right on the cusp of finally achieving his dream.
Extra Thoughts:
I always had this feeling that Big Three Homes would come back around and Randall's mission to buy William's old apartment seems to be setting the stage for it.
Randall's red-headed girlfriend that we saw the night of the fire has finally made her appearance, putting the final clue in motion. Kevin has his cast and the family already has the dog, she was the missing piece and now that she's arrived the house fire and Jack's death are not far off. More importantly, it makes every conversation Jack has with each of his kids extremely heavy as that could be the last big conversation they have – for example, the scene between Jack and Kevin in the suit store.
Be sure to head back to Fan Fest for all of your This Is Us coverage and tune in to NBC Tuesdays at 9:00 EST for your weekly dose of Pearson!
Related:
'This Is Us' Recap: Top 5 Moments From "The Fifth Wheel"
Sterling K. Brown Makes Golden Globe History With 'This Is Us' Win
Justin Hartley says Chris Sullivan tries to say "This Is Us" in Every Episode
Here's Where Our 'This Is Us' Theories Stand After the Midseason Finale
Having studied Media & Writing at James Madison University, I always knew that I wanted to do some type of creative writing, but being able to write about zombies, Starks, and superheroes on a daily basis for Fan Fest is my actual dream. While I probably shouldn't be as proud as I am to be so similar to Nick Miller, I do hope to one day write my own "Pepperwood Chronicles'.