These Scenes Made the 'This Is Us' Cast Ugly Cry Too, So You're Not Alone
Published on September 22nd, 2017 | Updated on September 22nd, 2017 | By FanFest
If there is one show that has the emotional gut-punch down it's NBC's This Is Us. Not only do they find a way to make you a blubbering mess every week, but they manage to do it multiple times in a single episode. Well, they're about to do it all over again when the second season premieres this Tuesday, September 26th, but before that the cast took a trip down weeping lane and reflected on the moments that made them ugly cry too. See? Pearsons – they're just like us!
See? Pearsons – they're just like us!
Us: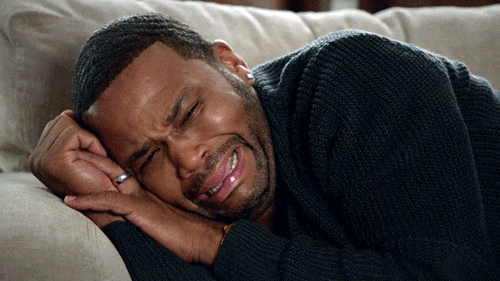 Milo Ventimiglia – Jack Pearson
The episode: "Three Sentences"
The scene: At a weight-loss immersion camp, Kate finally starts to unblock her emotions and process her grief about Jack's death as she experiences an anguished breakthrough during an intense drum circle. Through her point of view, we see haunting flashes of Jack's funeral.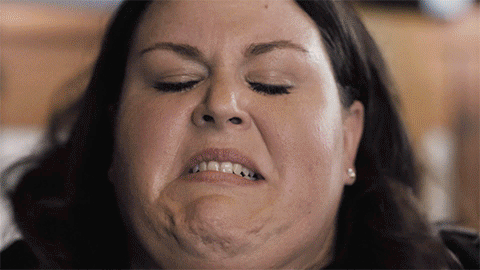 Why this cry: "It's always the kids, and in a sick way, I'm always thinking about myself and my TV wife in those moments. It is the pain of the scene. Here's this beautiful soul dealing with loss, and she's dealt with loss when she was young. And to be in a setting where she's going through a personal, individual thing that is so powerful, and the release that she got from that moment — it's not complete, she's still in pain. And that just breaks my heart. Especially knowing that it's relating to Dad."
Mandy Moore – Rebecca Pearson
The episode: "The Game Plan"
The scene: Kevin shows his nieces a splashy, Pollock-style painting that he made as a reflection of his feelings about his off-Broadway play as a way to explain the cycle of life and death — and how we are all interconnected and leave a lasting mark on the canvas.
Why this cry: "It's the loss of someone and someone is reflecting back on their life and the beautiful way of putting it as the most important people being at the beginning and the end of life. The painting perfectly encapsulates what our show is. It's the perfect analogy for all of the work that we're doing together, and what we want people to take away. I feel like it's so much bigger than just one beautiful, heartbreaking moment. Nobody ever really leaves us. They never leave the painting. They leave an indelible mark on our lives that can never be washed away or wiped away. And it also just came out of the blue with his character that you thought you knew and maybe had judged like, "Ugh, this guy, he's so self-obsessed, and he's a little bit of a narcissist, and, yeah, he's funny, but where's the depth there?' I think people were blown away by Kevin in that moment — but Justin's performance is just so remarkable as well. It's so beautiful and so colorful and quiet and still."
Sterling K. Brown – Randall Pearson
The episodes: "Jack Pearson's Son" and "Memphis"
The scenes: It's a tie between two moments. When Kevin rushes to the aid of Randall and when Randall is by William's side when he passes away.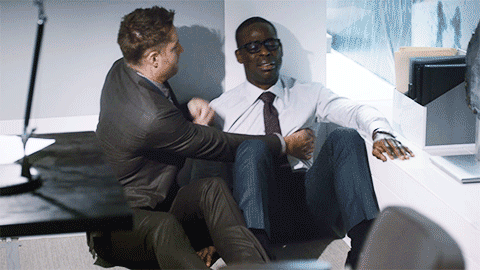 Why these cries: "To see two brothers that have had a very tumultuous past and were rivals in their youth for their mother's affection, for their father's affection, to see them be able to put that away in such a way that they can be present and there for one another — and in particular, Kevin being there for Randall — it moves me. When I see the history of that relationship in the past, it breaks my heart, so [I love] the fact that Kevin comes to his brother's aid and his brother readily falls into his chest."
Chrissy Metz – Kate Pearson
The episode: "Memphis"
The scene: During a road trip to Memphis to learn about his biological father and his family, Randall (Sterling K. Brown) checks his father into the hospital, and realizes that he will never check out, as the cancer is about to take his life. William (Ron Cephas Jones) tells Randall how proud of him he is, and when William confesses that he is a little scared, Randall takes William's face in his hands and instructs him to just breathe, much like Jack did to Randall when he was a little boy.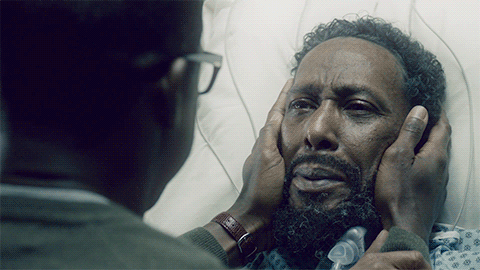 Why this cry: "The desire to bring him home after this road trip and talk to the girls and Beth about it all, and knowing that he's never going to leave the hospital — it was so heartbreaking because that's the first time you ever heard Randall call William 'dad'. When he took William's face in his hands, you're like, 'Oh my gosh, it could take death and parting forever for somebody to truly express how they feel, and for there to be real forgiveness.' It's so layered because Randall has now had both of his fathers pass away. And then William going back to see his roots and that's so emotional, and the tying up loose ends and then giving [Randall] advice — roll the window down, grow your hair out, and just live your life, because so many of us don't do that. And then just to see this man pass away with such grace and humility, it's just so powerful for so many reasons… I was audibly sobbing. I was gasping for air. This is why I can't watch this show with anybody."
Justin Hartley – Kevin Pearson
The episode "Jack Pearson's Son"
The scene: After Randall called Kevin and tried to explain that he couldn't attend his play that night, Kevin sensed that his brother was having some kind of breakdown, prompting him to ditch the play right before it started and run to Randall's office, where he comforted Randall while he wept.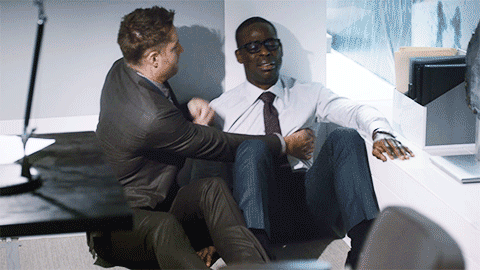 Why this cry: "Kevin wants to be the man that his father knew he could always be, and he's never been able to quite get there. That was a big step to him getting there and being like, 'Oh my god, maybe I do have what it takes to be this man that my father always knew I could be.' There's no other person that could've come to Randall in that moment and taken care of him the way that Kevin did. Beth could've, but it would've been different, you know? There's this really great line in Hamilton: 'There is suffering too terrible to name.' I thought about that when I read [the script], and I was like, 'Here's a guy, a huge mountain of a man, crumpled up in a little ball like a small child, like a baby, unable to handle the life in front of him, literally having a complete and total disconnect meltdown, unable to function, and here's another man walking through the door, not asking any questions, and just grabbing him and holding him… He's going through something that you can't explain, and I'm just going to grab him, I'm going to hold onto him, and we're just going to sit here together, and we're just going to ride this out."
Ron Cephas Jones – William
The episode: "The Trip"
The scene: Jack, who takes Randall to a dojo in hopes of finding him an African-American role model, is instructed to put Randall on his back and do pushups, literally shouldering the responsibility of guardianship. Meanwhile, Rebecca sends William a heartbreaking note, telling him that he can't see Randall "because he has an extraordinary father who gives him everything he needs."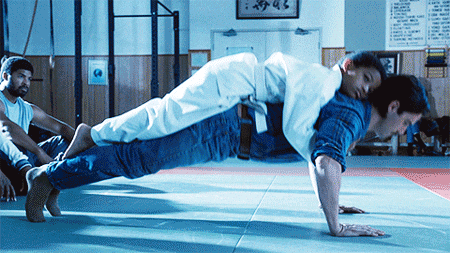 Why this cry: "I have a personal connection with it. It just reminded me about stuff about my dad that I don't want to touch on right now, but there was a direct connection that hit me really hard, kicked me in the gut when I saw that scene. There's a connection that happened with father and son that it just touched me in a way that I hadn't felt in a long, long time, much like much of the fans. It's a personal thing that it had in it that affected me in a way that was so profound."
Related Articles:
'This Is Us' Releases Emotional Highlight Reel
William's Death on 'This Is Us' Taught Ron Cephas Jones that 'Life is Precious'
Dan Fogelman says 'This Is Us' Season 2 Premiere is "Heavy"
Having studied Media & Writing at James Madison University, I always knew that I wanted to do some type of creative writing, but being able to write about zombies, Starks, and superheroes on a daily basis for Fan Fest is my actual dream. While I probably shouldn't be as proud as I am to be so similar to Nick Miller, I do hope to one day write my own "Pepperwood Chronicles'.