The Best Tweets About 'Jurassic World: Fallen Kingdom'
Published on June 26th, 2018 | Updated on June 26th, 2018 | By FanFest
Jurassic World: Fallen Kingdom has officially hit theaters and fans are certainly making their opinions known. As the fifth film in the Jurassic Park franchise and the sequel to 2015's Jurassic World, Fallen Kingdom was considered one of the most anticipated films of the summer and looks to be performing as such at the Box Office despite some divisive reviews.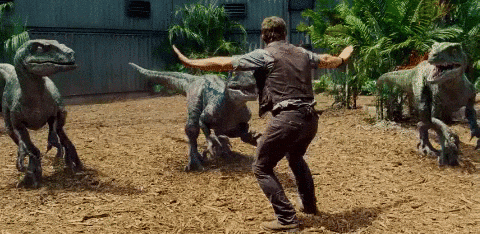 The movie finds a dormant volcano roaring to life on Isla Nublar, propelling Owen and Claire start a campaign to rescue the remaining dinosaurs from extinction, which then leads them to secrets much darker than they could have ever imagined. Directed by J.A. Bayona, the film stars Chris Pratt, Bryce Dallas Howard, Jeff Goldblum, Rafe Spall, Justice Smith, Daniella Pineda, and James Cromwell.
We thought we'd take to Twitter to see what insights and jokes we could find from fans about the film! Check them out below.
1.
Who knew dinosaurs could make me cry my own tears! Triceratops are just the best! #JurassicWorld 🦕🦖

— Nixon Newell🏴󠁧󠁢󠁷󠁬󠁳󠁿 (@NixonNewell) June 26, 2018
2.
And they both have "disgusting-ass teeth" that make you feel warm#jurassicworld pic.twitter.com/i9VaoNDN2u

— 9GAG (@9GAG) June 20, 2018
3.
Name two bigger industry comeback queens.

I'll wait. #BritneySpears #JurassicWorld pic.twitter.com/32UNtnUPrJ

— Neemz (@NimaNeemz) June 18, 2018
4.
Therapist: So when did your problems begin…

Me: Well, there was this scene in #JurassicWorldFallenKingdom involving a brachiosaurus…🦕

— Morgan Wilkey (@MorganWilkey) June 22, 2018
5.
Just saw #JurassicWorldFallenKingdom & spent the whole first part wanting to scream, "that's not how lava works!" Paleontologists, I feel your pain.

Fun movie, though. 🌋🦖🦕

— Jess Phoenix (@jessphoenix2018) June 23, 2018
6.
Just saw a family wearing matching Jurassic Park T-shirts and walking into the movies.

This is why films are important. They unite us in a time where we could really use a lot more togetherness and inclusion.

LOVE IT.#JurassicWorldFallenKingdom @FilmBayona @colintrevorrow

— Michael DelVecchio (@MwDelvecc) June 23, 2018
7.
Agree or disagree? #JurassicWorldFallenkingdom #jurassicjune pic.twitter.com/Rkg4cJogFK

— Jurassic June (@JurassicJune) June 22, 2018
8.
The first 10 minutes of #JurassicWorldFallenKingdom would have made a perfect short film. Such a great scene.

— Christian Ruvalcaba (@Cobbster15) June 25, 2018
9.
The funniest part of Jurassic World Fallen Kingdom was the close up on Bryce Dallas Howard's boots to let you know NO HEELS THIS TIME

— Ira (@ira) June 6, 2018
10.
Jurassic World 3 leaked image pic.twitter.com/BW7VN43Isr

— Jordan Downs (@JaxBladeFitness) June 23, 2018
11.
Jurassic World Fallen Kingdom premise: We have to save the park's dinosaurs before a volcano makes them extinct again!

Jurassic series' fundamental conceit: DNA genetic engineering means we can clone anything and nothing will ever go extinct again!

This movie makes zero sense.

— Mark Noseworthy (@knowsworthy) June 22, 2018
12.
Jurassic World 2 was 'The Room' of dinosaur movies.

— Maximilian Dood (@maximilian_) June 23, 2018
13.
Jurassic world fallen kingdom is the most stressful movie I have ever seen in my life.

— Quinta (@quintabrunson) June 19, 2018
14.
also: the dinosaur prices are way too cheap in FALLEN KINGDOM. come on people, this isn't 1993

— David Sims (@davidlsims) June 22, 2018
15.
Quotes from Jurassic World 2's Franklin that accurately describe my experience watching Jurassic World 2:

"Am I dead?"

"Why am I here?" pic.twitter.com/e0aa5lP9IG

— A Fresh Cup of Morning Tony Joe (@jollybuckaroo) June 26, 2018
16.
"Aw hell"- me every 6mins during Jurassic World

— Mayor Franklin (@StinaSaysss) June 23, 2018
17.
not to be dramatic but I would die for that brachiosaurus in jurassic world

— erica from the dpg 🦕 (@spookynanner) June 22, 2018
18.
The weirdest part of #JurassicWorld2 is when Jeff Goldblum looks directly at the camera and asks the audience why we keep showing up for the same shit over and over.

— M'BlockU (@rodimusprime) June 22, 2018
19.
Me, waiting for the #JurassicWorld2 end-credits sting when everyone else has already left. pic.twitter.com/uFQ0P68eU2

— Brian Switek (@Laelaps) June 22, 2018
20.
Just saw #JurassicWorld2. Loved it from opening scene to end. It's cheesy but entirely too much fun. Spent a lot of time holding my breath!

— ⚾NapFan⚾ForLife⚾ (@Tx_Baseball_Fan) June 22, 2018
21.
Movie spoilers with no context. #JurassicWorld2 pic.twitter.com/3rkIk1CRJj

— Martin (@CallejeroTin) June 22, 2018
22.
Never thought I'd want to cry over an animated dinosaur dying in a fictional film by fictional lava #JurassicWorld2

— Andrew Ammerman (@Andr1zzle) June 25, 2018
23.
Emotional stability level: crying at the image of a CGI brontosaurus being left on a CGI island covered in CGI lava. #JurassicWorld2

— Rachele Stoops (@RacheleDeanne) June 23, 2018
24.
You know cause I had to do a #JurassicWorld2/TWD parallel 🦖💀 pic.twitter.com/BlyDh6dujr

— Sara💀🌸 (@writtenbysara) June 26, 2018
25.
So I saw #JurassicWorld2
Really good
But like not enough Dr Malcolm at all. @jeffreygoldbIum should have done the classic Malcolm shirt unbutton and lounged across the senate floor. They would've been putty in his hands.

— Katie Daquilante (@nerdylifeforme) June 26, 2018
Having studied Media & Writing at James Madison University, I always knew that I wanted to do some type of creative writing, but being able to write about zombies, Starks, and superheroes on a daily basis for Fan Fest is my actual dream. While I probably shouldn't be as proud as I am to be so similar to Nick Miller, I do hope to one day write my own "Pepperwood Chronicles'.