Thank You, KJ Apa for This Brilliant Teen Choice Awards Photobomb
Published on August 13th, 2018 | Updated on August 13th, 2018 | By FanFest
Last night at the Teen Choice Awards, Riverdale completely swept nearly every category they were nominated for. They took home 10 out of 12 surfboards including wins for Choice Drama TV Show, Choice TV Ship (#bugheadforever), Choice TV Drama Actor for Cole Sprouse and Choice Breakout TV Star for Vanessa Morgan. Speaking of Bughead though, there is one photo from the evening that made its way online and is worth your attention.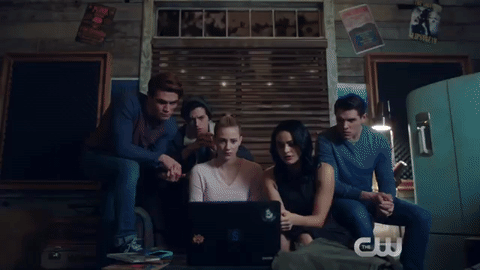 Before we get to that one we must first look at its predecessor. The first photo finds the adorable Cole Spouse and Lili Reinhart who play Jughead and Betty on the show (aka Bughead) posing from their seats in the audience. The two are also rumored to be dating in real life, which makes it even cuter. If you look closely you can see KJ Apa in the back right corner having a great time and most likely plotting his next move.
So, it's no surprise that the next photo finds Apa executing the perfect photobomb that is worthy of its own Teen Choice Award. See for yourselves:
Apa also shared the photo on his Instagram account to bask in the glory of his success, which also features a zoomed in version as well to haunt your dreams.
https://www.instagram.com/p/BmZoB5Og-OD/?taken-by=kjapa
Fans of Apa's will most likely recognize his photobomb face as its a staple in a lot of his stories.
https://www.instagram.com/p/BWbupZrHD4e/?taken-by=kjapa
Bravo, KJ on a photobomb well done!
While the Teen Choice Awards gave Riverdale fans a nice treat, the gang will soon be back on the small screen as the series is set to return this October on The CW. It will jump forward in time to Labor Day. It will pick up after the events of the season 2 finale, which found Hiram Lodge framing Archie for murder. Season three will be following Archie's trial and the impact it had on his friends and family. The season will also feature a flashback episode that finds all of the Riverdale parents in high school. They will be played by the actors playing their kids in the present day story.
Season 3 of Riverdale premieres on Wednesday, October 10th!
Having studied Media & Writing at James Madison University, I always knew that I wanted to do some type of creative writing, but being able to write about zombies, Starks, and superheroes on a daily basis for Fan Fest is my actual dream. While I probably shouldn't be as proud as I am to be so similar to Nick Miller, I do hope to one day write my own "Pepperwood Chronicles'.