'Talking Dead' Guests Announced for 'Fear the Walking Dead' Premiere
Published on August 9th, 2018 | Updated on August 9th, 2018 | By FanFest
Chris Hardwick will be making his return to the Talking Dead stage this Sunday after the fourth midseason premiere of Fear the Walking Dead and he's got a great lineup of guests to welcome him back. The post-show discussion series will return to talk about that wild hurricane, the aftermath of Madison's death, and all of the other drama that's sure to befall our survivors in the opening hour. Check out who will be joining him on the couch to discuss "People Like Us" below!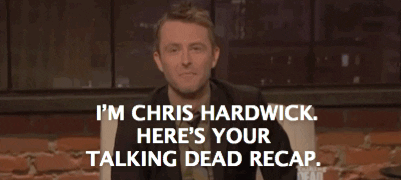 Danay Garcia
Having left her home to follow Nick to Texas, Luciana is now by herself with a group that she only knew through her connections with Nick and Madison. Now that they are both dead, she's going to have to try and figure out her place both in this new place and also with the group.
Maggie Grace
Lost alum Maggie Grace joined the series at the top of the season as a journalist named Althea alongside other newcomers Lennie James, Garret Dillahunt, and Jenna Elfman. The season four finale featured the surprise twist that Al had come across Madison at some point during her travels and interviewed her story. She doesn't really have any strong allegiances to the other survivors so it will be interesting to see where her story heads in back half.
Yvette Nicole Brown
Lastly, good friend to Hardwick, Walking Dead superfan, and recent Talking Dead fill-in Yvette Nicole Brown will be taking the couch with her journal in hand ready to lend her passionate and hilarious commentary to everything thrown her way!
You can watch the trailer for the back of the season below and for a breakdown of the show's San Diego Comic-Con panel, head here!
Talking Dead will be premiering at 10:04 pm ET this Sunday, August 12th. AMC will be airing an episode of Preacher  following the episode of Fear. 
Having studied Media & Writing at James Madison University, I always knew that I wanted to do some type of creative writing, but being able to write about zombies, Starks, and superheroes on a daily basis for Fan Fest is my actual dream. While I probably shouldn't be as proud as I am to be so similar to Nick Miller, I do hope to one day write my own "Pepperwood Chronicles'.