'Stranger Things' Fans – You Need to Listen to Joe Keery's New Song ASAP
Published on July 30th, 2019 | Updated on July 30th, 2019 | By FanFest
Unless you've been unknowingly living in the Upside Down for the past three years, then you've probably heard of Netflix's smash hit Stranger Things. The sc-fi series is full of '80s nostalgia, awesome writing, and a catalog of well-rounded characters.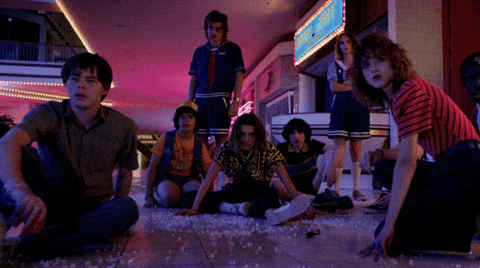 One character that quickly became a fan-favorite was Steve Harrington, played by Joe Keery. He started out in season 1 as the typical high school jerk stereotype with amazing hair. Throughout the season, though, he eventually did come into his own and began to grow as a character.
Come season 2, Steve skyrocketed to fan-favorite status when he took on the role of "babysitter/mom/dad" to the group of kids.
And most recently in season 3, Steve was back in full force with his young buds helping take on Demogorgons and Russians once more. This time in his hilarious Scoops Ahoy uniform.
One of the things that make Steve such a consistently lovable character who continues to evolve each season is Keery's performance. Not only does he have fantastic comedic timing, but he has the ability to perfectly ground a dramatic moment in the next scene. He also has great chemistry with the entire cast.
However, there may be something that you don't know about Joe Keery – he sings! He used to be a member of the psych-rock band Post Animal where he was a guitarist and vocalist. Once Stranger Things started taking off, Keery decided to step away from the band. "Those guys are such talented musicians. I think it's important that they're hitting the pavement for a while and making a name for themselves and it's not necessarily associated with Stranger Things," he told Bustle in 2018.
https://www.instagram.com/p/BNKVFAagujG/
Leaving Post Animal hasn't stopped Keery from making music though. He recently released a new song under his solo act called Djo. The song is called "Roddy" and it's quite good and such an easy listen. Check it out below!
So, long story short – there is really nothing that Joe Keery cannot do. So, until Netflix renews Stranger Things for a fourth season we have no other choice but to have "Roddy" on repeat. Fans can also catch Keery alongside Ryan Reynolds in the upcoming movie Free Guy.
What do you think of Joe's song? Stranger Things 3 is currently streaming on Netflix!
Having studied Media & Writing at James Madison University, I always knew that I wanted to do some type of creative writing, but being able to write about zombies, Starks, and superheroes on a daily basis for Fan Fest is my actual dream. While I probably shouldn't be as proud as I am to be so similar to Nick Miller, I do hope to one day write my own "Pepperwood Chronicles'.