It would be hard to find a Stranger Things fan who doesn't wholeheartedly agree that Steve Harrington had one of the best redemption arcs on TV in the past couple of years. He went from a total tool in season 1 to a totally lovable babysitter and an all-around nice guy in season 2. Well, Steve is played by the equally charming and hair-tastic Joe Keery who just so happens to be celebrating his birthday today!
https://www.instagram.com/p/Bh9GurogHu3/
So, because Joe Keery (and Steve) are a gift to the world we've gathered up a combination of our favorite Joe/Steve moments for your entertainment. Enjoy!
1. When Joe realized that he was Jean-Ralphio Saperstein/Ben Schwartz's long-lost doppelganger:
Check out the whole video here.
2. And similarly, when David Harbour made this correlation:
3. When Joe, Natalia, and Charlie had a bit of fun in the InStyle Golden Globes Elevator:
4. When Finn Wolfhard gave us this oh so beautiful behind the scenes gem:
5. When Steve invented the world's best Demogorgon-fighting weapon:
6. And was all of us at an awkward dinner party:
7. When he became super cool with Dustin in season 2:
8. And by the end of the season the two of them were an unstoppable and adorable duo:
9. When he basically became the babysitter/mom to all the Stranger Things kids:
10. And became fully invested in the new role:
11. Complete with stern dishtowel talk:
12. But even though Hawkins is always is grave danger, he's still always up for a good time: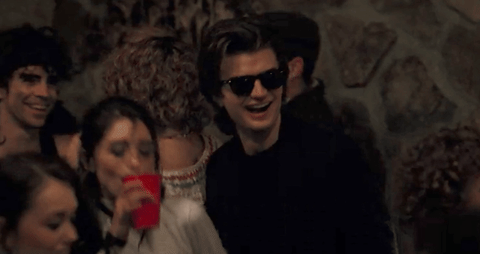 Happy Birthday to Joe Keery!