'Robert Kirkman's Secret History of Comics' Crash Course "The Mighty Misfits Who Made Marvel"
Published on November 14th, 2017 | Updated on November 14th, 2017 | By FanFest
The first installment of this six-episode docuseries dove straight into the history of Marvel as well as the feud between Stan Lee and Jack Kirby.
Here's what we learned.
Stan Lee, who was born Stanley Lieber, began working for Timely Comics when he was 17 and that's where he met Joe Simon and Jack Kirby. He started out basically as an intern and worked his way up to editor. Martin Goodman, founder of Timely/Marvel, entrusted Lee with the title of editor when Simon and Kirby left the company.
At the time, comics weren't meant to be seen as timeless masterpieces. You couldn't get rich or famous off of comics. But Lee stuck with it.
In the '50s, the comic book world was floundering. DC had the brilliant idea of putting their popular superheroes together and forming the Justice League of America.
Kirby came back to the newly named Marvel Comics, and he and Lee followed in DC's footsteps and created their version of superheroes: The Fantastic Four, Spider-Man, The Hulk, Thor, The Avengers, etc… Except theirs were catered to children.
Marvel made their characters realistic and human. Marvel gave their characters flaws and made them relatable. Their characters faced real situations and real tragedy, like in Peter Parker's case. Lee's dialogue with Kirby's artwork created a power house. Steve Ditko came on to do the artwork for Spider-Man.
This made Marvel a threat to DC.
Marvel was using DC's distribution company and this gave DC the power to suppress the reach of Marvel's brand. This limited the stores that sold Marvel comics greatly. Lee created an editorial called "Stan's Soap Box" to get some popularity despite the distribution troubles. This allowed readers to feel comfortable with Stan and Jack, almost like they were old friends.
Lee put himself in the lime light and that strained his relationship with Kirby. Kirby felt that he was doing most of the work. They did work well together, though. Lee would give Kirby the plot, Kirby would draw it out and Lee would add in the dialogue.
Lee began overshadowing Kirby and Ditko in the public eye. Ditko was incredibly bothered by it and at first Kirby didn't seem to mind to much but after a while it began the feud between him and Lee.
An added dig at Kirby was that the animated series used his artwork without providing extra compensation. That was the last straw for Kirby and he quit Marvel. Kirby went back to work for DC.
The feud between Lee and Kirby brought out intense feelings but it also brought out the incredible respect these two artists had for each other.
Stan Lee wouldn't be where he is today without Jack Kirby or Steve Ditko, and he realizes that. They created timeless characters and made Marvel Comics the empire it is today.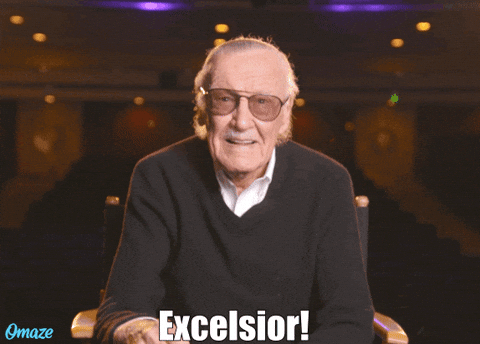 Related Articles:
Robert Kirkman Says His Comic Book Docuseries only "scratches the surface"
Did Stan Lee Just Confirm That A 'Black Widow' Movie Is In The Works?
AMC and Robert Kirkman to Create 'History of Comic Books' Docu-Series
So You Want to Start a Comic Book Collection: A Guide for Beginners
When Beth "grows up" she wants to see her creations appear on the screen and stage. In her free time, Beth blogs about her love of craft beer and writes screenplays. She received her bachelors in journalism from Youngstown State and received her masters in communication from The University of Akron. She is honored to be a part of the FanFest family.