Jordan Peele in Talks to Revitalize the 'Candyman' Franchise
Published on September 12th, 2018 | Updated on September 12th, 2018 | By FanFest
Candyman is the only horror film that truly frightened me when I was younger. This is partly because my friends and I kept daring each other to repeat his name when we stumbled into the world of horror. Once you repeat his name in the mirror five times, despite rationally knowing it's just a movie, is enough to provide sleepless nights today's youth as well. With the advancements with CGI, the special effects on a remake or sequel at this point has the potential to be outstanding and might be on its way.
While nothing has been finalized, as originally reported, the rights to the story "The Forbidden" have become available again. Why is this of importance? Clive Barker's "The Forbidden" is the short story Candyman was adapted from. With the rights available, word has it that Jordan Peele is attempting to produce a remake and revitalize the origin of Candyman with his own production company, Monkeypaw Productions. A smart move is to reboot instead like the fourth installment to The Evil Dead franchise instead.
The remake could also Bernard Rose's vision to make a sequel showcasing the character of Helen in the original Candyman too. The possibilities are endless when it comes to an urban legend as the film could even open by showcasing the legend in present day time revolving around social commentary surrounding today's climate that Peele showcased in Get Out. If a combination of these two components Peele could land himself with a second Oscar nomination for best direction. Peele is currently working on another social thriller, Us.
However, one haunting question remains. Is Todd willing to step back into the role once more or will he be recast? The most important aspect of Candyman is the character of The Candyman himself. Tony Todd's portrayal is iconic in the horror community. Anyone who steps into Todd's shoes stands the risk of intense criticism for anything that takes away from the original performance. With Peele's ability to construct an outstanding screenplay, and the right direction, anyone stepping into the role of The Candyman could earn their stay not only within the horror community, but also within a deserving horror franchise as well.
Can history repeats itself with a remake? Who do you think could replace Tony Todd as The Candyman? Let us know what you think below and whatever you do stay away from your mirror.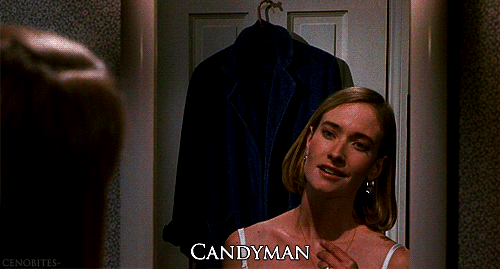 Michelle Patterson prides herself on her random pop culture knowledge. She finds great joy in all things horror related and tries to enjoy movies on a weekly basis. If she's not at the theater, she can be found at a convention or a concert. To connect with her more, check out her Instagram page, Twitter Page, Facebook Page, or her website.