JO-MG! The Jonas Brothers May Be Reuniting and Our 2008 Souls Have Come Back Alive
Published on January 17th, 2018 | Updated on June 7th, 2018 | By FanFest
Let's take a quick trip down memory lane to the fabulous year of 2008 when the Jonas Brothers were life.
They'd already told us what to expect in the Year 3000:
And were totally Burnin' Up:
They were pretty much the only thing that mattered on YouTube:
But more importantly, they had just released this timeless little movie you may recall called Camp Rock: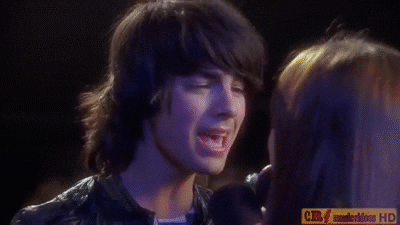 They were on top of their game for a few years, but then tragedy struck the hearts of tweens and teens everywhere when the band decided to break up in 2013. The brothers said it was time to prioritize family as the band had started to become "toxic".
After that, the boys went on to find success on their own with Nick going solo and dipping his feet into the acting pool. You can currently find him starring in Jumanji: Welcome to the Jungle and he was just nominated for a Golden Globe for his original song "Home" in the movie Ferdinand. Joe is a member of the band DNCE, who keep releasing bop after bop including the jam "Cake by the Ocean" and is currently engaged to Game of Thrones' Sophie Turner aka Sansa Stark. The eldest Jonas, Kevin had an E! reality show for a while called Married to Jonas and he and his wife Danielle just welcomed their second child in 2016.
So, it's safe to say that the three have been doing pretty well for themselves and fans have remained pretty content with just that. That is, until yesterday when the Jonas Brothers mysteriously reactivated their Instagram account.
The Jonas Brothers have reactivated their Instagram account. 👀 pic.twitter.com/ZmVqZFE4xF

— Pop Crave (@PopCrave) January 16, 2018
Then Ryan Liestman, one of the band's backing musicians, posted this photo on Instagram with the caption "Family Reunion".
Not to mention the almighty powerful Tommy Wiseau recently ran into the Bros. at the Golden Globes and claims he told them "to get back together".
I told the Jonas Brothers they should get back together ! https://t.co/3FB7GnxtXO

— Tommy Wiseau (@TommyWiseau) January 16, 2018
And people already had Camp Rock on their minds when The Greatest Showman's "This Is Me" won the Golden Globe for Best Original Song.
omg!! So glad "This Is Me" won best song! FINALLY Camp Rock gets the recognition it deserves!!! #goldenglobes pic.twitter.com/EBong3nKIt

— Cat Reynolds (@catreynoldsnyc) January 8, 2018
So naturally, fans totally freaked out and took these subtle clues to mean that a reunion could possibly be on the horizon.
22 year old me pushing preteens out of the way if the Jonas Brothers have a reunion tour pic.twitter.com/2FYAvOprF7

— Sav 🌩 (@Savvyqueen_xo) January 16, 2018
So Zac Efron is in a musical, there was a Hannah Montana reunion, Jennifer Stone did the WOWP hat dance, and now the Jonas Brothers reactivated their instagram account WHAT IS HAPPENING IS IT 2008 AGAIN I'M LIVING IN THIS MOMENT OMG WOW

— Joey Dato (@joeyydato) January 16, 2018
If the Jonas Brothers ever did a reunion show, I'd just give them my whole entire bank account because you better believe I'll be getting meet & greet and buying every single merch item that's available. Even if I already have it.

— jonas news. (@JonasConcerts) January 14, 2018
*hears rumors about the Jonas Brothers having a reunion*

me: pic.twitter.com/UL3LlEsouQ

— amber (@aambermacias) January 16, 2018
if the Jonas Brothers are really getting back together I will drop out of college and follow their reunion tour around the country

— gabby frost (@gabby_frost) January 16, 2018
y'all if the jonas brothers do come back i don't want new music, i want a WORLDWIDE reunion tour with the ultimate anthems like year 3000, when you look me in the eyes, love bug, burnin' up, live to party, hold on and every song from camp rock and camp rock 2: the final jam

— hannah (@JURASSlCWORLD) January 16, 2018
The consensus seems to be that if the JoBros do stage a comeback fans would want them to tour their old songs rather than putting out new music, but at this rate, we would take anything to see the three of them back on stage together!
Related:
Throwback Thursday Artist Spotlight – Jonas Brothers
Sophie Turner and Joe Jonas are Engaged
Demi Lovato and Joe Jonas Recreate 'Camp Rock' Duet
Having studied Media & Writing at James Madison University, I always knew that I wanted to do some type of creative writing, but being able to write about zombies, Starks, and superheroes on a daily basis for Fan Fest is my actual dream. While I probably shouldn't be as proud as I am to be so similar to Nick Miller, I do hope to one day write my own "Pepperwood Chronicles'.