Jennifer Lawrence Wanted Emma Stone's 'Easy A' Role and She Won't Let Her Forget It
Published on November 15th, 2017 | Updated on November 15th, 2017 | By FanFest
Emma Stone and Jennifer Lawrence are two of the most talented young actresses in Hollywood right now, each having won an Academy Award under the age of 30.
Not to mention they're both completely hilarious, charming and really down to earth.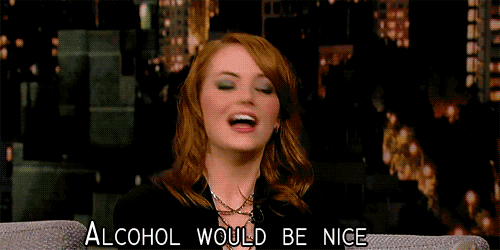 Thankfully these leading ladies found each other and became really good friends in real life thanks to none other than Woody Harrelson who worked with Stone on Zombieland and Lawrence on the Hunger Games trilogy.
"She texted me that she got my number from Woody," Lawrence told Vanity Fair in 2016. "I replied, F–k off!' And we've been really good friends ever since."

Lawrence recalled that the two of them texted every day for a year after that, joking, "I feel like it was our version of The Notebook—365 texts."
They've been through thick and thin as proven in Lawrence's 2016 Harper's Bazaar interview in which she recalled an evening of debauchery with Stone that did not end very pleasantly.
I don't really stay out late. I'm kind of a bummer. I'm a nana. It's hard to get me out, and when I do go out I don't really stay out late. If I do stay out late and I'm partying hard, I will throw up. I don't have the tolerance to black out; I just start puking.

Ask Emma Stone. It was the night we saw Adele in L.A. She just started rubbing my back. She was really sweet. I was like, 'Get out of here. It's so gross.'
Naturally, the two have found themselves up for similar roles throughout their impressive careers including the role of Hester Prynne in Easy A, which ended up being a breakout role for Stone thanks to her comedic and endearing performance.
Recently, Lawrence and Stone joined Jessica Chastain, Saoirse Ronan, Mary J. Blige, and Allison Janney at The Hollywood Reporter's annual actress roundtable and the conversation at some point turned to talking about their favorite lines from their own characters. Lawrence channeled her Oscar-winning role in Silver Linings Playbook and said that her favorite was "You are not a stand-up guy" and Stone went with "Piss off, Quiznos" from Easy A.
While no video is currently available of this roundtable this is the exchange that immediately followed:
Lawrence: "I auditioned for Easy A. I wanted it so bad."

Stone (laughing): "Well, guess what? You didn't get it. You didn't get it because you suck!"

Lawrence: "Outside!"
It probably looked something like this:
I think that we can all agree that no one but Stone could have taken on the role of Hester, but Lawrence would have definitely been a fun addition. Hopefully The Hollywood Reporter releases the full interview soon but for now, you can watch some clips on their website.
You can catch both Stone and Lawrence in theaters now. Stone is currently playing Billie Jean King in Battle of the Sexes alongside Steve Carell and Lawrence recently starred in Darren Aronofsky's mother!.
Related:
Emma Stone says she was a "Creep" while preparing to play Billie Jean King
How Can You Not McLove Emma Stone and Jonah Hill's 'Superbad' Reunion
Jennifer Lawrence said Darren Aronofsky had 'Severe Psychological Problems' After Reading 'mother!' Script
Jennifer Lawrence Speaks out on the 'Passengers' Twist that Upset Critics
Having studied Media & Writing at James Madison University, I always knew that I wanted to do some type of creative writing, but being able to write about zombies, Starks, and superheroes on a daily basis for Fan Fest is my actual dream. While I probably shouldn't be as proud as I am to be so similar to Nick Miller, I do hope to one day write my own "Pepperwood Chronicles'.