Colin Trevorrow Wants More 'Jurassic Park' Cameos in 'Jurassic World 3'
Published on July 2nd, 2018 | Updated on July 2nd, 2018 | By FanFest
Fans of Steven Spielberg's Jurassic Park movies were treated to a few pleasant surprises when the Jurassic World franchise "reboot" came to be. Not only were the movies surprisingly good, but they featured quite a few Easter Eggs and callbacks to the original films, including characters. Jurassic World found B.D. Wong reprising his role as Dr. Henry Wu and Fallen Kingdom featured the epic return of Jeff Goldblum's Ian Malcolm, which leads fans to wonder "who's next?"
Jurassic World: Fallen Kingdom's producer Colin Trevorrow recently talked with MTV's Seen It, Spill It and revealed why they decided to bring Goldblum back and which other Jurassic Park alum he would like to see in Jurassic World's third installment.
[row]"We felt like this was Malcolm's return… this was his… let him have his moment. I feel that way about everyone, especially Laura [Dern]… she never got to have her own movie. That identified as being something that's important. We just wanted to put the spotlight on [Goldblum]."[/row]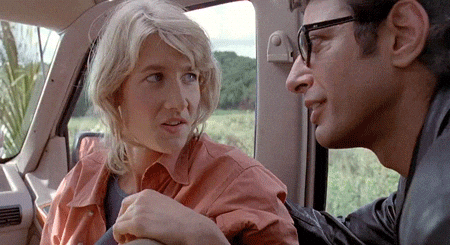 Fans will remember that Jurassic Park's 1997 sequel, The Lost World, featured returns from by Goldblum and Richard Attenborough, who reprised his role as John Hammond. Jurassic Park III found Sam Neill making his return to the franchise and even though it featured a brief appearance by Dern, who played Dr. Ellie Sattler, it certainly left fans desiring more.
Even Goldblum has commented on what it would mean to the franchise for Dern to return.
[row]"I don't want to pass on gossip like my character. But it would be good news to me and to everyone, [to] millions and billions of people all over the world… all over the universe and cosmos when Ellie Sattler returns."[/row]
Of course, the big question is whether or not Dern would even want to return to the Jurassic world. Well, the answer is yes! While speaking with EW last year, Dern expressed just how much Ellie Sattler meant to her and that she would love to be a part of the final film.
[row]"I feel so proud to have been in what has become this iconic blockbuster and have a feminist female in the middle of it. She's the real deal: Kickass goes on her own to get the power back on, fight off dinosaurs. She's not taking the boys' BS. As I said to the people who are making the new series, 'If you guys make a last one, you gotta let Ellie Sattler come back. She's always the one who's saving the day, man!"[/row]
With Fallen Kingdom still dominating in theaters, details for the third film have been few and far between but Chris Pratt and Bryce Dallas Howard are expected to return with Colin Trevorrow taking a seat in the director's chair once again. The film is set to hit theaters on June 11, 2021.
Who would you like to see reprise their roles in the final film of the Jurassic World franchise? Let us know!
Having studied Media & Writing at James Madison University, I always knew that I wanted to do some type of creative writing, but being able to write about zombies, Starks, and superheroes on a daily basis for Fan Fest is my actual dream. While I probably shouldn't be as proud as I am to be so similar to Nick Miller, I do hope to one day write my own "Pepperwood Chronicles'.