"Yippee-Ki-Yay!" 'Die Hard' Is Returning to Theaters This November
Published on October 29th, 2018 | Updated on October 30th, 2018 | By FanFest
Whether or not you think Die Hard is a Christmas movie you will have the opportunity to watch it on the big screen this Holiday season! The Bruce Willis film is returning to theaters for its 30th Anniversary thanks to TCM's Big Screen Classics series from Fathom Events and Turner Classic Movies. If you're Yippee-ki-yaying over this news then be sure to get your tickets ASAP as the movie is only showing for two days on Nov. 11 and Nov. 14. The commemorative screening will also feature pre and post-film commentary by TCM host Ben Mankiewicz.
The Die Hard Christmas debate is one of the most long-running and iconic cinematic disputes. For years, people have argued over whether or not the movie, which was released in July yet took place during Christmas, is indeed a Christmas movie. There aren't any mysterious Santa's imparting wisdom or Christmas morning present unwrapping, there's just John McClane (Willis) armed with a tank top and a gun taking on terrorists in a Christmas Eve heist. Hence, the debate.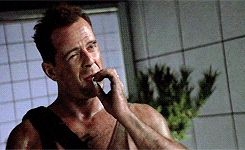 Although, Willis did chime in earlier this to give his perspective, which wasn't all that helpful, but still appreciated.
[row]"Die Hard is not a Christmas movie. It's a goddamn Bruce Willis movie!"[/row]
Die Hard hit theaters July 1998 and followed John McClane (Bruce Willis), an NYPD officer that tries to save his wife Holly Gennaro (Bonnie Bedelia) and several others that were taken hostage by German terrorist Hans Gruber (Alan Rickman) during a Christmas party at the Nakatomi Plaza in Los Angeles. The movie earned over $140 million at the Box Office and became the first installment of a six-film franchise.
Fathom Events recently brought both Twilight and Mamma Mia! back to theaters to celebrate their 10th anniversaries. Other films that have made their way back to the big screen with TCM's Big Screen Classics include The Princess Bride, Casablanca, Smokey and the Bandit, and E.T.
You can buy tickets here at the Fathom Events website or at participating theaters!
Having studied Media & Writing at James Madison University, I always knew that I wanted to do some type of creative writing, but being able to write about zombies, Starks, and superheroes on a daily basis for Fan Fest is my actual dream. While I probably shouldn't be as proud as I am to be so similar to Nick Miller, I do hope to one day write my own "Pepperwood Chronicles'.