Why You Should Watch 'The Crown'
Published on March 22nd, 2017 | Updated on March 22nd, 2017 | By FanFest
I used to LIVE for sitting in my dorm, laptop burning through my skin on my 5th episode of Mad Men in one night. Like so many, I did it with The Walking Dead, Game of Thrones, House of Cards, among others. Live tweeting award shows were my version of a successful Sunday night.
Upon watching this years' The Golden Globes, I went in knowing that La La Land was amazing and was going to take everything home, but in between cheering on Ryan Gosling and Emma Stone, there was another name that kept getting mentioned.
"The Crown" they said. I have always had a fascination with the royal family of course, as many do. But so many times I've seen versions of the royal lives that weren't so well made. (The Princess Kate Lifetime bio pic, or Diana-which really was kind of good).
Then it won Best Drama. For one week after that, it crawled in and out of my head.
I had nothing to do the following weekend. And I knew that I was going to crack. I'm a sucker for drama guys. I found myself on Netflix.com. And soon I was staring at the screen with wide eyes at Britain in the 1930s, accepting to myself that I had found my next show.
I soon learned that it's about women. Strong women who make sacrifices.
Claire Foy. There's something about her that draws the eye. And her voice and accent are PERFECT. Her short brown hair so perfectly coifed, nude heels seen tropping on top of the ancient wooden floors of Buckingham Palace.
For me, an American 24 year old, it's nearly impossible to think back at what Queen Elizabeth may have been like that many years ago. I only vaguely know the craze of Princess Diana, and the huge deal that was Kate & Williams' marriage. Elizabeth is the top of it all. She controls it. But she does it so quietly that, why would I have ever thought of her as anything more than The Queen of England?
Foy gives depth to The Queen, and gives insight on what it must be like to be in the middle of building your life, only to be thrust into the throne, changing who you are forever.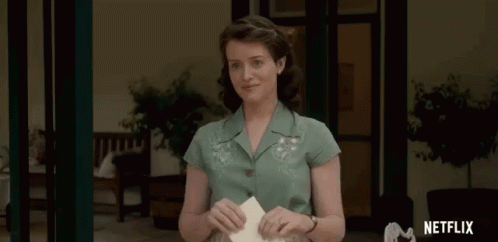 What probably most strikes a cord with me, is the exploration of a powerful woman being completely torn. The relationship between Elizabeth and Phillip was apparently so strained. Torn between the throne and the dignity of her man. The show plays up the fact that although Elizabeth is so in love with her husband, she feels that his heart is still a little more empty with love for her, and his silent opposition to living in her shadow.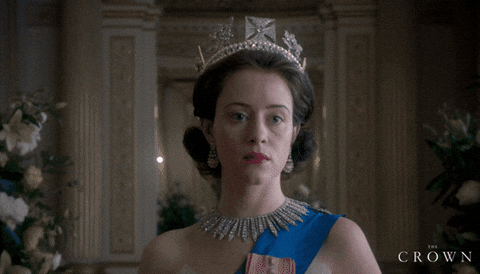 The only problem is that hard as she tries, The Crown wins every time. It's such a heartbreaking struggle with who she is, but terrifying as it is, more and more she realizes that even though the world is changing, The Crown may actually be who she is.
Watching her learn to accept that, silently, is an amazing thing to see. This woman can literally act an entire scene with nothing but her eyes. She must be one of the greatest actresses of this time.
I rave about Claire, but the entire cast is great. Matt Smith as Philip-goofy as ever, and a legend in himself. He is a scandalous character, trying his best to stay in line with so much temptation around him. The audience is constantly left to wonder how much he loves The Queen, when her life forces her to break him. (It's a drama-ya know?)
Princess Margaret, sister of The Queen, played by Vanessa Kirby, always has to be in the shadow of her sister and naturally finds ways to make it shine brighter on herself, whether or not purposely.
John Lithgow (amazing all the time) is great as Winton Churchill in his final years as Prime Minister. He gives much depth to that character as well, who's life was relatively unknown to me.
Jared Harris anchors the show down as King George-whose premature death-by-cancer is the reason Elizabeth came to power.
There are more who standout, and the music is very much used as its own thrilling character.
In summation-if you love history and royals, you should definitely check out The Crown on Netlix. And much to my excitement, season two is currently filming and planned for release in late 2017. The cast is planning to change up as history does, with Claire Foy ending her role as The (young) Queen after the second season.
I will wait for season two with bated breath!!
Shannon Toohey is Editor-In-Chief of FanFest.com. She graduated from Hofstra University in 2015 with a B.A. in Journalism from the Lawrence Herbert School of Communications. Shannon has been a proud member of the Fan Fest team since 2013. Tweet her in your prettiest bird voice: @shannontoo