Who's Riding Shotgun With Negan in the Latest 'Walking Dead'?
Published on April 3rd, 2018 | Updated on April 12th, 2018 | By FanFest
On Sunday's episode of The Walking Dead, we saw Negan finagle his way out of Jadis' capture and head back to the Sanctuary where everyone has assumed he's dead. On the way, he pulls over and picks up someone from the side of the road saying, " Holy Hell, if shit could shit it still wouldn't look as shitty as you. Get in."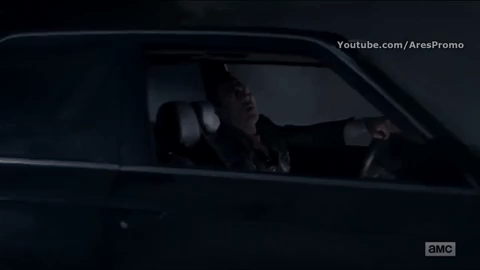 Now, we never get to see exactly who it is that Negan picks up, but we've compiled our small list of guesses. Check them out below!
Laura
Probably the most likely guess is Laura, the Savior who learned of Dwight's betrayal before taking off into the woods in the midseason finale. With Dwight back at the Sanctuary and Negan making his return, bringing Laura back into the mix with the information she possesses will certainly add a whole new level of tension for Dwight and could possibly even put him higher on Negan's shit list than Simon.
Gregory
AMC/Gene Page
Gregory made his escape from the Hilltop with the other Savior captives after Henry decided to unlock their cell. However, while we saw on Sunday what happened to Jared and the rest of the escapees, Gregory was nowhere in sight, leaving him to be a huge missing piece. Since he's always in self-preservation mode, there may be a small part of him that thinks he can still find safety with Negan at the Sanctuary.
Sherry
While Negan seemed especially chipper to see the person on the side of the road there is still a chance that it could be Sherry, who bee-lined it out of the Sanctuary after helping Daryl escape captivity. She's been a relatively large part of Dwight's story and since we can't confirm that she's dead, it's always safe to assume that she could be making a return at any moment. In reality, Sherry shouldn't be anywhere near the Sanctuary but Negan's excitement could stem from what Sherry's return would do to Dwight.
Heath
Hey, there's still a small band of people who believe that Heath will one day make his return and I am one of them! While I don't think that Negan and Heath would be on friendly terms at all, perhaps Negan would not be privy to Heath's involvement with the Savior outpost massacre in season 6 and sees him as a new person for him to "save"?
Who do you think that Negan picked up? Check out the trailer for next week's all-new Walking Dead below!
https://youtu.be/FFWHNO84So8
Having studied Media & Writing at James Madison University, I always knew that I wanted to do some type of creative writing, but being able to write about zombies, Starks, and superheroes on a daily basis for Fan Fest is my actual dream. While I probably shouldn't be as proud as I am to be so similar to Nick Miller, I do hope to one day write my own "Pepperwood Chronicles'.