Which TV Show Was the Most Tweeted About in 2018?
Published on December 5th, 2018 | Updated on December 5th, 2018 | By FanFest
If there's one thing we love to do here at Fan Fest it's peruse Twitter for the all the best and brightest tweets about our latest pop culture obsessions. Whether its The Walking Dead, trailers, reviews, or the latest box-office hit, we are all about that Twitter life. Well, as the year comes to an end, Twitter has started to release their 2018 Most-Tweeted lists and today we're breaking down the top tweeted about TV shows + Streaming TV shows.  Take your guess as to which shows landed at #1 on both then check out the lists below!
The Most Tweeted About TV Shows:
10. Riverdale
Turns out that everyone has a lot to say about that Gargoyle King and Veronica's "Jailhouse Rock" dance.
9. Game of Thrones
You have to love the fact that Game of Thrones is still on this list despite not even airing any new episodes this year! Fun Fact: GoT topped this list last year.
8. Supernatural
Supernatural is currently airing its fourteenth season on The CW and shows no signs of slowing down!
7. Live PD
If you haven't popped into A&E's Live PD do yourself a favor and test an episode out – it's addicting.
6. The Voice
Everyone's favorite singing competition moved up two spots on the list this year after bringing in new judges Kelly Clarkson and Jennifer Hudson.
5. Big Brother
CBS
Big Brother managed to sneak past The Voice in the reality corner, but with 20 seasons under its belt can you really blame it? There's nothing more entertaining than a Big Brother live tweet.
4. The Walking Dead
You know we love some Walking Dead tweets and it looks like people couldn't stop talking about Rick Grimes' final episodes!
3. Grey's Anatomy
ABC
Grey's Anatomy was hanging out at number 7 last year, but here they are coming in at number 3! The Ellen Pompeo series is currently airing its fifteenth season.
2. Roseanne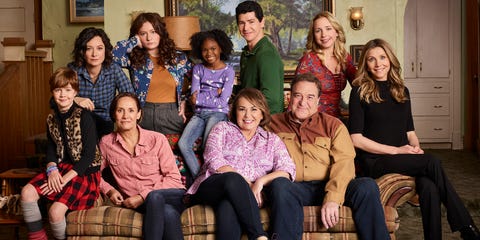 The Roseanne revival went on a quite the roller coaster this year and for every ounce of drama, there was a slew of people tweeting about it. The series may be no more, but the show must go on with The Connors!
1. Saturday Night Live
It's safe to say that SNL had a lot of material to work with this year and with awesome hosts such as Chadwick Boseman, Donald Glover, Amy Schumer, Clair Foy, and Steve Carell, it's no surprise that the sketch comedy show made the top of the list!
The Most Tweeted About Streaming Shows :
5. The Handmaid's Tale
People were tweeting away about the disturbing happenings in Gilead and a lot of people had thoughts about June's huge decision in the season 2 finale. Handmaid's Tale also marks the only non-Netflix series on the list!
4. Queer Eye
Of course, Queer Eye is on the list! Everyone loves the Fab Five and with every heartwarming and charming episode came a brigade of lovable tweets.
3. Black Mirror
Black Mirror is one of those shows you just have to talk about with other people and even though season 4 dropped just before 2018 began, fans were busy tweeting away throughout the year.
2. Stranger Things
Stranger Things didn't even air a new season this year, but that didn't stop people from tweeting every day wondering when it was going to come back! Joe Keery even got in on the action.
1. 13 Reasons Why
No surprise here. 13 Reasons Why topped the list for the streaming services, following in its own footsteps. When season 1 dropped in 2017, the series became Netflix's most tweeted about show, picking up over 11 million mentions on the platform in less than one month. So, when season 2 premiered on Netflix this year, the conversation quickly continued. We'll see if it can carry on the legacy come 2019's third season.
Having studied Media & Writing at James Madison University, I always knew that I wanted to do some type of creative writing, but being able to write about zombies, Starks, and superheroes on a daily basis for Fan Fest is my actual dream. While I probably shouldn't be as proud as I am to be so similar to Nick Miller, I do hope to one day write my own "Pepperwood Chronicles'.