'Walking Dead' Sneak Peek: Carol's Flying Solo in Savior Territory
Published on November 7th, 2017 | Updated on November 7th, 2017 | By FanFest
*Spoilers ahead from The Walking Dead*
In the latest episode of The Walking Dead, things were not looking too great for King Ezekiel and the rest of his Kingdom people who fell under fire by Savior snipers in the episode's closing moments. We saw a group of Ezekiel's loyal followers dive on top of him to protect their King, but a good amount of his people were immediately taken out.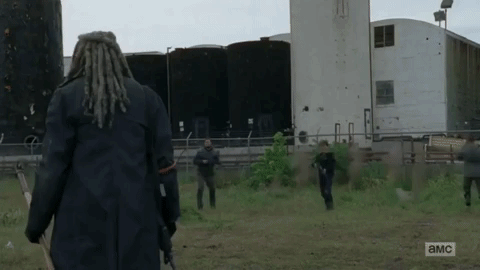 However, King Ezekiel has one weapon the Saviors aren't too familiar with – Carol. In a sneak peek from next week's episode, we see that Carol has infiltrated where the Savior's are holding up. It's a quick scene, but it looks like the Kingdom troops have stumbled upon the fortress where the Saviors may be hiding the guns that Rick & Co. were looking for. We meet one Savior named Rudy who's quite irritated with how long it's taking his men to get the guns together.
Carol then finds herself trapped in the room between the hallway Rudy is walking down and the room where the other Saviors are. Presumably gathering up the huge firepower they just used against the Kingdom people.
Rudy continues to get more agitated with his men who are saying that they need some help.
Meanwhile, it looks like Carol manages to find a good spot to tuck away into until she decides to make her move. Looks like there could be 3 maybe 4 men she would need to take out, but Rudy continues to become more aggressive, threatening to take out his own men if they don't hurry things up.
So, hopefully, by the time that Rudy rounds that corner, badass Carol will flay his ass followed by the rest of them who will hopefully have finished packing up any weapons they could have used against her.
You can watch the whole sneak peek below!
The Walking Dead airs Sundays at 9 PM EST on AMC.
Related:
'The Walking Dead' Monsters Review- Questions About Humanity
Let's Take a Moment to Relive That Random Hilltop Exchange on Last Night's 'Walking Dead'
Norman Reedus Hints That a Rick Vs. Daryl Conflict Could Be on the Horizon
'The Walking Dead': All Out War Victim Speaks
'The Walking Dead': The Best Tweets from "Monsters"
Having studied Media & Writing at James Madison University, I always knew that I wanted to do some type of creative writing, but being able to write about zombies, Starks, and superheroes on a daily basis for Fan Fest is my actual dream. While I probably shouldn't be as proud as I am to be so similar to Nick Miller, I do hope to one day write my own "Pepperwood Chronicles'.