Walker Stalker Con's Panel With the Kingdom Men is Full of Insight, Laughs and Plenty of Jerry
Published on October 30th, 2017 | Updated on December 19th, 2017 | By FanFest
The Kingdom has been an excellent addition to The Walking Dead. It's got a badass leader in King Ezekiel, the best sidekick ever in Jerry, and a tiger – it's got a tiger! Not to mention it has provided a safe space and leadership role for Morgan to really develop and find the right path for him in this world.
There's such great chemistry and camaraderie there that it's no wonder the community has managed to stay so strong and connected throughout the apocalypse thus far. This past weekend at Walker Stalker Con Atlanta, your favorite trio got together to prove that that chemistry and camaraderie continues long after the cameras turn off.
Lennie James (Morgan), Khary Payton (King Ezekiel) and Cooper Andrews (Jerry) all took to the stage to talk auditions, season 7, Shiva and Harry Potter. Check out some of the highlights below!
One of the best parts about having new cast members at Walker Stalker conventions is hearing just what silly script they had to read at their auditions in order to keep their part under wraps. For Cooper, who plays Jerry it was no different as he read for a character named Lester who had to talk to a dog.
"Oh all that was real, the dog was fake…cause it's a tiger" @smugorange talks about his fake script for audition #WSCAtlantapic.twitter.com/8TMWI1pmdk

— Walker Stalker Con (@WalkrStalkrCon) October 29, 2017
"I'm reading for a character named Lester and I have to talk about the dog Santiago and Mr. Tamagucci or something like that….then when I got the real script oh this is the real part, the dog was fake…oh because it's a tiger."
It's hard not to love Cooper's portrayal of Jerry and Lennie James agrees. He even went as far to say that if Morgan was allowed to smile, he would at Jerry. He also touched on just how fantastic the show has been able to pull off something as unique as the Kingdom.
"If Morgan could smile, he would at Jerry" Lennie James jokes about @smugorange and the Kingdom #WSCAtlanta pic.twitter.com/PaQqVdD6zL

— Walker Stalker Con (@WalkrStalkrCon) October 29, 2017
"If he was allowed to smile, he would. Jerry is a part of the craziness that is the kingdom. I think it's one of the fantastic things the show has pulled off is making the Kingdom work with a man who speaks in iambic pentameter and owns a pet tiger and has a sidekick called Jerry who is just a jester and it all seems to work."
If you're looking for some insight into why King Ezekiel was so hesitant to go to war right off the bat, look no further. Turns out that his thought process was actually the most healthy way to go about it, especially when talking about something as drastic and dangerous as war.
"I think this is how a healthy relationship should go" @kharypayton thinks they tried to convince Ezekiel to war too soon #WSCAtlantapic.twitter.com/c2Xf9g9mR2

— Walker Stalker Con (@WalkrStalkrCon) October 29, 2017
"I think is how a healthy relationship should go. You know you meet a guy on the first date and he tells you he punched somebody in the face, you think 'well, why don't we have dessert first.' So you know it was a good start about rocking the world, but frankly, he just takes a little bit more convincing most of the time. I think this is the gradual way something happens like that. This is the moment when you actually feel like you can make a decision as big as this. Going to war is not a flippant decision and so sometimes it takes a few minutes.
Lennie also took some time to reflect on where Morgan would be if he hadn't met our favorite cheesemaker, Eastman.
"If it wasn't for Eastman, Morgan would still be a crazy man" #WSCAtlanta pic.twitter.com/KlAvpWNPFD

— Walker Stalker Con (@WalkrStalkrCon) October 29, 2017
"If it weren't for the cheesemaker, Morgan would still be out there like a crazy man. People would be telling mythical stories about the crazy man who lives out there and talks to himself and burns people! I genuinely think if he hadn't met Eastman he would've been doomed. I don't know whether he would be alive or dead, but I think he would be wishing for one and praying for the other."
He also provided some insight into his famous staff, including a hilarious story about a time when he was practicing at home and things went very wrong.
Lennie James talks about practicing with his staff and about a mishap he had with it at home #WSCAtlanta pic.twitter.com/Jru3iv26cf

— Walker Stalker Con (@WalkrStalkrCon) October 29, 2017
"I have certain kind of routines that I go through to keep myself kind of flowing and this season because we are at war, there's quite a lot of stick action going on. I made a deal with Scott when we first introduced the stick that I didn't want anybody stepping in to make it look better than I actually am. So, every time you see the stick moving it's always going to be me doing it.

So, I go on YouTube and there's kind of things you can learn and I was doing that one time to impress my trainer and I was watching The West Wing on television and the stick slipped out of my hand and went straight through Martin Sheen's head so I had to get a new TV and tell my wife how I broke the old one..wasn't a good day."
James also described Jerry's Ax as being like Thor's Hammer and I cannot think of a more perfect description. Be sure to watch the video to see Lennie acting out how the props people look when trying to pick up the real ax and not a fake one.
"It's like Thor's hammer!" Lennie James talks about @smugorange's axe #WSCAtlanta pic.twitter.com/VxfHtpqSeO

— Walker Stalker Con (@WalkrStalkrCon) October 29, 2017
"Cooper always carries around the big ax and it's a bit like Thor's hammer and he wields it around like it's a toothpick."
We always want to know what Harry Potter houses our favorite actors and actresses would sort themselves into and I think that you will be surprised by some of these answers!
Which Hogwarts house would you be in? Lennie James, @smugorange, and @kharypayton all answer #WSCAtlanta pic.twitter.com/v7qZtDxdd5

— Walker Stalker Con (@WalkrStalkrCon) October 29, 2017
Cooper Andrews – Wants to be Slytherin because "I'm so sick of everyone in Slytherin having to be a douche."
Khary – Gryffindor
Lennie – Also Slytherin in honor of one of his closest friends, Jason Isaacs who plays Lucius Malfoy.
Most importantly, Payton gave a hilariously thoughtful answer when asked how Shiva knows who to attack, referencing the Kingdom's attack in the season 7 finale when she only went for the Saviors.
"She's a very smart tiger" @kharypayton talks about how Shiva knows who to attack #WSCAtlanta pic.twitter.com/0J1vvIBcj7

— Walker Stalker Con (@WalkrStalkrCon) October 29, 2017
"You should see her SAT scores, they are through the roof. She graduated top of her class at MIT, mainly because she ate the rest of her class. She actually can recognize people's auras, which is not as difficult a thing when you're a tiger. It's one of the first things you learn in tiger school."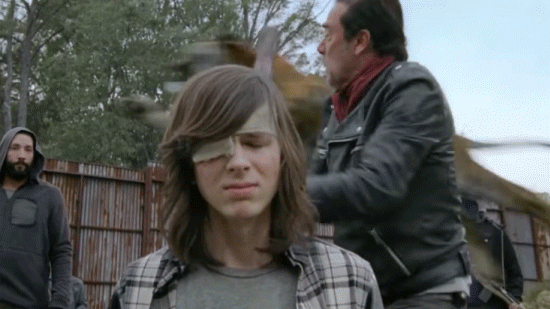 For more video be sure to head to the Walker Stalker Official Twitter page!
More from Walker Stalker:
Khary Payton Channels Himself to Take on the Role of King Ezekiel on 'The Walking Dead'
Chandler Riggs Talks Negan, Carl's Sheriff Hat and More in Our Exclusive Interview
Abraham's Army Take the Stage and Bring the Laughs at Walker Stalker Con
Where does Jadis' Allegiance Lie? Find Out in Our Exclusive Interview With Pollyanna McIntosh
Having studied Media & Writing at James Madison University, I always knew that I wanted to do some type of creative writing, but being able to write about zombies, Starks, and superheroes on a daily basis for Fan Fest is my actual dream. While I probably shouldn't be as proud as I am to be so similar to Nick Miller, I do hope to one day write my own "Pepperwood Chronicles'.