'Veronica Mars' Officially Revived at Hulu For Limited Series Run
Published on September 21st, 2018 | Updated on September 21st, 2018 | By FanFest
Just last month, news began to break that Hulu was close to closing a deal with Warner Bros. TV and Rob Thomas to bring the cult favorite series, Veronica Mars, back to the small screen. Well, almost a month later the series has received the official green light! It's time to head back to Neptune, CA Marshmallows! The news was announced on Twitter by series star Kristen Bell, who also revealed that the entire series and the 2014 film would be available to stream on Hulu starting next Summer.
[row]"This is a very important Marshmallow announcement. Did you guys know that as of Summer 2019 all the old Veronica Mars episodes will be available on Hulu…to stream…and rewatch, which is great, because you will need to brush up since we're making another one!" She said in the video.[/row]
Check out the announcement below!
BREAKING NEWS out of Mars Investigations! 🙂 A new #VeronicaMars series is comin atcha via @hulu. Thank you to all the marshmallows for staying excited and to @Hulu for giving Veronica a chance to wear her big girl pants. I hope we're still friends after I taser you. pic.twitter.com/z2EufrjMpX

— Kristen Bell (@IMKristenBell) September 20, 2018
The new series will consist of 8 episodes with creator Rob Thomas returning as well as Bell. No other casting announcements have been made yet. Here is the official synopsis of the series according to Variety:
[row]"Spring breakers are getting murdered in Neptune, thereby decimating the seaside town's lifeblood tourist industry. After Mars Investigations is hired by the parents of one of the victims to find their son's killer, Veronica is drawn into a mystery that pits the enclave's wealthy elites, who would rather put an end to the month-long bacchanalia, against a working class that relies on the cash influx that comes with being the West Coast's answer to Daytona Beach."[/row]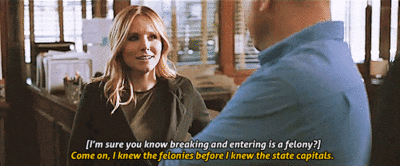 Despite wrapping after a third season back in 2007, Veronica Mars has been one of those shows with a die-hard cult following. When Rob Thomas and series star Kristen Bell pitched the idea of a crowd-funded feature-length film they were immediately met with a record-breaking campaign, proving that not only did fans want more Veronica Mars, but they were willing to pay for it themselves. The film managed to earn over $5 million for what initially a $2 million goal. It became the fastest Kickstarter project to earn one million dollars, then two million dollars and holds the title for the all-time highest funded project in Kickstarter's film category and is the third highest-funded project in Kickstarter history.
Warner Bros./ Veronica Mars (2014)
While the 2014 movie was fantastic and a lovely bookend to where the show abruptly left off after it's sudden cancellation, it still left so much more to be desired and explored. The episodic format certainly works more in the show's favor and the series has so many dynamic and interesting characters that the film did not provide nearly enough time to give everyone their due.
Veronica Mars originally premiered in 2004 with Bell starring as the titular wise-cracking and stellar high school private investigator. It also starred iZombie's Jason Dohring, Glow's Chris Lowell, Enrico Colantoni, Francis Capra, Percy Daggs III, Ryan Hansen, Kyle Gallner, and Tina Majorino. The show was created by Rob Thomas, who also wrote and directed the 2014 film.
The Hulu series is set to premiere sometime in 2019 and if Logan Echolls is not involved I will not be a happy Marshmallow!
Having studied Media & Writing at James Madison University, I always knew that I wanted to do some type of creative writing, but being able to write about zombies, Starks, and superheroes on a daily basis for Fan Fest is my actual dream. While I probably shouldn't be as proud as I am to be so similar to Nick Miller, I do hope to one day write my own "Pepperwood Chronicles'.