'Veronica Mars' May Be Coming Back as a Hulu Limited Series!
Published on August 22nd, 2018 | Updated on August 30th, 2018 | By FanFest
And the case for more Veronica Mars is once again open! Seven years after the beloved series ended and four years after the release of the crowd-funded feature film, more Veronica Mars is on the way as a deal is near to closing at Hulu for an eight-episode limited series.
Marshmallows reading this news:
Despite wrapping after a third season back in 2007, Veronica Mars has been one of those shows with a die-hard cult following. When creator Rob Thomas and series star Kristen Bell pitched the idea of a crowd-funded feature-length film they were immediately met with a record-breaking campaign, proving that not only did fans want more Veronica Mars, but they were willing to pay for it themselves. The film managed to earn over $5 million for what initially a $2 million goal. It became the fastest Kickstarter project to earn one million dollars, then two million dollars and holds the title for the all-time highest funded project in Kickstarter's film category and is the third highest-funded project in Kickstarter history.
Late last year, Veronica Mars star Ryan Hansen was participating in a Facebook live with Indiewire when he called up Bell herself to get the latest update on whether more Mars would ever be on the way. She said that one day it would happen and most likely in a miniseries format and we are so glad that both of her predictions are coming true.
[row]"Personally, and I think that Rob probably agrees, (A) we'll never make the fans pay for it again, (B) the format works better in an episodic, where you get a little more of it. So we want to do a miniseries. We are willing to put the effort in. I mean, if I have to do it as Murder, She Wrote at 80, we're going to do it. It's going to happen," she said.[/row]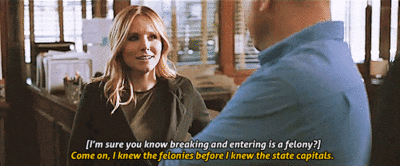 While the 2014 movie was fantastic and a lovely bookend to where the show abruptly left off after it's sudden cancellation, it still left so much more to be desired and explored. The episodic format certainly works more in the show's favor and the series has so many dynamic and interesting characters that the film did not provide nearly enough time to give everyone their due.
Veronica Mars originally premiered in 2004 with Bell starring as the titular wise-cracking and stellar high school private investigator. It also starred iZombie's Jason Dohring, Glow's Chris Lowell, Enrico Colantoni, Francis Capra, Percy Daggs III, Ryan Hansen, Kyle Gallner, and Tina Majorino. The show was created by Rob Thomas, who also wrote and directed the 2014 film.
Are you excited about the possibility of more Veronica Mars? 
Source: TVLine
Having studied Media & Writing at James Madison University, I always knew that I wanted to do some type of creative writing, but being able to write about zombies, Starks, and superheroes on a daily basis for Fan Fest is my actual dream. While I probably shouldn't be as proud as I am to be so similar to Nick Miller, I do hope to one day write my own "Pepperwood Chronicles'.