USA Puts 'Psych' Sequel Film on Hold
Published on July 5th, 2018 | Updated on July 5th, 2018 | By FanFest
USA Network is apparently putting the new Psych movie on hold and now all I want to do is smash a pineapple! Of course, the news isn't all bad. While the movie is still in early developments at USA, Shawn and Gus's actor counterparts are currently on their own solo adventures right now. James Roday's new series A Million Little Things is currently filming its first season for ABC and Dule Hill is recurring on the latest season of Suits, so their schedules are quite full at the moment. TV Line reported that USA still hopes to bring the movie back to life at some point down the line, so the project isn't officially off the table just yet.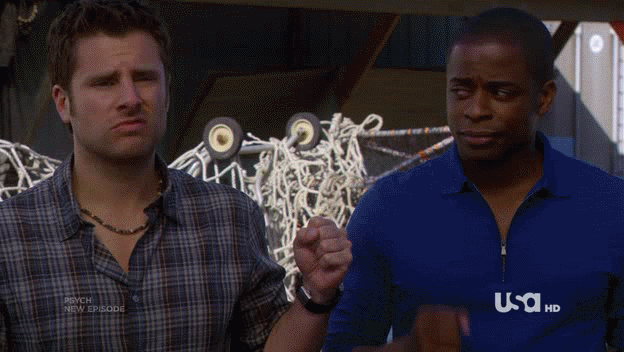 Psych's first TV movie installment premiered on USA last December to some fun and well-received reviews! It brought the whole gang back together during the holidays after a mystery killer targeted one of their own. Fans had been hoping for a Psych reunion for some time and when the cast got together to promote the film at SDCC, Roday and Hill said that they'd always be on board for more films.
[row]
Roday: "If [series creator] Steve Franks has his druthers it will be an annual thing until we're all living in assisted living."
Hill: "As long as the Psychos have a yearning for it and a desire for it, we'd be down to keep delivering them."
[/row]
Psych ran on USA for eight seasons from 2006-2014 and followed a super-observant Shawn Spencer (Roday) and his best friend Gus (Hill) as they used Shawn's sleuthy abilities to convince the Santa Barbara police department that he was a psychic and aided them in solving many murders and crimes. The series also starred Maggie Lawson, Timothy Omundson, Corbin Bensen, and Kirsten Nelson. It's currently streaming on Amazon for Prime members.
Having studied Media & Writing at James Madison University, I always knew that I wanted to do some type of creative writing, but being able to write about zombies, Starks, and superheroes on a daily basis for Fan Fest is my actual dream. While I probably shouldn't be as proud as I am to be so similar to Nick Miller, I do hope to one day write my own "Pepperwood Chronicles'.