23 Hilarious Tweets About the Ending of 'How it Ends'
Published on July 27th, 2018 | Updated on July 27th, 2018 | By FanFest
*This article contains spoilers for Netflix's How It Ends*
Netflix's latest original movie How It Ends hit the streaming site on July 13th and what looked to be a promising post-apocalyptic film starring Divergent's Theo James, Black Panther's Forest Whitaker, and The Vampire Diaries' Kat Graham kind of turned out to be anything but. The film followed the beginning of mysterious apocalypse that causes a spread of misinformation and violence, prompting Will (James) and his estranged father-in-law (Whitaker) to race across a chaotic and fractured country to save his pregnant wife, Samantha (Graham).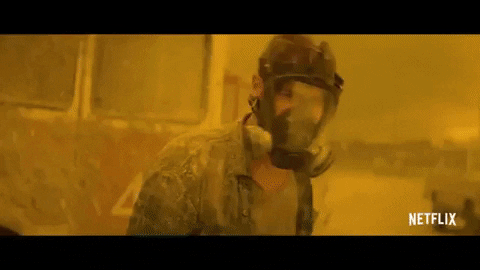 While the nearly two-hour long story is full of plot holes and misdirections it's the ending that has caused quite the stir, mainly because there is no end, which makes the title even more ironic. The final moments find Will and Smanatha driving as the Earth literally explodes behind them. While just rewatching the trailer I realized that they actually showed the entire ending in it, so here's a gif of that to refresh your memory!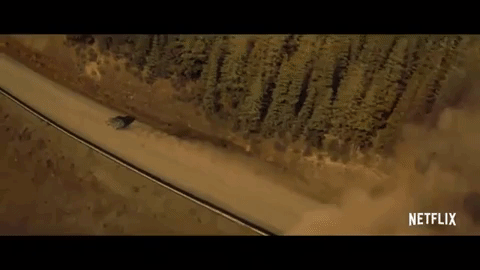 So, if you were left scratching your head afterward, you're not alone. To say the people of Twitter had thoughts about how How It Ends ends, would be an understatement. Check out some of our favorites below.
1.
I hope there is a support group for people who wasted two hours of their life watching #HowItEnds on Netflix.

— Angela (@TheKitchenista) July 22, 2018
2.
The movie #HowItEnds on Netflix was good…until the end 🙄…That ending made me wish I could have those two hours of my life back. 😩

— Zekeya A. Harrison (@CallMeKey) July 22, 2018
3.
Just watched @netflix @rosenthaldm's #HowItEnds starring Theo James, @ForestWhitaker and @KatGraham and legit said out loud (by myself) "THAT's how it ends?!"

And then realized… clever title.

— Kylie Erica Mar (@KylieEricaMar) July 19, 2018
4.
Honestly #HowItEnds is really great if you wanna feel like you have no idea what the actual fuck a movie is about

— summytrillson (@Summer_Wilsonn) July 22, 2018
5.
Ahh…okay… So I'd have to say that #HowItEnds by @netflix includes some of the coolest and eeriest apocalyptic effects and imagery I've seen, along with the most ironic and unsatisfying ending I have suffer d through in decades. #Disappointed

— Craig Gallant (@d6gcraig) July 24, 2018
6.
#HowItEnds had me soooo hyped and then let me down soooo hard.

The movie is fine but that ending was just a buzz kill.

— oFF_BaSS (@JonNowlinTHO) July 20, 2018
7.
#HowItEnds on Netflix is a pretty good apocalyptic movie. I'm just not sure if I like how it ends. #NoPunIntended

— Anthony Guaglianone (@anthonyguag) July 21, 2018
8.
Literally just wasted 2 hours of my life watching #HowItEnds on Netflix. Way to build up suspense for ABSOLUTELY NO resolution 🤦🏻‍♀️

— Melissa Thomas (@meltom7183) July 21, 2018
9.
it's ironic how the movie #HowItEnds leaves you saying "THATS HOW IT ENDS!?" 😡🤬

— AR (@adamrawjerz) July 22, 2018
10.
Films with no end should have a warning at the start, nothing enrages me more than an open ended story that explains nothing. #NetflixReview #HowItEnds absolutely shite film.

— Gareth (@Thestrokeguy) July 27, 2018
11.
How It Ends has a pretty formulaic – and honestly, boring – plot, but is absolutely visually stunning. The cinematography is beautiful.

Also, don't bother with the ending. #HowItEnds

— Chris Knoblock (@cknoblock17) July 27, 2018
12.
My take on #HowItEnds – the ending is literally HOW IT ENDS. Meaning like, the world ends and there's no escaping it. There is no happy ending but at least he made it to his girl in the end. 👏🏼 #TheoJames and @ForestWhitaker great job. I enjoyed it.

— Katie (@KatieGerhardt) July 27, 2018
13.
Don't watch #HowItEnds on Netflix because how it ends is STUPID!!! It's a waste of time… Your Welcome pic.twitter.com/Q7nLDUogvY

— BRISxLIFE (@BRISxLIFE) July 19, 2018
14.
Just finished watching #HowItEnds on Netflix…and still waiting to find out how it ends pic.twitter.com/jerNreiRlv

— Kevin Kinnaman (@Flipsyde933) July 27, 2018
15.
#HowItEnds doesn't really end, but has an ending.. 🤔🤔 pic.twitter.com/14EDyVBach

— Lauren Manzano (@laurenmanzano) July 27, 2018
16.
An absolute waste of time with absolutely no explanation of the apocalyptic event. I wish I could get back the time I spent watching this flaming, dumpster fire. Avoid this movie at all costs. #howitends

— Jose Laporte (@Joonburg) July 27, 2018
17.
#HowitEnds should have ended when Will got to Sam. Leaving an open ending for the conspiracy to follow. But no you had to shoehorn in the neighbor having feelings and with no explanation to what the disaster was or how it happened. Overall: 4/10

— Logan Brotzge Brown (@nagol1219) July 23, 2018
18.
Do not watch #howitends if you want to know how it ends 🙄

— Mizz Jay💋 (@MizzJayLovesu) July 21, 2018
19.
The first movie everyone has watched from beginning to end and still doesn't know how it ends #HowItEnds smh 🤷🏾‍♀️🤷🏾‍♀️🤦‍♀️

— Erica King (@eksoinspired) July 26, 2018
20.
That is not how it ends. There better be a part two #howitends pic.twitter.com/siY9XGI7MW

— ShaNell Monae' (@ShaNellMonae_12) July 24, 2018
21.
I watched #HowItEnds on @netflix last night. It didn't want to end and the end was it an end? 🤔🤣

— Naa Oyoo Kumodzi ✨ (@OyooQuartey) July 24, 2018
22.
Why would Netflix make a movie called #HowItEnds & don't give the movie an ending…or an explanation! — watching How It Ends 2018

— TheBrotherinTheEast (@muniqui19) July 23, 2018
23.
I liked #HowItEnds on @netflix, I found the final act to be wildly out of tone with the rest of the film and it struggled with its identity, but the first hour and a half was engaging.

I like that I have to guess the cause and I think it's earth's magnetic poles flipping.

— Michael Lachevre (@GoatyTweets) July 21, 2018
How It Ends is currently streaming on Netflix!
Having studied Media & Writing at James Madison University, I always knew that I wanted to do some type of creative writing, but being able to write about zombies, Starks, and superheroes on a daily basis for Fan Fest is my actual dream. While I probably shouldn't be as proud as I am to be so similar to Nick Miller, I do hope to one day write my own "Pepperwood Chronicles'.