Top 5 'Friday the 13th' Movies
Published on July 13th, 2018 | Updated on July 13th, 2018 | By FanFest
For those who know me pretty well, they will tell you that my all-time favorite Horror Franchise is Friday the 13th. Jason Voorhees was the very first horror character that I was introduced to when I was eight years old, and I have always had a love for the character since then.
Since July 1st, I have been watching one Friday the 13th movie every single night leading up until today with my friends on the Facebook Group: Deborah Voorhees Shear Horror Group. It has been a long time since I have seen some of the movies, and I was touched with some bittersweet nostalgia.
I have analyzed and collected what I believe are the Top 5 movies in the 12-movie series.
5. Friday the 13th Part VII: The New Blood
This movie was Kane Hodder's first appearance as Jason, and he absolutely slayed the role. It was pretty awesome to see Jason Voorhees finally meet his match – a teenage girl with telekinesis. It was definitely a new and fresh spin on the series that absolutely worked.
4. Friday the 13th: Part III
Richard Brooker was my very first Jason – and he was absolutely terrifying. He was so terrifying that I found him fascinating. This movie was the very first time Jason Voorhees ever donned the iconic hockey mask – a trademark for the character and for the series. The film had some love-able characters that I grew quite attached to also. Shelly will forever be one of the greatest horror jokester's on the planet.
3. Friday the 13th Part IV: The Final Chapter
Who could ever forget the debut of Corey Feldman as Tommy Jarvis? Little did we know that Tommy would go on to become Jason's greatest nemesis. Ted White was another spectacular Jason! A former Marine, Ted fit the built for the character perfectly! In the GIF above, that was genuine Terror on Corey's face. He had no idea that Ted White was going to come bursting through the window and grabbing him. In a recent Monster Mania 'the Men Who Played Jason' panel, Ted White talked about how immediately following this scene – Corey got super sick and they had to shut down filming. Also, Gordon the dog lives …. and I am quite content with that.
2. Friday the 13th: Part II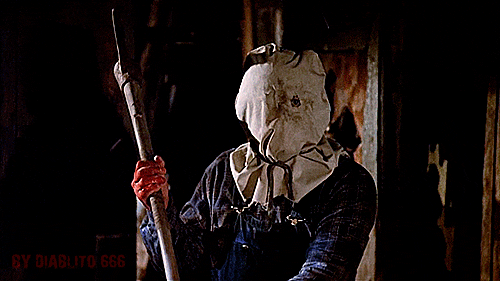 This was the first time we actually saw the adult version of Jason. We saw him for a brief second in the original Friday the 13th film as a child. It was amazing to see the adult Jason live in action – hellbent to get revenge for his mother's death. Jason was actually played by 3 people in this film. In the first scene, where you see Jason's legs walking – was actually a female stunt woman. He was played by Steve Dash for the majority of the film, who absolutely killed the role. (no pun intended). He was played by Warrington Gillete in one scene – the scene where Jason comes crashing through the window, unmasked. Steve Dash did a phenomenal job at pulling together this character and winning over the hearts of Horror fans all across the globe.
1. Friday the 13th Part VI: Jason Lives
This is one of those Friday the 13th movies that I could watch again and again. Hands down, Jason Lives is my all time favorite movie in the franchise. CJ Graham, a fellow proud Army Vet, was nothing short of spectacular. CJ's performance of the revived character was not the only thing so amazing about this film. Director Tom McLoughlin literally thought of EVERYTHING. It had fun jokes, easter eggs, and a James Bond introduction – by Jason Voorhees. This story also continued with the adventures of Tommy Jarvis (Thom Matthews), now as an adult. Sure, there were alot of corny jokes, but it was certainly something the franchise needed. It had the perfect amount of terror and comedy all mixed in one.
Also, this was the first film with an extremely catching song for its post scene credits – 'The Man Behind the Mask' by Alice Cooper.
What is your Favorite Friday the 13th movie?
Julia recently published her first novel, titled; Anomic. She is currently co-authoring a novel called 'Snow Falls'. She has a B.A in Communications with concentrations in Professional Writing and Public Relations. She is also in the United States Army Reserves as a Military Police Officer, and is currently in the process of going back to school for her Masters Degree in Business. When she isn't writing, she is co-owner of a film production studio called 'Valentine Productions LLC' and she frequently spends her weekends acting in films, or being a stuntwoman.