Thnks fr th Mmrs: Vans Warped Tour Calls it Quits After 24 Years
Published on November 15th, 2017 | Updated on November 15th, 2017 | By FanFest
First, a little my music to accurately mirror your feelings at the moment:
It's true, people. After 24 years, The Vans Warped tour is officially calling it quits. Founder Kevin Lyman and the Warped Tour's official Twitter broke the news on Wednesday.
In a statement on the Tour's official website, Lyman also said that "though the tour and the world have changed since '95, the same feeling of having the 'best summer ever' will live on through the bands, the production teams, and the fans that come through at every stop."
"I am so grateful to have worked with more than 1,700 bands over the last 23 summers. I wish I could thank every band that has played the tour."
It's not completely the end just yet, though. The pop-punk music festival will make one final trek across the country in 2018 with bands that Lyman hopes will bring all of the nostalgia. In an interview with Billboard Lyman said that his wishlist for the 2018 tour would be bands like Less Than Jake, Mayday Parade, Blink 182, Fall Out Boy, My Chemical Romance, Pennywise, NOFX and even other big names like Katy Perry (who got her start at Warped!) and Eminem.
"You're gonna see a big mix of bands I felt really embraced the Warped Tour lifestyle. I don't want to say a 'mature' lineup, but bands that I think could use one more big push of Warped Tour to help further their careers."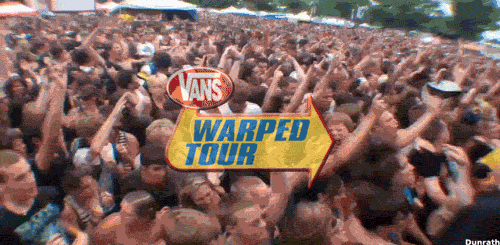 Fans, of course, took to Twitter to relay their feelings on the news.
When you hear about #vanswarpedtour and you want to go once in your life before it's too late 😭 pic.twitter.com/2HmkIwUTYk

— kelly bronselaer (@KellyBronselaer) November 15, 2017
Rip #vanswarpedtour thankful for all the amazing memories of going since I was 15 ❤️

— Euphoric Scumbag (@Anthony_Jared) November 15, 2017
#vanswarpedtour wow this is actually very sad. This festival helped shape a lot of kids' music and artistic interests, including mine 🙁

— Sam (@XSHEW0LF) November 15, 2017
Truly devastated I've never been to #vanswarpedtour and now I never will

— laura❄️ (@tpatplaur) November 15, 2017
R.I.P to #vanswarpedtour t'was the begining of my deep love for live music.

— VinnyBedlam (@VinnyBedlam) November 15, 2017
When it came time to make the decision it really came down to a decline in ticket sales, a recent boom in the music festival industry, a shrinking pool of bands and just pure exhaustion.
"Before Warped I was on three years of Lollapalooza, so [it's been] 26 straight summers out on the road. Not that I'm completely going anywhere, but traveling around the country with a tour this size in the landscape that we're in is… to be honest, I'm just tired."
After the 2018 tour, The Vans Warped Tour will stick around to celebrate a legendary 25 years in 2019 before officially retiring the name. Lyman concluded his statement by saying:
"The enduring spirit of the Vans Warped Tour remains as bright as ever, continuing to inspire creativity and ambition in new and exciting ways as we prepare for a 25th anniversary celebration in 2019.

I truly look forward to seeing as many of you as possible during this final cross country run, and getting to thank you for your support on this wild adventure. Until then, take care and be safe."
So, be sure to get your tickets for the final tour which heads out next year!
Sources: Vans Warped Tour Official Website, Billboard
Having studied Media & Writing at James Madison University, I always knew that I wanted to do some type of creative writing, but being able to write about zombies, Starks, and superheroes on a daily basis for Fan Fest is my actual dream. While I probably shouldn't be as proud as I am to be so similar to Nick Miller, I do hope to one day write my own "Pepperwood Chronicles'.