This is What the Dragons Actually Look Like on 'Game of Thrones'
Published on August 24th, 2017 | Updated on August 24th, 2017 | By FanFest
The dragons on Game of Thrones have probably been three of the coolest characters to watch. Not only are they a huge component in the show's mythology and plot, but watching them grow up over the seasons has been totally captivating.
They've alway been integral to Dany's storyline, but this past season the dragons are a lot more involved in the action as Dany has started bringing them into battle to wreak some havoc with her.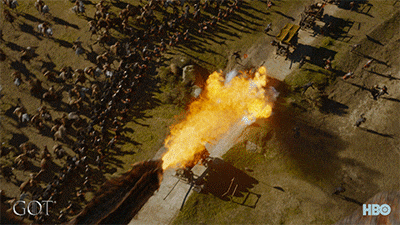 After this past week's episode "Beyond the Wall" HBO released a video that shows what truly goes into filming the scenes with the dragons, and I am beyond impressed. Sure, we've all seen the magic of CGI before, but for long time Game of Thrones fans, it's even cooler to see what goes into bringing Drogon, Viserion, and Rhaegal to life on the small screen and just how talented the actors that work with them are.
This is your fair warning that you should not read/watch any further if you don't want to tarnish how you view the dragons because I promise you, you won't be able to unsee this.
"When Dany get's on and off the dragon it's sort of like wheeling up the stairs to a 747. We've modeled the dragon and then laser cut this full-scale giant piece of polystyrene to create a section of the dragon's back that's living on the island at the frozen lake." -Steve Kullback, Producer
"I've got a bit of climbing to do on that contraption with a person on my shoulder, I just hope I can do it – I've never flown a dragon before." – Rory McCann, The Hound
"This year things are a bit beefier. We have a bigger motion base, we have a bigger buck. It's a lot harder, especially for Emilia. It's one thing to act in a room with somebody and draw these considerable resources as an actor. It's another thing to have a situation that supposed to have the same level of emotion but in the most artificial environment." -D. B. Weiss, Showrunner
"The harder the challenge the more I relish it. But this, this really you're like 'can I just maybe even have like a screen with like clouds!'" -Emilia Clarke, Daenerys Targaryen
"I've never flown on a dragon and to just harness that power. Can you even imagine?"
Me, after watching this video:
This behind the scenes look is truly a testament to just how talented Emilia Clarke is. I mean, she has been doing this for years and I never thought twice that she wasn't lovingly looking at a dragon. It's hard for actors to find that emotion when working with another actor and she's been doing it this whole time while looking at a green blob.
So naturally, I went back and found some footage from earlier seasons when Clarke was working with the smaller dragons and it's just as impressive.
So, basically, Emilia Clarke and the Game of Thrones VFX team are amazing and they deserve every accolade that exists.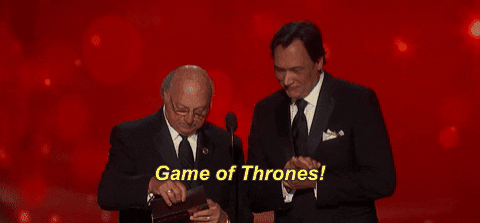 Check out the whole video below!
~ More on Game of Thrones ~
'Game of Thrones': The Night King Knows More Than You, Jon Snow and May Be Smarter Than We All Realize
New Photos from the 'Game of Thrones' Season 7 Finale Tease a Tense Encounter at King's Landing
'Game of Thrones' Stars Maisie Williams and Sophie Turner Imitate Ned Stark in 'Carpool Karaoke: The Series'
'Game of Thrones' Director Hints About an Unexpected Death in the Season Finale
Time is a Fickle Thing on 'Game of Thrones' This Season
Having studied Media & Writing at James Madison University, I always knew that I wanted to do some type of creative writing, but being able to write about zombies, Starks, and superheroes on a daily basis for Fan Fest is my actual dream. While I probably shouldn't be as proud as I am to be so similar to Nick Miller, I do hope to one day write my own "Pepperwood Chronicles'.