'This Is Us' Recap: Top 5 Moments from "A Father's Advice"
Published on September 27th, 2017 | Updated on September 27th, 2017 | By FanFest
Wow. Were you all ready for that? Months and months of hype and warnings from both the cast and creators couldn't have prepared us for the utter gut-punch that was the Season 2 premiere of This Is Us. One thing that's for sure after last night's episode is that This Is Us is definitely going to put the term Sophomore Slump to the test.
"A Father's Advice" was a poignant and perfect re-introduction to the highs and lows of the Pearson family. The episode was full of subtle twists and drastic revelations that will skyrocket season two to a whole new level with even more situations and problems for people to relate and cry about. It gave a lot of the characters their stepping stools for the season and then it completely knocked our stepping stool right out from under us in its closing minutes, which really should have come as no surprise.
So, let's gear up for another cry and dig into the top 5 moments of the episode!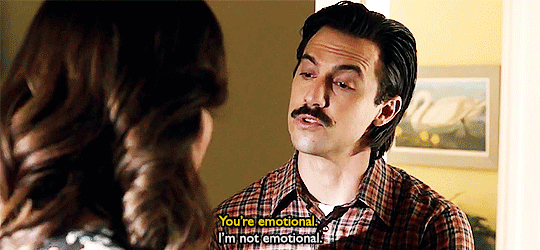 5. William's Opening Montage
The episode opened appropriately with a young William typing out an entry for the Poems For My Son book that he gives to Randall. It was a perfect way to show us that William will, in fact, be a presence this season. As his voiceover plays we are given a montage to see what our favorite Pearson's are up to.
Jack and Rebecca's storyline picks up the day after the finale. Rebecca is going to pick up the kids, which leaves them wondering why she's back from her tour and why their dad isn't picking them up. In the present day, The Big Three are actually celebrating their 37th birthdays. The Pilot episode last year started with all of them, including their dad Jack, celebrating their birthdays, so this was a nice callback and framing device for them to use. Kate and Toby are engaged and happy as ever as she prepares for her upcoming singing audition with a ricecake-cake and sparkler. Randall is having major baby-fever now that he and Beth have decided they want to have a baby, and Kevin is on the set of his new Ron Howard movie.
The montage closes with Rebecca, Kevin, Kate, and Randall all showing up at a diner where Jack is waiting for them. They all sit down as Jack says the words no kids ever want to hear from somber looking parents – "Your mother and I want to talk to you."
Here is William's poem, which also inspired the name of the episode.
Tear Meter:
4. Kate's Awakening
There's nothing that I love more than when Kate has an epiphany or a breakthrough. There is so much internally that holds her character back. Feelings about her weight, guilt from her father's death, and wondering if she's good enough to follow her dream of being a singer. This week Kate prepares for an upcoming audition after her revelation in the finale that she wanted to sing. Unbeknownst to her though, she has unintentionally created a wedge between Kevin, who has been with her through everything and who she shared an unbreakable bond with, and Toby, her fiance who is stuck figuring out where he fits in it all.
Kate and Kevin's relationship has always been an interesting one to follow and it's exciting to see that the show is going to dig much further into them this season. They're finishing each other's sentences and Kate is instinctually confiding in Kevin about her skipping out on her audition before she tells Toby. Toby becomes more and more irritated with the way that Kevin coddles Kate instead of pushing her, but towards the end of the episode, he learns that it's a relationship that he will never fully understand or be able to come between and he will have to find a way to be okay with that.
When Toby and Kevin are arguing outside of the opulent restaurant that Kevin had rented out for their birthday dinner, Kate finally comes to the realization that she doesn't need to be taken care of, pushed or coddled. She's a 37-year-old woman who needs to start putting her words into actions. So, she marches right back to that audition, attempts to sing her heart out, but is ultimately cut short. It turns out that she wasn't pushed aside because of her appearance like she initially thought though. It was because she wasn't good enough. Realizing that she has a lot of work to do, Kate sets forth on her journey to become the best that she can be with the support of both Kevin and Toby.
We also learned that Kate is the one that told Kevin about Jack's death, which will certainly be a major point in the upcoming season.
Tear Meter:
3. 'He was pretty damn close'
Randall wasn't receiving the support from Beth on the adoption that he had been anticipating so he went to Rebecca's house to get more information about his own adoption. He'd been told his whole life that the two of them just took one look at him and knew that he was meant to be theirs. However, Rebecca let him know that it wasn't that simple and that she was hesitant at first, but Jack's tenacity and passion are what made her say yes.
She tells him that in a marriage someone has to be the one to push the other one to do things sometimes and that not every marriage is perfect, including theirs, but when it came to Jack, while he wasn't perfect, he was about as perfect as they come. It's a beautifully acted scene by Moore, who is already becoming more and more comfortable and natural as the older version of Rebecca. I can already tell that it's going to be a great season for her and she's going to have some great and challenging material, so I'm so excited to see Moore take her acting to the next level. Tear Meter:
2. Adopting an Older Child
Talk about a fabulous episode for Susan Kelechi Watson. I think that Sterling K. Brown's acting is on another level, but when you add in Watson's consistently subtle and nuanced performance every week, those two are an unstoppable and magical pair. It's a joy to watch. We pick up with where the status of their adoption plans is. Randall is enthused beyond belief about their upcoming new addition while Beth is definitely not on the same page. She sees right through Randall's facade and knows that he wants to have a little baby boy so that he can give him the same experience that his two late fathers gave him.
While at the park one day, she remembers a conversation that she had with William before they left for Memphis about how Randall just makes important decisions and she has to go along with them. He's headstrong like his father(s) and while it doesn't usually turn out for the worst, it makes her question their partnership. Later, after his discussion with Rebecca, Randall gives Beth a beautiful speech about how their marriage is perfect – perfectly imperfect. They may not always be on the same page but they do know how to eventually get there.
This leads the two of them to that same park where she and William used to sit and where she still comes every day to think. In a poignant scene, she tells Randall that his parents did something wonderful for him, but it could have gone a very different way. She points our a group of young boys drinking alcohol in the park saying that that could have been him.
Randall and Beth's decision to adopt an older kid is a perfect example of what makes This Is Us so amazing. It was such a small twist yet it means so much for the show and their story. This is very similar to an arc that took place on Parenthood and it was absolutely lovely then and I have no doubt in my mind that This Is Us will do a fabulous job with it this season as well.
Tear Meter:
1. The Last 5 Minutes
Whew. What a wild roller-coaster these last five minutes were, but we will get through them together, I promise. Jack spent most of the episode waiting for Rebecca to call and for them to make things right. He makes a sorry attempt to get her a solo gig at a local bar she used to sing at with the band but to no avail. Meanwhile, after dragging the kids to the latest Tom Hanks movie, (where we find out that Randall actually went home and heard some of the fight that she and Jack had in the finale) Rebecca does have a revelation. She realized that "Tom Hanks isn't that great," and that she's married to a man that's better than that. They don't let each other leave and they don't handle their issues the way that they did.
Jack cuts her off by saying that she doesn't know everything about her.
He tells her that he's been drunk for weeks and he's been hiding it from her and the kids for a very long time and that he needs to get a handle on it alone. He shuts the door and the screen fades to black. And you're probably thinking to yourself:
But then, she knocks!
So, you have to prepare your heart for a classic This Is Us staple that you thought you were getting away with this week – the last minute gut punch. Rebecca tells him to get in the car because if he has a problem then she has a problem and they will fix it together. Of course, anytime Jack Pearson gets in a car my stress level hits a new high because like everyone else I assumed that he would die in a car accident, and the cast and creators told us to expect an answer as to how Jack dies in this episode, which hadn't happened yet. So' I'm like 'get in the car, Jack!' but also 'don't get in that car, jack!'.
Jack gets in the car and she tells him that "in a few months from now – everything will be back to normal," which is basically the most ominous thing you can say on a show like this because after she says that shit hits the damn fan!
On a scale of 1-10, my crying at "get in the car" was a 6. Seconds later, a 15. #ThisIsUs

— Erica Kalinowski (@erica906) September 27, 2017
We see Rebecca driving at some point in the future next to an empty passenger seat that has a little bag of what looks like wedding rings and notebook in it. We cut to Miguel's house where Kate is sobbing into a dog and Randall is being consoled by a young girl. Kate looks at Randall and tells him that they have to find Kevin, who we see is making out with Sophie with a cast on his leg. Rebecca pulls in front of their home, marked by the PEARSON mailbox, and as she lets out a guttural scream in the car and bangs on the steering wheel, the camera pans up and we see the Pearson house completely burned.
I got chills just writing all of that out because it really was done that well. While we got a huge clue as to how Jack may have died (house fire) we also received a few more pieces to the puzzle to help us get there, including the repeat fact that the kids were 17. I'll be doing a piece in addition to this recap that will break down this entire last scene, so be on the lookout for that!
Tear Meter:
And don't forget to watch the After-Show. This week Creator Dan Fogelman, Milo Ventimiglia (Jack), Chrissy Metz (Kate) and Justin Hartley (Kevin) break down the big moments from "A Father's Advice".
Related Articles:
23 People Who Thought They Were Going to Get Through The 'This Is Us' Premiere Without Crying
'This Is Us' Picks up in the Aftermath of Jack and Rebecca's Big Blow-Out
These Scenes Made the 'This Is Us' Cast Ugly Cry Too, So You're Not Alone
Having studied Media & Writing at James Madison University, I always knew that I wanted to do some type of creative writing, but being able to write about zombies, Starks, and superheroes on a daily basis for Fan Fest is my actual dream. While I probably shouldn't be as proud as I am to be so similar to Nick Miller, I do hope to one day write my own "Pepperwood Chronicles'.