'This Is Us' Promotes Lyric Ross to Series Regular
Published on August 27th, 2018 | Updated on August 27th, 2018 | By FanFest
It's always great when happy news and This Is Us are used in the same sentence and that's exactly how we're reporting to you right now! The Emmy-nominated drama series just announced that they will be promoting Lyric Ross, who played Randall and Beth's foster daughter Deja, to a series regular for the upcoming third season.
Ross joined the series during season 2 and completely changed Randall and Beth's worlds. Despite her hard exterior, Deja quickly began to warm up to the Pearson's and became part of the family, until her mom was released from prison. This resulted in the devastating scene of Deja having to leave Randall, Beth, and the girls to go live with her mom only to be abandoned once more. Of course, Randall and Beth took her back in, but she is still carrying the pain of her mom with her, which was evident in the season 2 finale when she smashed Randall's car with a bat.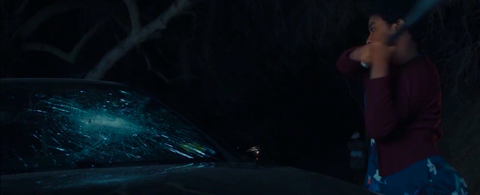 [row]"She's so nuanced. I like that she doesn't try to act it. She really does just speak and feel out a situation and sense a situation. And so it's this beautiful, nuanced, soft performance that doesn't feel performative…. She's just a very special young actress," Susan Kelechi Watson, who plays Beth on the show, told EW about working with Ross.[/row]
This Is Us also just promoted Melanie Liburd to a series regular as well. Liburd was introduced in the season 2 finale as Beth's cousin Zoe. It was hinted that Zoe would be playing a much larger role when she appeared in one of those game-changing flash-forward scenes traveling with Kevin to Vietnam to learn more about his father. Liburd also shared a few touching moments with Deja at the wedding, which is a relationship that we are hoping will be explored in season three as well.
Ross and Liburd's promotions follow behind some other exciting guest-starring announcements including Michael Angarano who will be stepping in to play Jack's mysterious brother Nicky. Malcolm in the Middle's Jane Kaczmarek was recently cast to play "a liberal university professor and scientist" and Daredevil's Rob Morgan will be playing Solomon Brown, "a city councilman who oversees the district where Randall's late birth father William lived."
Are you excited to see more of Deja and the Pearson's? Find out what they have in store for her when This Is Us returns for season 3 on NBC Tuesday, Sept. 25 at 9/8c!
Having studied Media & Writing at James Madison University, I always knew that I wanted to do some type of creative writing, but being able to write about zombies, Starks, and superheroes on a daily basis for Fan Fest is my actual dream. While I probably shouldn't be as proud as I am to be so similar to Nick Miller, I do hope to one day write my own "Pepperwood Chronicles'.