The Whisperers Have Finally Made Their Way to 'The Walking Dead'
Published on November 13th, 2018 | Updated on November 14th, 2018 | By FanFest
It's season nine of The Walking Dead and with both Maggie and Rick officially gone – Negan is kind of…old news? There are some new big bads hitting the scene and on this past Sunday's episode, we got a chilling introduction to them – The Whisperers. Comic lovers have been anxiously waiting for The Whisperers to arrive and based on their first scene, they're going to be unlike anything viewers have ever seen on the series. Let's dive in!
We first (unknowingly) see The Whisperers while Eugene and Rosita are planting a transceiver on a water tower in order to boost their radio range and find more survivors. While on his way down, Eugene notices a herd of walkers and yells to warn Rosita.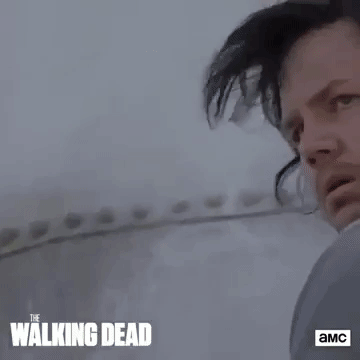 When his ladder falls, Eugene is forced to jump the rest of the way, resulting in an injured knee. However, once on the ground he notices that the walkers have seemingly and oddly changed their course.
[row]"Herd musta flipped a hardcore U," he says to Rosita as they try to figure out a way to make him mobile. [/row]
The pair eventually makes their way into the woods, but with the walkers close on their tail and Eugene unable to run, they're forced to hide in a nearby trench by covering themselves with mud.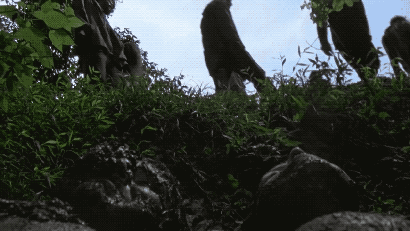 While this isn't the greatest of situations for Rosita and Eugene, in reality, they would just have to lay there until the herd passed and hope that none of them tripped and fell to where they were hiding. EXCEPT. This is no ordinary herd of walkers. As they hide, they hear the walkers begin to communicate with each other saying "Where are they?" and "Don't let them get away." You can see the absolute terror on their faces when they realize these "walkers" are actually talking.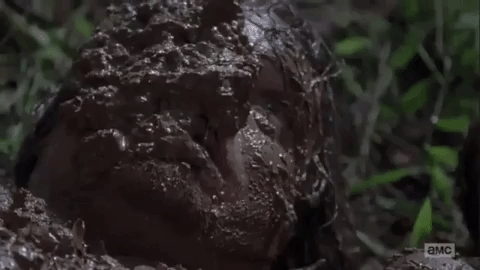 So, just who are The Whisperers? They're a group that has been surviving in the apocalypse by wearing skin suits of human flesh that allow them to blend in with the walkers. The only way that they can communicate with each other amongst the herds is by whispering. This survival tactic means that they also have the ability to steer giant walker herds wherever they wish and can attack from within a herd as well.
The Whisperers are led by a woman named Alpha, who believes that the apocalypse is just the next step in the evolution of society. She will be played by  Fantastic Beasts and Where to Find Them alum Samantha Morton. Sons of Anarchy star Ryan Hurst has been cast to play Beta, who is second in command of the group. Cassady McClincy will be playing Alpha's 16-year-old daughter, Lydia.
Of course, in typical Walking Dead fashion, The Whisperers storyline will have to undergo some significant changes seeing that Carl Grimes played a huge part in their plot. However, thanks to the six-year time jump, a now much older Henry (Matt Lintz) could be taking his place.
Without giving too much away, we'll just say that The Whisperers are going to cause some significant and heartbreaking damage throughout their tenure on the series. So, prepare yourselves. You can watch their full introduction below!
Are you excited to finally see The Whisperers? Let us know (and please try to keep the comment section as spoiler free as possible!)
Having studied Media & Writing at James Madison University, I always knew that I wanted to do some type of creative writing, but being able to write about zombies, Starks, and superheroes on a daily basis for Fan Fest is my actual dream. While I probably shouldn't be as proud as I am to be so similar to Nick Miller, I do hope to one day write my own "Pepperwood Chronicles'.