'The Walking Dead' Women Are Taking the Lead in Season 9
Published on July 18th, 2018 | Updated on July 18th, 2018 | By FanFest
Over The Walking Dead's eight seasons we've seen a meek and timid Carol turn into a complete badass that you shouldn't even look at the wrong way. We've watched Maggie Green go from a doting farmer's daughter to a fierce and respected leader of her own community. We've watched Michonne evolve from a katana-wielding badass to an even mightier katana-wielding badass. Needless to say, the women of The Walking Dead are a force to be reckoned with and after eight seasons there's a woman at the helm of the series (Angela Kang) and the ladies are finally getting stories that will put them on the front lines.
[row]"We're going to see our women really step up, and we're gonna show a lot of stories about leadership with Maggie, with Michonne, with Carol. And they're gonna go toe to toe with each other and with our men," new Showrunner Angela Kang told EW. [/row]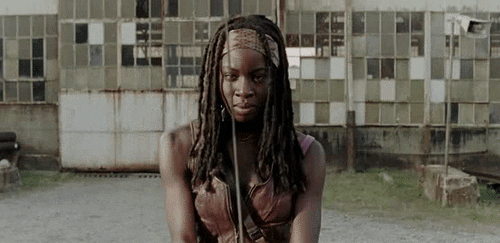 It's been fascinating watching the female characters evolve over the years, and having a voice and an advocate for them at the top is truly going to add another layer to The Walking Dead. Not to mention, Cohan, Guiria, McBride and more are all so talented that it will be a true pleasure to watch their characters get some meatier stories
[row]"We'll see some really complex relationship work, and I'm so proud of the work that our women are doing on the show, and I'm really excited for our audience to see it because they're having so much fun with each other. They're just killing it."[/row]
One story we already know is going to be a huge hurdle is Maggie's reaction to Rick decision to save Negan. Rick sees saving him as respecting Carl's wishes, but all Maggie sees is Rick saving the man who brutally murdered her husband. Based on that mini-coup she was having at the Hilltop in season 8's final moments, there is absolutely going to be some tension on the horizon.
[row]"We're interested in human drama and the emotional bonds between people, and we know from the end of the previous season that maybe not everybody was on board with the decision to save Negan. So we'll be exploring some of those stories as we go forward."[/row]
With Lauren Cohan departing the show midway through season 9, we're glad to hear that she will have her chance to shine and truly put her incredible talent out there with a story that serves Maggie's character, specifically the heart of her character, which has always been guided by Glenn.
Are you excited to see Michonne, Carol, Tara, Rosita and possibly even Jadis really step into the driver's season for season 9? Let us know!
Having studied Media & Writing at James Madison University, I always knew that I wanted to do some type of creative writing, but being able to write about zombies, Starks, and superheroes on a daily basis for Fan Fest is my actual dream. While I probably shouldn't be as proud as I am to be so similar to Nick Miller, I do hope to one day write my own "Pepperwood Chronicles'.